What can we do if it rains?
Donosti Feeling
2019 Jan 25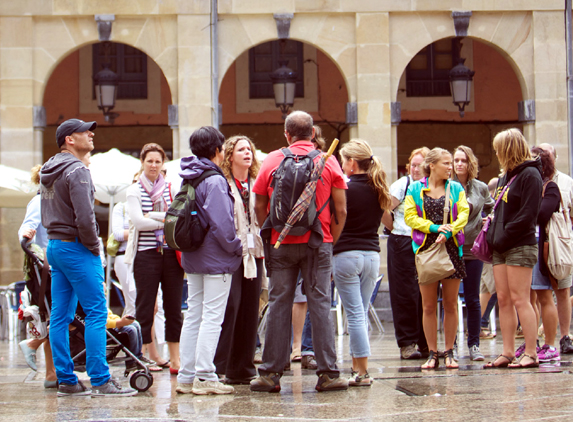 San Sebastián is the perfect place for a holiday or weekend break. If you have decided to spend a few days in the Pearl of the Cantabrian Coast but find yourself landed with weather you didn't (or maybe you did!) expect, don't worry, San Sebastian has lots to do on rainy days:
Visit San Martín shopping centre and traditional establishments in the city centre:
The San Martín shopping centre is San Sebastian's symbol of social, cultural and economic evolution, an architectural work that combines tradition and modernity applauded by the Spanish Association of Shopping Centres with its Prize for the Best Realisation of New Integrated Shopping Formulas. Leading names from the fashion and culture worlds share the space with sports facilities, a supermarket occupying 1,900 m², cafeterias... and the traditional market stalls which have revamped to become better than ever.
But besides that, San Sebastian has managed to retain the essence of traditional shopping, with a wide variety of establishments that offer tried and tested products with the same quality as always: with highly sophisticated stores, alternative establishments and big brand boutiques. And, as it's also not a very big city, the stores are concentrated in the same areas, so going shopping is very convenient.
Discover the city from one of our tourist transport facilities
In addition to the city buses, San Sebastián offers a complete tourist transport network so that you can visit and discover the city from other angles.
Why not hop on the Tourist Bus, the Tren Txu-Txu or take a ride on the Funicular Railway and enjoy a look at the Bay from another perspective?
Watch a new release at one of our cinemas
San Sebastián has 4 cinemas spread over town:
Antiguo Berri, in the Antiguo district: 8 cinemas, reduced price on: Mondays
La Bretxa, in the Old Town: 9 cinemas, reduced price on: Tuesdays
Príncipe, Old Town: 10 cinemas, reduced price on: Wednesdays
Trueba (original version films), in Gros: 2 cinemas, reduced price on: Mondays
Discover the city's museums
The city has a wide and varied selection of museums to satisfy even the most curious minds with their excellent exhibitions and modern installations.
And on a rainy day you can also…
Buy a great poncho at San Sebastián Tourism to keep you dry (an umbrella won't be enough if the rain is very heavy).
Buy yourself a hat for the rain from Ponsol. Casa Ponsol a quaint shop opened in 1838, the oldest in San Sebastián.
Head for the Kursaal and snap away at the free show put on for you by the waves as they crash against the sea wall.
Look out at the sea while enjoying a relaxing spa in La Perla, a centre that has been providing health and well-being to visitors for a hundred years.
Have a go on the games tables at the Kursaal Casino; modern installations focussed on leisure with a Belle Époque touch.
Ice skate to the latest music at the Txuri-Urdin Ice Rink.