Antiguo - Igeldo
Antiguo Neighbourhood: From Ondarreta to Igeldo
Antiguo is the oldest neighbourhood in the city. It is a perfect setting for wandering around in, with its own distinct character that has moved with the times without losing its essence. In the streets of this neighbourhood you will find traditional shops and the finest cuisine, and it is in the bars and restaurants that you can really experience the exquisite flavour of this neighbourhood.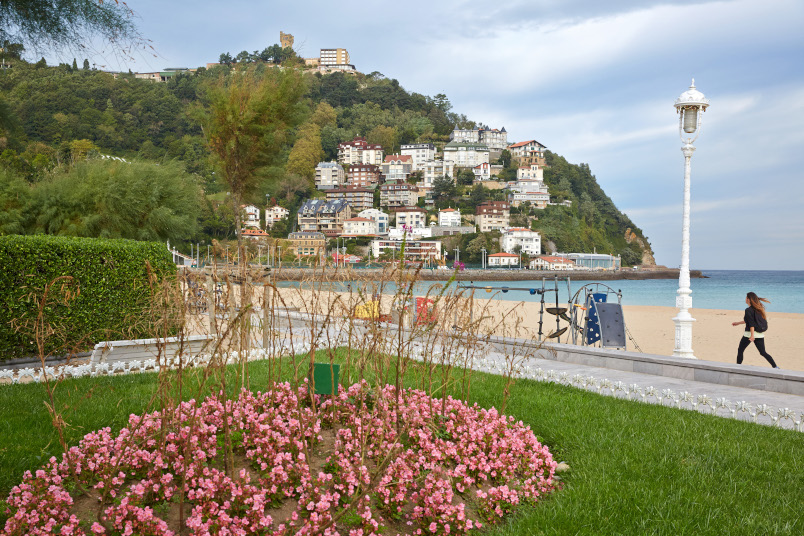 Bordered by El Peine del Viento (The Comb of the Wind) at one end and El Pico del Loro at the other, the neighbourhood of Antiguo has many different hidden corners to explore. We suggest a route that will enable you to discover them all.
Map & places of interest
1. Miramart. Antiguo's tunnel
2. Miramar Palace
3. Ondarreta Beach
4. Peine del Viento
5. Funicular to Mount Igeldo
6. Mount Igeldo Amusement Park
7. Matia street
8. Sert place - Benta Berri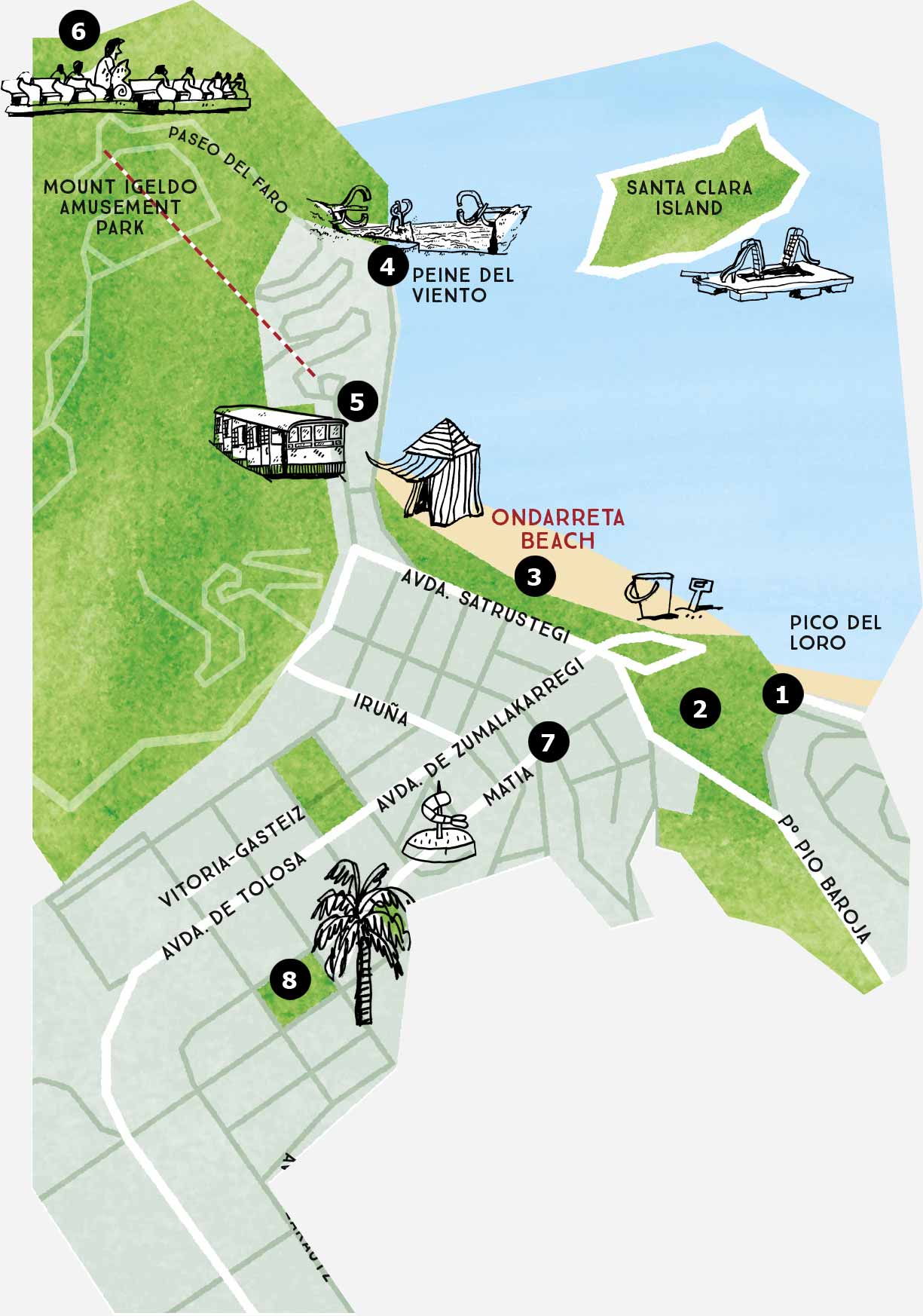 Exploring antiguo as far as El Peine del Viento
As you stroll along the Paseo de La Concha walkway you will immediately sense that Antiguo is a very special area. And just by the lookout point at the entrance to the neighbourhood, Miramar Palace extends a warm welcome to you.
To access Antiguo from the Paseo de la Concha walkway you must go through a small tunnel called Miramart which is located under El Pico del Loro. This passage will immerse you in an underwater world, with its unique décor giving you the impression that you are walking along the bottom of the Cantabrian Sea.
And on leaving the tunnel, you will be faced with Ondarreta Beach. Shielded by Monte Igeldo and Santa Clara Island, Ondarreta Beach is a perfect location for swimming and spending an enjoyable interlude between the blue and white stripy tents which give the area a unique feel.
And if you are reluctant to walk on the sand, you can take the sea pathway which is surrounded by stunning gardens. This walkway borders La Concha Bay and will take you as far as El Peine del Viento, an enchanting place where you can sit and gaze out over the sea or play at escaping from its advances.
Here, the waves jump between the crests of three sculptures, creating a spectacular image. But the playful water and the wind will not limit themselves to trying to soak you by bursting over the top of the little wall: they will wait patiently, and when you least expect it they will break through the holes in the ground to burst forth in the form of a geyser, which is sure to raise a smile. Don't forget to take a photo of the water coming out of the holes.
Take the funicular to Igeldo Fairground
And after this entertaining interval, come closer to the slopes of Monte Igeldo and take a funicular ride which will immerse you in the past. After a pleasant ride on this cog railway from 1912, which offers spectacular views, you will arrive at a vintage fairground from yesteryear.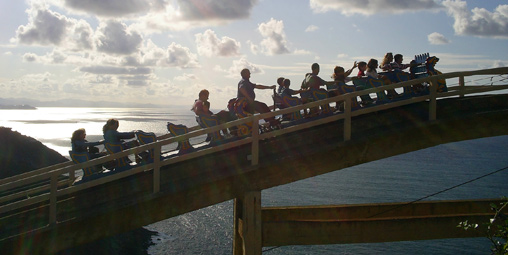 Wooden rollercoaster at Monte Igeldo Fairground
This is a place which will entertain children and charm adults. Revisit your childhood years by taking rides from another era, laughing at mirrors with improbable reflections, flying on magic carpets and feeling the adrenaline rush of wooden rollercoasters suspended high above the sea.
After visiting the top of Monte Igeldo, now is the perfect time to return to Antiguo and wander through its inner streets, discovering snapshots of tradition and modernity. A broad street, Avenida de Tolosa, allows you to cross through Antiguo from Ondarreta Beach to the university quarter.
Don't forget to take a look at the many smaller streets leading off from this avenue because they host gardens, parks and squares that are brimming with Donostian life. And above all, you will discover a wide range of bars and restaurants where you can sample the wonderful pintxos and other culinary traditions of Donostia..
Where to eat in Antiguo
Calle Matia is the nerve centre of this neighbourhood. To delve deeper into this street is to discover the essence of Antiguo and its residents, as the street is always filled with people out shopping or having a drink in its bars. If you go on a Thursday at around eight in the evening you can enjoy tasting the Pintxo Pote. This is a unique opportunity to sample local cuisine and immerse yourself in a typical Donostian environment.
At the end of the street you will arrive at the Benta Berri area, where the Plaza Sert is located. This area is shielded by a sculpture called Moby Dick and is filled with terraces. Here you can also enjoy small treats in miniature form, but take note, because on this square the pintxo-pote is on Wednesdays.

Don't forget that Antiguo will satisfy the palate of any gourmet, since on one corner you will find a traditionally-decorated restaurant serving Basque dishes and on the following corner you will find a minimalist restaurant offering avant-garde cuisine. Why not try a traditional Basque recipe such as Tolosa beans, or treat yourself to the best seafood on the Cantabrian coast?
Where to stay in Antiguo
Staying in Antiguo is the epitome of rest and relaxation. During the day its streets are bustling with a lively atmosphere, but in the night hours peace and quiet preside over the area. With hotels, apartments, hostales and even holiday rental villas, the accommodation options are extremely varied, so you will have no problem finding what you are looking for.
If you would like to stay in a hotel, you will find many of the best-rated establishments in the city in this neighbourhood. You can stay in a four-star hotel such as Hotel NH Aranzazu, Barceló Costa Vasca or the Hotel San Sebastián. or stay in a three-star hotel such as Hotel Avenida or Codina.

Or perhaps you would prefer to stay in a small hotel with an extra-special charm? El Hotel La Galería, located in a 19th century French building, will awaken your more romantic side. And if you prefer to wake up in a dreamy setting, Hotel Eceiza s the perfect accommodation option for you.
If, on the other hand, you would prefer to stay in an apartment or guesthouse, this neighbourhood can provide many different options, meaning that you will be able to find the accommodation option that best suits your needs.
The neighbourhood's well-lit streets and night bus services mean that you can enjoy a night out in the city centre and then, when you are ready, go back to the peace of Antiguo to get a proper rest.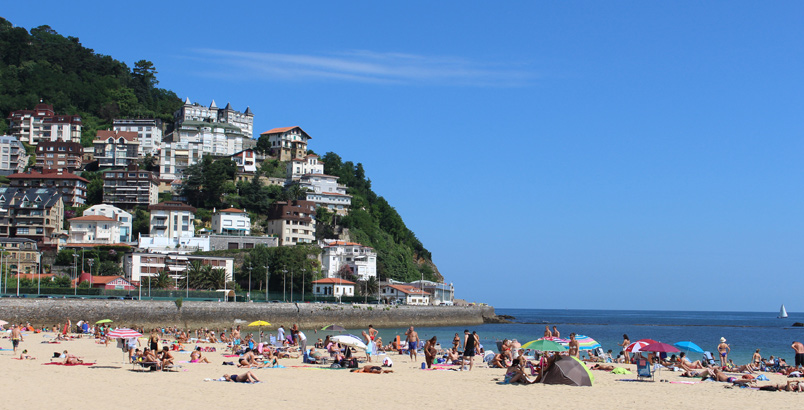 How to get to Antiguo
Whether by bus, bicycle or on foot, there are a lot of different options for reaching Antiguo from anywhere in Donostia/San Sebastián or even from outside of the city. Take public transport, cycle or choose a wonderful stroll: go for the option that most appeals to you.
If you are in Donostia you can take the city buses. These green and blue buses are called "Dbus". Make sure to look at the bus number and the stops that the bus makes: for example, the bus lines that stop at Ondarreta, Universidades, Av. Tolosa or Benta Berri pass through Antiguo and will bring you close to your destination.
But if we can give you one piece of advice, it is to rent a bicycle or enjoy the charms of the city on foot. Donostia has a network of special pathways which allow you to easily explore the city by bicycle. You also have the option of renting electric bicycles so that you can explore Antiguo without getting too tired.
And if you're more of a fan of walking, the entire neighbourhood awaits you with its wide pavements and pedestrian areas surrounded by gardens, making your walk an exceptionally charming experience.
The most iconic places in Antiguo, such as El Peine del Viento, Ondarreta, Miramar Palace and El Pico del Loro will astound you. But the unique essence that the neighbourhood retains within its streets will capture your heart. Are you ready to come and pay a visit?
---