Basque and San Sebastian cuisine
Basque cuisine, and particularly the good eating for which San Sebastián is so well known, is internationally recognised thanks to the chefs who have earned it fame the world over. The 16 Michelin stars held by restaurants in the city vouch for the excellent everyday work of the local culinary artists who, with their feet well anchored to traditional Basque cuisine, have innovated until taking up their place in the vanguard of world gastronomy.
Basque cuisine is wide-ranging and varied; it is based on ingredients sourced from the Cantabrian sea (fish and seafood) and from the local gardens and farms (vegetables, cereals, meat, etc.) But if any one feature stands out in our gastronomy, it has to be the use of seasonal, top quality produce.
Quality produce
Quality produce is something the locals of San Sebastián expect (and get). Quality foodstuffs are to be found not only in the traditional markets and fairs, but also in specialised food shops and even in the big supermarkets.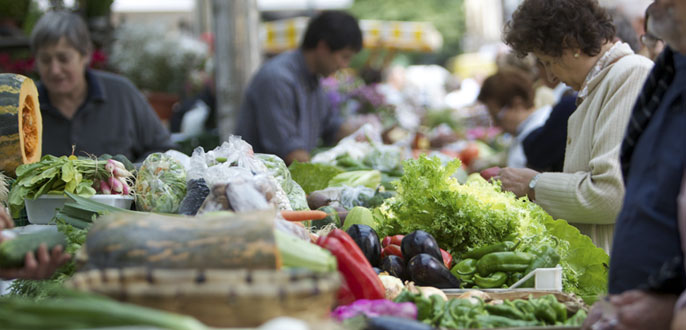 Traditional market of La Brecha
The quality of food has progressed from being a subjective concept to earn appreciation and certificates rated according to market quality yardsticks. The Eusko Label certificate, recognisable for its K de Kalitatea (K for Kwality) identifies and distinguishes articles produced, transformed and/or manufactured in the Basque Autonomous Community, the quality, specificity and singularity of which are well above the general average. The certificate can be found on products as widely ranging as beef, free range chicken, ewe's milk, white tuna, local tomatoes and lettuce, honey, extra virgin olive oil, peppers from Gernika and guindilla peppers from Ibarra. It also applies to Denomination of Origin produce like Txakolí wine from Getaria and Idiazabal cheese.
Seasonal gastronomy
Seasonal produce is distributed throughout the year to form an exquisite gastronomic calendar that guides the dishes we cook at home and in our restaurants.
Spring is the time for anchovies and mackerel, suckling lamb, Idiazabal cheese and petits pois (also known as green caviar), not to mention tender baby broad beans, artichokes, asparagus and Swiss chard.

Asparagus and mackerel
In summer you start to see white tuna, sardines, guindilla peppers from Ibarra, peppers, tomatoes and green beans.

Guindilla peppers and tomatoes
And in autumn we are invaded by the aroma of cold-cuts and sausages, boletus, ziza and perretxiko mushrooms, black pudding (from Lazkao, Zaldibia, Amezketa and Beasain), and of course, game.
Boletus and ham
And finally comes the heartiest winter food in the black beans from Tolosa (with their sacraments: cabbage, black pudding and guindilla peppers), spider crab and elvers, downed with cider and Txakolí wine, and desserts like ewe's sheep curds or mamia, apples (baked or stewed), walnuts (with cheese or in a sauce) and chestnuts.

Spider crab and black beans
San Sebastian Pintxos
One of the foodie treasures of the gastronomy in San Sebastián is its famous pintxos; culinary bites ranging from the original slice of bread piled with food, to tiny miniature haute cuisine creations.

San Sebastian specialities
Top quality seasonal products are the perfect allies for creating exquisite combinations, some of which even take their name from our city. The local specialities found today in restaurants dedicated to traditional fare take their origins from the household recipes that eventually became major features in gastronomic societies and restaurants. They were later reduced to a minimum in the myriad pintxos enticingly packed onto the bar tops.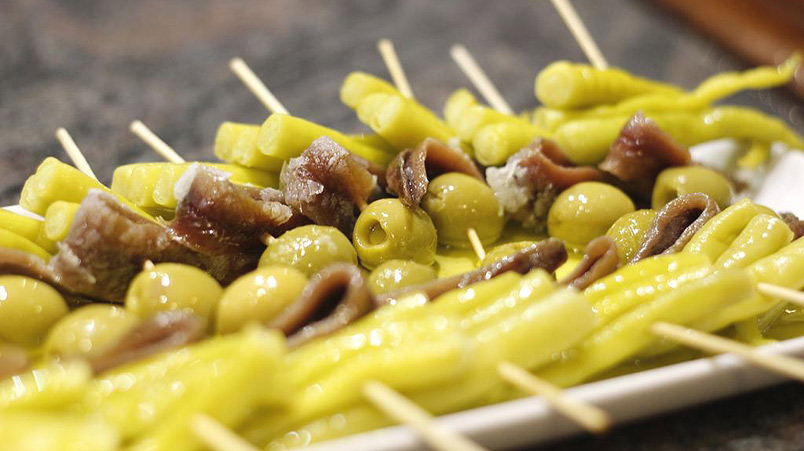 Gilda
San Sebastián's most typical dishes are made with produce of the sea: baked spider crab, hake cheeks in green sauce, hake koxkera or donostiarra style, clams marinière, baby squid in their ink and baked sea bream. Other dishes feature Aguinaga elvers (the baby eels today replaced by surimi substitutes due to the extortionate price of the authentic product), star dish of the classic meal eaten on the evening before the patron saint's day festivities on San Sebastian Day, when drums sound out in every corner of our city.

Hake, clams, and backes sea bream
---
---