Shopping in San Sebastian
Shopping is one of life's great pleasures. And if you also have an impressive range of stores, a mix of the more traditional and innovative shops, excitement is guaranteed.
On the one hand, San Sebastian has managed to retain the essence of traditional shopping, with a wide variety of establishments that offer tried and tested products with the same quality as always. And at the same ime, it has that chic and stylish touch that can be seen in its range of shops, with highly sophisticated stores, alternative establishments and big brand boutiques. And, as it's also not a very big city, the stores are concentrated in the same areas, so going shopping is very convenient. All of which results in a sensational selection of gift ideas and treats for yourself. An attractive and exciting route where you can really enjoy the delights of wandering around the stores as you go shopping.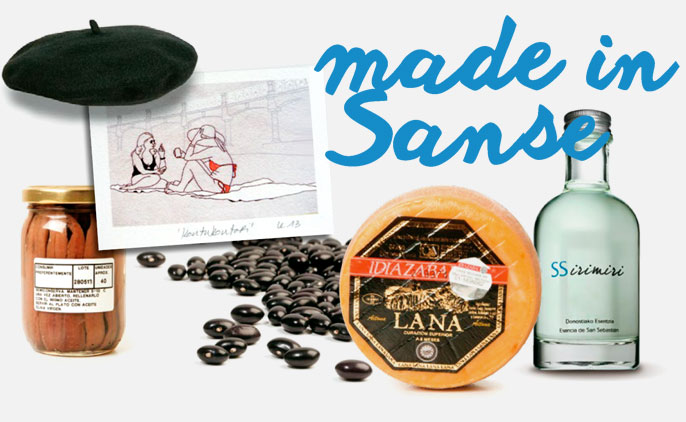 Three main shopping areas and hundreds of ideas
The Old Town
With its traditional shops and typical souvenirs, but also with delicatessens and designer stores.
The Centre
With its small upmarket stores and the top international brands.
Gros district
A diverse selection of art galleries, antique shops, sports shops and surfer and mountain gear stores.
More shopping areas in San Sebastian
If you take something with you from San Sebastian, it's as if you never really left. Especially if it's one of those things that we do here and here alone. One of those things that defines us, which tastes, smells and evokes memories of San Sebastian and Gipuzkoa.
There are lots to choose from. It can be a traditional local product, like a jar of Cantabrian anchovies, Tolosa beans, Idiazabal cheese or a bottle of txakoli wine from Getaria… or a box of San Sebastian's fine confectionary with pastries, or the traditional 'pantxineta' (puff pastry dessert). Or perhaps a marvellous illustration by a local artist. Or a surfboard, made by a world-famous company from San Sebastian. Or an exclusive gift from some of the city's finest boutiques. Or perhaps a splendid txapela (local beret-style hat) to top off your visit, or a few drops of the city's perfume, SSirimiri: the essence of San Sebastian.
Take away a souvenir and a gift, give it to the person you love. Take us with you.