Tabakalera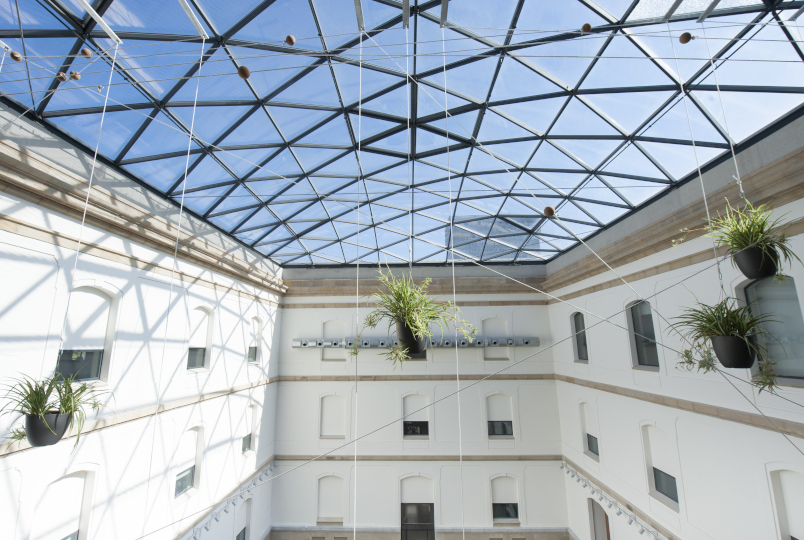 ACCESSIBILITY
Information on the accessibility to Tabakalera
Tabakalera, San Sebastian's tobacco factory for 90 years (1913-2003), is a new centre for contemporary culture with two purposes: to be a centre of production and to offer a programme of activities for the public.
Renovation work has been underway on the Tabakalera building since April 2011 with the aim of adapting the former tobacco factory to the requirements of a new centre for contemporary culture.
The most obvious changes have taken place inside the building. The main facade has largely been kept as it was with a view to preserving the character of the building.
General admission to the building and exhibitions is free; this includes certain activities in the cultural programme. Tabakalera is an iconic city spot well worth the visit, at least to take a look at the marvellous building and make your way up to the 5th floor terrace to enjoy the views. It also offers free guided tours of the exhibitions and of the building; you only have to sign up for them beforehand on the Tabakalera website.
OPENING HOURS OF THE BUILDING
TO THE GENERAL PUBLIC

EXHIBITION HALL OPENING HOURS

Monday to Thursday: 9.00 to 21.00

Tuesday to Sunday: 12.00 to 14.00 and 16:00 to 20:00
(Closed on Mondays)

Fridays: 9.00 to 22.00
Saturdays: 10.00 to 22.00
Sundays and bank holidays: 10.00 to 21.00
Tabakalera has also a restaurant in the top floor and a coffee bar at street level in the Plaza Nestor Basterretxea, serving breakfasts, lunches, menus, drinks and evening meals.
Tabakalera project
The Tabakalera cultural project has the main objective to promote the creation of contemporary cultural in different fields and in all its stages (research, production, exhibition), as well as to generate and share knowledge.