Plans for couples
A few suggestions of romantic things to do and places to visit to make your short break or weekend simply perfect.
San Sebastian is a city hard to beat for its beauty. It is also one of the most romantic destinations in Europe, and the world. Take a short break in Donostia!
Strolls for falling in love
View of the Bay from the sea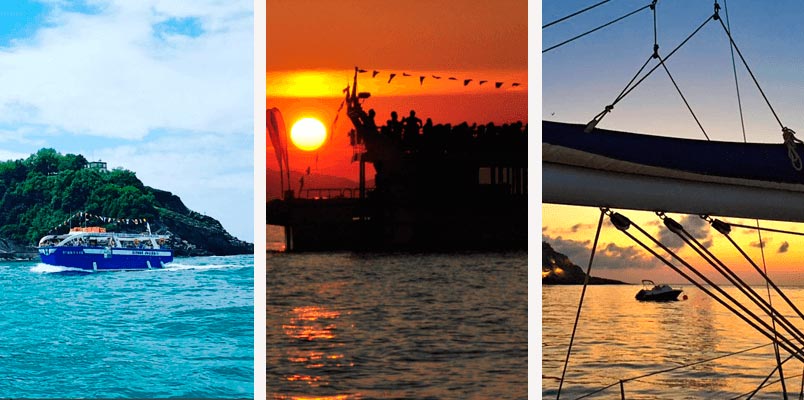 You've probably dreamt of sailing while relaxing in the sea breeze. A boat trip round San Sebastian's fantastic bay may well be an experience you'll never forget.
A stroll through the parks of San Sebastian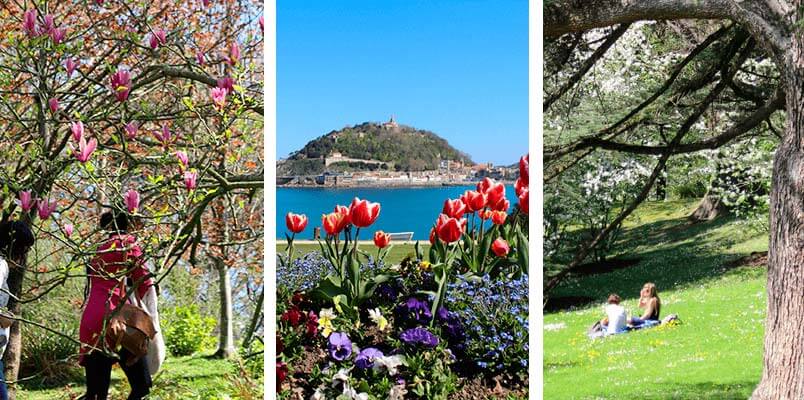 In San Sebastian's parks you can forget about it all, walk around barefoot on the grass or lie down on it to switch off and rest after a busy day. If you're lucky you may be able to see the peacocks and their impressive courting ritual in springtime.
Climb Ulia, Igeldo or Urgull
If it's something more active you're after, a climb up the hills of the city could be the perfect plan for you. The views from the top are spectacular and you won't regret it.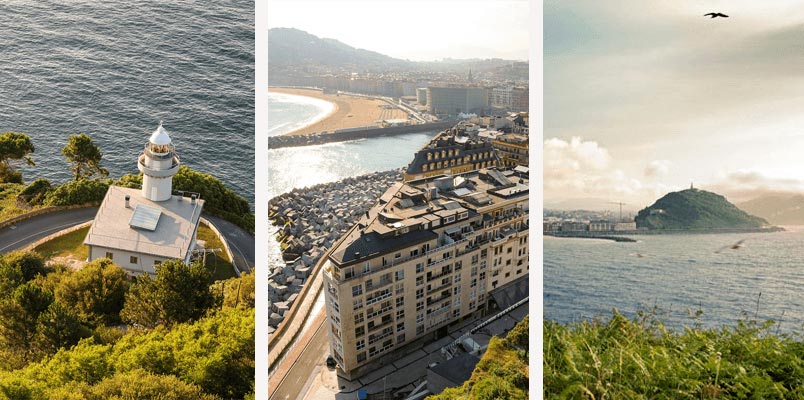 From Ondarreta, Mount Igeldo offers splendid panoramic views of the city, the typical postcard snapshot including the unforgettable vista of the lighthouse.
Making your way up from the Old Town or from the Paseo Nuevo promenade, Mount Urgull has all sorts of charming paths, corners and little tunnels; all three of San Sebastian's beaches can be seen from the top. Here you'll find the History Museum, looking at the oldest history of the city, its walls and fortifications, etc.
Leaving from the district of Gros, you can climb up to Mount Ulia, also offering exceptional views and perfect for watching surfers at sunset...
Stroll round the Concha Bay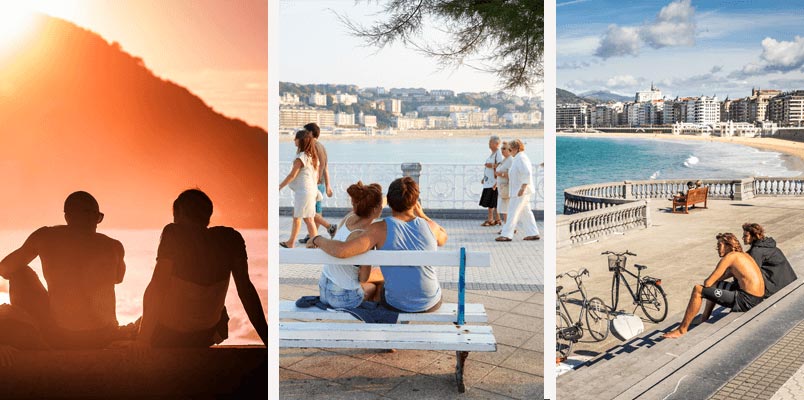 Take a 7-kilometre walk from the Zurriola beach to the Peine del Viento sculptures: This stroll offers you the chance to see all three of San Sebastian's beaches. Relax and enjoy the beauty! Half way you will find the Thalassotherapy La Perla a great alternative to relax and enjoy the hot springs.
Sign up for an activity for couples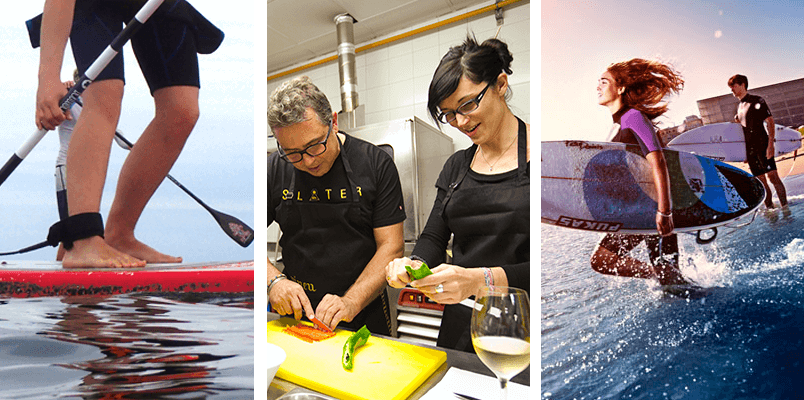 Doing an activity together can be great fun and bring you closer to one another. A pintxo-making workshop, a surfing or stand-up paddle class... Are you up for it?
Try one of these activities, you're sure to have a great time!
If you are looking for relaxation, wellness... San Sebastian is the city for you
The Pearl of the Cantabrian Coast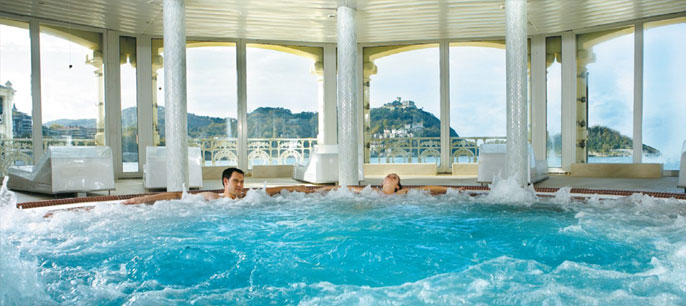 Main pool at La Perla, with views of La Concha bay
Standing at the centre of the Concha Beach, the Perla Spa has been providing all of its visitors with health, wellbeing and relaxation for a hundred years.
In a romantic atmosphere sheltered by the roof of an eclectic building dating from the beginning of last century, designed to cater for European nobility and with unmatched views of the Concha Bay, here you will find 4,500 square metres of cutting-edge technology for all kinds of treatment: health and beauty, physical/sports circuits, physical therapy... everything to ensure that you get the full benefit of sea water.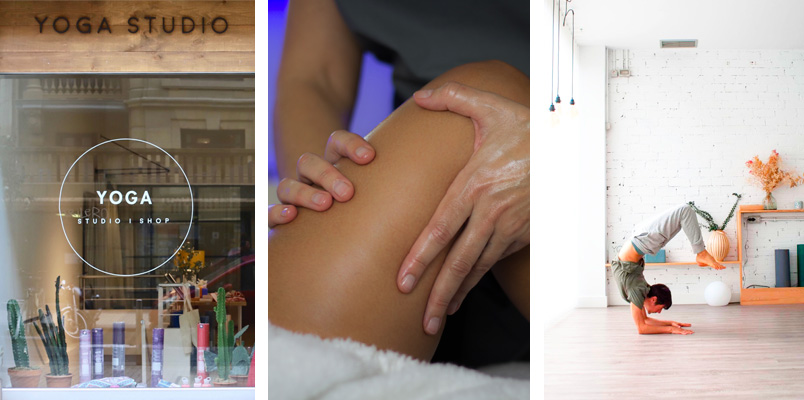 Photos: Yoga relax in Donostia
In addition to Thalassotherapy, San Sebastian has centres specialising in Yoga and relaxation plans, so that you don't give up your daily routine. Stay in shape, taking care of body and mind in specialised centres.
Search and choose your favourite: a yoga class, a relaxing massage, a wellness treatment...
On the trail of the perfect picture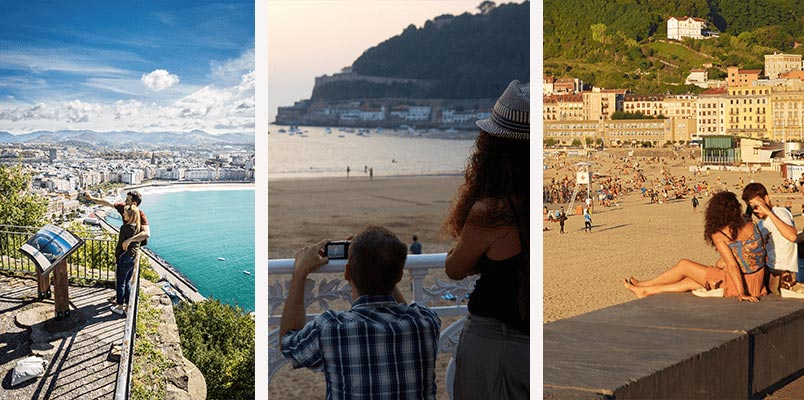 In addition to the panoramic views from our three hilltops, San Sebastian has all sorts of great spots where you can take pictures for a lifelong souvenir of your romantic trip. The Peine del Viento (Comb of the Wind) sculptures, the Miramar Palace gardens and the Paseo Nuevo promenade with its Construcción Vacía (Empty Sculpture) are magical places.

Sunsets and starry skies
A sunset is the perfect ending to a romantic break or to round off the day and enjoy a magical experience with the person of your choice.
We are lucky enough to be able to enjoy the sunset every day, or just about. But it's not the same when you see it from different places, and choosing that special spot to watch it will make the occasion unforgettable... Do you want to know some of the best places to watch the sunset in San Sebastian?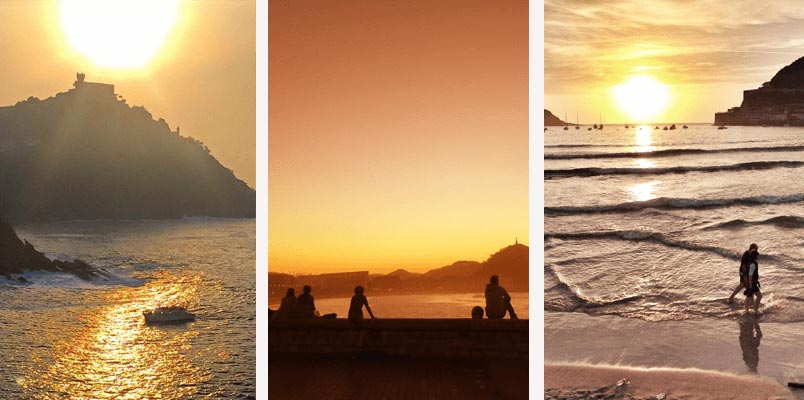 Photos: Sisters and the City
And if you wait around for a bit longer in some of these places you'll be able to enjoy a fabulous starry night and, even better if you're lucky, perhaps the occasional shooting star.
The city also offers a variety of things to do for a special short break with the person of your choice: a spa, boutique hotels, fine restaurants
BOUTIQUE HOTELS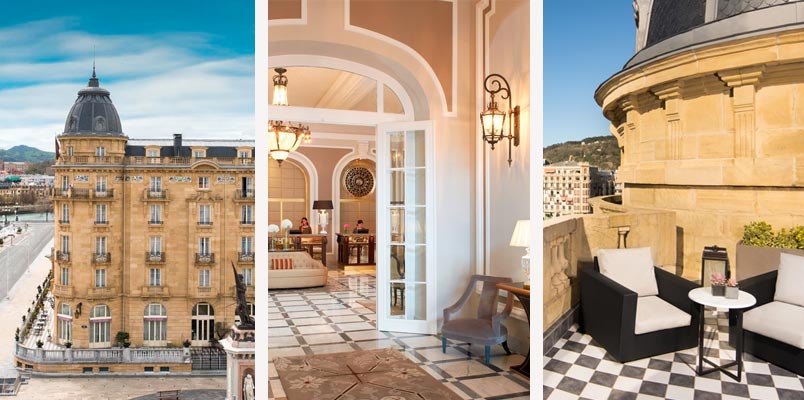 Photos: Hotel María Cristina
San Sebastián's attraction as a tourist destination is rounded off by an enormously varied choice of boutique hotels.
Among the options are several that will offer you the peace, quiet and warmth you're looking for during these few days well and truly away from it all on a romantic short break with your partner: 5-star hotels, romantic 19th century buildings, villas listed as Heritage Homes, modern buildings packed with the glamour of a film city...
RESTAURANTS FOR SPECIAL OCCASIONS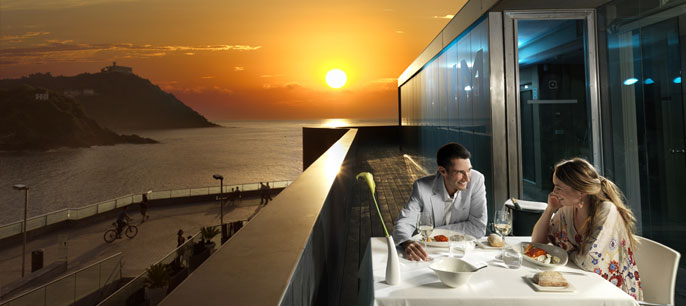 Our chefs lovingly nurture their recipes and products to make an art of gastronomy. And to make things even better, San Sebastián has several restaurants with an especially romantic atmosphere you can see at a glance. Romantic restaurants with warm, intimate spaces to give you the same privacy you would enjoy over a candlelit romantic dinner with your partner in your own home. Spectacular sea views are a common denominator of these select, top quality and romantic restaurants.