Would you like to contribute to the blog?
I want to get involvedDo you have anything interesting to tell us? This is your chance! Our website receives more than 2 million visits per year and we have more than 45,000 followers on our social media channels. Share your experience and we'll make sure it reaches millions of visitors!
Categories/Themes
Donosti Feeling
Food and drink
Culture
Sport city
Basque
Daytrips
Profile tab
Our contributors will have a profile tab with a picture, a short bio of 4-5 lines and a link to their blog/social media channels (optional)
How should I write the post?
The post can be in text or video format.
POST IN VIDEO FORMAT

The post must contain an introductory text with a minimum of 4-5 lines, written from a personal perspective and containing links to one or more videos, preferably short videos.
POST IN TEXT FORMAT

We suggest you write your post with the following tone and structure:
TONE
We recommend that you write in the first person. The language that you use should be fresh, chatty, light, direct...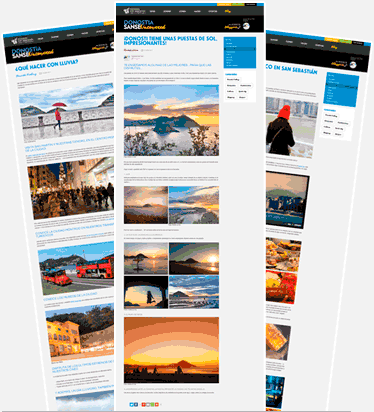 STRUCTURE
Title (1- 2 lines).
This is the "hook" of the post. It should be creative and capture the imagination.
Header image
Introduction/Opening paragraph/Teaser (1-3 lines). The second most important "hook". Explain what you are going to describe, in a concise, attractive and inviting manner, in order to encourage your audience to keep reading.
Body
1 image per paragraph
Preferable extension between 300 and 1000 words.
Closing paragraph
Conclusion / questions to prompt participation or comments about the post.
CONDITIONS
- The post must never involve marketing for a particular establishment. You may mention specific establishments but only within a broader context which includes content that will be of interest to the reader.
For example: You should not write a post about a specific shop, but you can indeed write about how to go shopping in San Sebastián/the quirks of commerce in San Sebastián and so on, and you can suggest a route in which you recommend various shops and businesses.
- The post must be original. If you would like to share a post which was published on another blog because you consider it to be of interest to visitors, you should consult the Donostia San Sebastián Turismoa, and if the post is considered to be appropriate, the author can write an introduction with original text (minimum 15 lines plus one image) and add a link to the external post.
- Donostia San Sebastián Turismoa may edit posts in order to maintain consistency in terms of grammar, style and length. If any changes are made, these will be reported to the author before the post is published.
- Donostia San Sebastián Turismoa reserves the right to decide which posts will be published.
---
I'm interested!
If you are interested in collaborating on our blog, you can do so by filling in the following form: