How to get around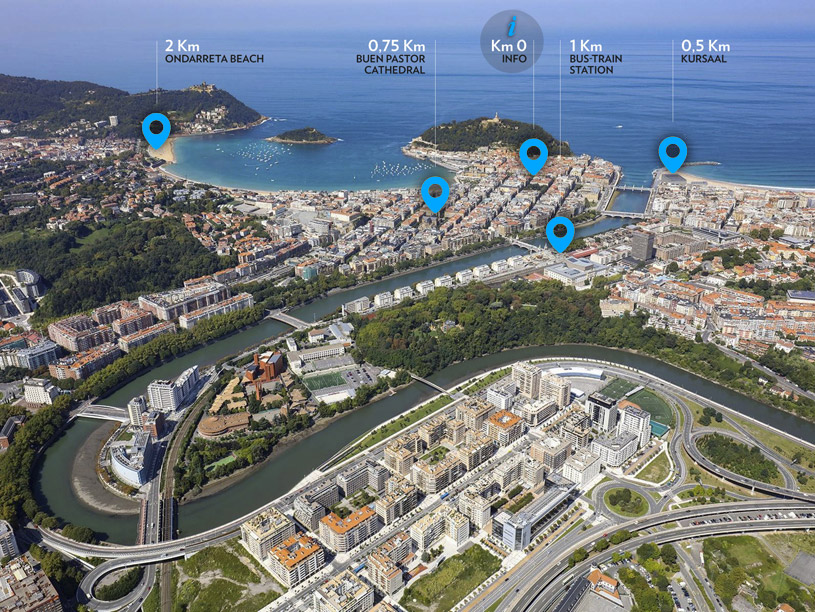 Donostia / San Sebastián is a city made for walking. Getting around on foot is easy and there is access to multiple public transport options that connect different parts of the city.
Locals are used to moving around on foot, bike and public transport. Did you know that over 32 million trips are made on San Sebastián's public transport annually, a figure that grows year after year? The city also has 77 kilometres of bike lanes and the walking distances between the major attractions are within a radius of about 15-20 minutes over flat terrain.
And if you travel to the city by car, San Sebastian has over 6,000 parking spaces. We recommend parking in one of the car parks and using public transport to get around, particularly during peak tourist periods.
We would like you to act responsibly and use public transport to get to the city and get around, whenever possible. We can all do our bit to mitigate the emissions of toxic gases caused by individual travel. Help us be more sustainable.

Walking
San Sebastian is a city made for walking. It is a city designed on a human scale and can be easily crossed on foot, thanks to short distances between attractions, extensive pedestrian sections, spectacular walks along the river and sea, and strolls through streets and avenues dotted with stunning architecture.
By Bike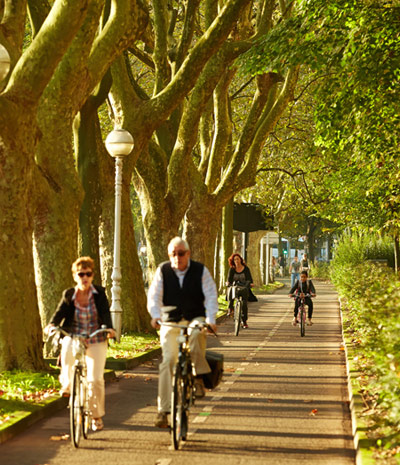 Visiting the city in an alternative, environmentally friendly, active and fun way is also fully possible in Donostia / San Sebastián. Over 30 km of bike lanes, known locally as bidegorris (literally "red roads" in Basque) and more than 77 km of separate and safe bike lanes (63% of the all roads) make it easy to visit the best the city has to offer, on wheels.
From the promenades to the streets of the city centre, all of San Sebastían has been equipped for bikes, making it a quick and convenient way to visit the city.
Several bike rental shops are also available.
On public transport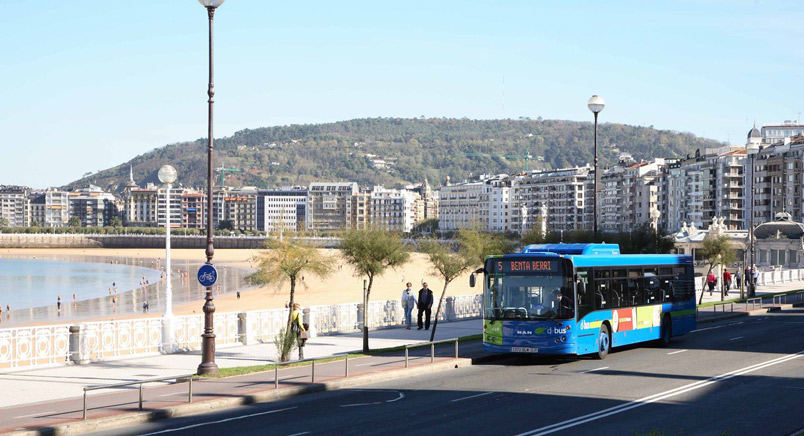 Foto: dbus
Donostia has a comprehensive and efficient city bus service, managed by the Dbus company. that will move you quickly from one end of the city to another. You can pay directly on the bus with your credit card. Consulting the lines and bus tours around the city is very easy from the Dbus website!
And if you're looking for an even easier and cheaper way to get around on public transport, you can purchase the San Sebastián Card at Donostia / San Sebastián tourism offices. This card is highly recommended for anyone who wants to use public transport to explore the city. The Basque Card is another option and includes trips to the surrounding region. Both cards offer unbeatable discounts at museums, restaurants and shops.
ACCESSIBILITY
Information on the accessibility to the city bus network (Dbus company)
Schedule
Hours vary depending on the lines. Most start running around 7:30 a.m. and stop service at 10:30 p.m. You can find the schedule for each line and the frequency at the stops.
Dbus has a night bus service called "Búhos". Most night bus lines start around midnight and end service around 4:00 p.m. The Búhos lines operate exclusively on Fridays, Saturdays and the nights before public holidays. All leave from Boulevard de Donostia / San Sebastián.
Taxis
San Sebastian has a large, modern fleet of taxis that operate 24 hours a day. Rates are metered and official. Unlike in other cities, taxis in San Sebastian do not stop on the street, so it is best to go to a taxi rank or call:
ACCESSIBILITY
Information on the accessibility to Vallina Teletaxi company
Vehicle rental
Bike rental
Car with driver rental
Scooter rental
Buses and coaches
---