Films and books set in San Sebastian
Donosti Feeling
2023 Apr 20
Don't miss our selection of films and books set in Donostia / San Sebastian!
films and books that are set in San Sebastian:
Novels set in Donostia/San Sebastian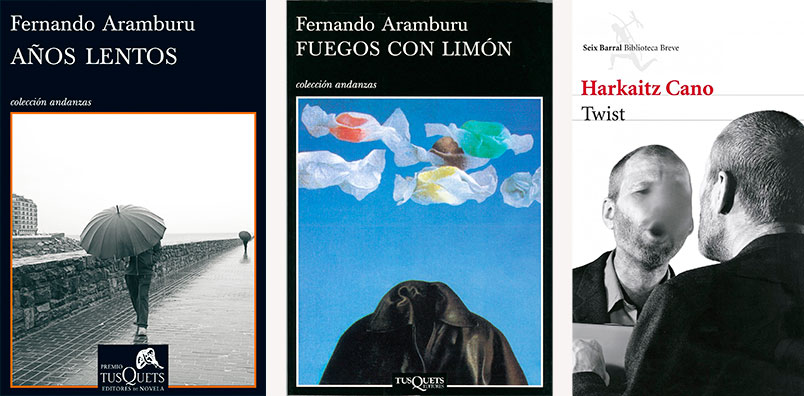 Años Lentos, Fernando Aramburu (2011)
At the end of the 1960s, the main character, an eight-year old boy, goes to San Sebastian to live with his aunt and uncle. While he is there, he witnesses how the days in the family and the neighbourhood pass: his uncle Vicente, weak in character, divides his life between the factory and the pub; his aunty Maripuy, a woman with a strong personality but subject to the social and religious conventions of the time, who is the real head of the family; his cousin Mari Nieves who spends her life obsessing about boys and his surly and moody cousin Julen, who is indoctrinated by the parish priest and ends up being enlisted by the newly-emerging ETA. Each of their fates - like those of so many people who are footnotes in history and are cornered between need and ignorance - will fall apart years later.
Fuegos con limón, Fernando Aramburu (1996)
Hilario Goicoechea begins his university studies in the turbulent San Sebastian of the late seventies. The son of a working class family - with whom he shares no interests but shares a feeling of mutual distrust - he is shy by nature and yet has been touched by the magic of poetry. By chance, he becomes part of a picturesque literary group, La Placa, made up of young, provocative and arrogant writers, who aspire to embody all of the subversive values of Surrealism and who, despite their youth, navigate comfortably in the waters of art and thought.
Twist, Harkaitz Cano (2012)
Twist starts with the disappearance and murder of two militants from an armed group. A third militant, their friend, feels responsible for their death because he gave them up. For over twenty years he lives in the shadows of his friends, as if he were responsible for living their lives for them. A fast-paced story about blame, love and betrayal but which, most of all, is an ode to friendship.

La Bretxa, Toti Martínez de Lezea (2006)
San Sebastian, 1813. Joseph Bonaparte has lost the war and the French army is withdrawing from the Peninsula, set upon by the allied troops commanded by Lord Wellington. San Sebastian is the final stronghold under French rule. After a five-year occupation, the people of San Sebastian are wondering what will happen; will the French soldiers offer resistance or surrender without fighting? Whether to stay or leave the city, that is the question. Maritxu Altuna, the owner of "La Casa del Chocolate", decides to stay and defend her business. Few people could have imagined that the allies, the much-anticipated liberators, would set fire to and ransack the city and put the civilians to the sword, accusing them of being collaborators of the French. And the women in San Sebastian will be forced to pay a high price...the ultimate price.
Ehun metro, Ramón Saizarbitoria (1976)
This brief but intense novel recounts the final minutes of the life of its main character, a militant in the early years of ETA who is fleeing the police in San Sebastian's Old Town, until he is shot down in what was then Plaza del 18 de Julio and is now Plaza de la Constitución. Forty-five years after it was written, its narrative effectiveness is still technically impressive. In a way that is concise yet complete, it intersperses the young man's attempt to escape with images from his past and the police interrogation of the main witness of his death. Ramón Saizarbitoria wrote Cien metros in 1972, but it was not published until 1976, with that publication being seized and its author being reported to the Public Order Court.
In 1997 a film was made under the direction of Alfonso Ungria with the same name as the novel.
Martutene, Ramón Saizarbitoria (2012)
Julia is a translator, Martin is an author; Pilar and Abaitua are doctors. Two couples who are mending their relationships (or falling apart) and are surprised by the arrival of a young American sociologist who takes her name from a Max Frisch novel and who enters their lives and, despite their best efforts, becomes the element that triggers multiple reactions that will shake the foundations of their stagnated relationships, kindling the flame of happiness, desire and hope for a new life.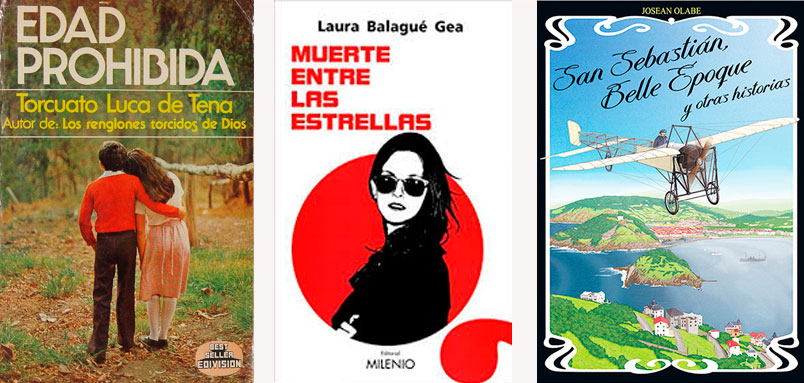 Muerte entre las Estrellas, Laura Balagué (2018)
Officer Carmen Arregui is delighted at the prospect of a week-long holiday during the San Sebastian Film Festival. She and her friend Miren have checked the programme and chosen the films that they are going to see. They have also made plans to enjoy the pleasant San Sebastian autumn together, dining out and seeing all of the celebrities who turn up in the city. Their plans are cut short when the body of a member of the jury is found and Carmen has to postpone her holidays to work on the case. The investigation becomes mixed up in the daily life of the main character: living with her husband and the problems with her children and elderly mother, who refuses to grow old. The novel shows us the city and its festival from different perspectives. Carmen will get the chance to meet more celebrities than she could ever have dreamed of and to discover that glamour does not always shine as bright as it seems.
Edad prohibida, Torcuato Luca de Tena (1958)
During one of his strolls along the beach, Anastasio, a shy and withdrawn teenager, becomes friends with Enrique, a happy boy with a strong personality who is the leader of a gang of crazy youths. Pushing aside the civil war that is ravaging Spain, they both grow up as they discover the world: Anastasio, insecure and passionate, will see his sexuality awaken with fear and suspicion; Enrique will quickly mature, with the impulse of someone who, above all, wants to discover the secrets of life.
Other novels set in San Sebastian
In the following post you will find 10 books set in Donostia/San Sebastian. A selection of novels to suit all tastes, created with the recommendations from the outstanding Donosti bookshop:
http://hotellagaleria.com/2019/04/22/10-libros-ambientados-en-san-sebastian/
Films shot in Donostia/San Sebastian
Ventajas de viajar en tren - Advantages of travelling by train (2019)
Ventajas de viajar en tren is the first film by San Sebastian's Aritz Moreno and it has not stopped receiving good reviews since it was released, as demonstrated by the four nominations it received for Goya Awards, including best new director and script.
If you were unable to see it at the closing night of the San Sebastian Horror and Fantasy Film Week, this is the best time to enjoy this black comedy which takes the form of a conspiracy thriller. Everything begins with a strange question: Would you like me to tell you about my life? A film that is sure to impress you.
It was filmed in various locations in Gipuzkoa (including San Sebastian), Madrid and Paris.
Operación Concha (2017)
This film premiered at the San Sebastian Film Festival in 2017. In fact, this comedy - which is full of twists and turns - takes place at the city's film festival, where a bankrupt movie producer takes advantage of this setting to try to swindle a millionaire investor.
Kalebegiak. (2016), collective.
Kalebegiak (Street eyes in Basque) is a collective film that was promoted by San Sebastian 2016 and was premiered at the San Sebastian Film Festival. In this film, 12 filmmakers with a proven track record (Julio Medem, Gracia Querejeta, Borja Cobeaga, Isabel Herguera, Izibene Oñederra, Asier Altuna and Telmo Esnal among others) and amateurs show San Sebastian from their perspectives: One city, 12 perspectives.
Zip & Zap 1 and 2 (2013 - 2017)
Zip and Zap is a family film that is packed full of adventure with the famous characters from the comic created by José Escobar Saliente.
The two films were shot in several locations in San Sebastian, including Mount Ulia, Artikutza, Ameztagaina, the lighthouse path…
Amama - (2015)
This film, directed by Asier Altuna, received the Irizar Basque Film Award and the Award for the best Basque script at the San Sebastian Film Festival.
This feature film was shot entirely in the Basque Country, in the Artikutza Forest, San Sebastian and Hondarribia, among other places.
Embarazados (2015)
Directed by Juana Macías, this feature film was shot entirely in Donostia / San Sebastian. It is a comedy-drama in which the characters have to make a difficult decision that will change their lives.


Negociador (2014)
The Basque director Borja Cobeaga premiered this feature film at the San Sebastian International Film Festival, where it received great reviews and several awards. This comedy-drama is based on real life events and is about the negotiations held between the President of the Basque Socialist Party, Jesús Eguiguren and ETA.
It was filmed at a number of locations in San Sebastian, including the stunning Villa Soro Hotel.
Loreak - flowers (2014)
This film premiered at the Zinemaldia, the San Sebastian International Film Festival. The Basque directors Jon Garaño and Jose Mari Goenaga chose a number of sites in San Sebastian to shoot this beautiful film.
La Herida (2013)
La Herida is a film that was shot in San Sebastian; the many awards it has received include two Goya Awards and the Special Jury Prize and the Silver Shell for Best Actress in the San Sebastian Film Festival.
La Herida is a drama about depression and suffering, a hard-hitting but intriguing feature film where the lead actress Marian Álvarez and the director Fernando Franco fully immerse us in the film.
80 Egunean (2009)
80 Egunean is another feature film by the directors José Mari Goenaga and Jon Garaño and it has received over thirty awards. An unmissable film! A reunion, a great friendship and a question that is difficult to answer...what should you listen to, your head or your heart?
The film was shot in San Sebastian and in it you can see such easily recognisable places as La Avenida de la Libertad, Santa Clara Island, the Port and Plaza Easo, among others.
Sukalde Kontuak (2009)
Sukalde kontuak was the first feature film written and directed by Aizpea Goenaga. It takes place in a cookery school where the students and teachers will experience weird situations. The film was shot in San Sebastian and in it you will be able to discover the Old Town, the Port, the gardens of the Miramar Palace, Plaza Lasala…
Zorion perfektua (2009)
This film was presented at the San Sebastian International Film Festival in 2009. It was filmed in places such as San Sebastian, Zarautz, Orio, Getaria and Barcelona.
Based on the book with the same name by the author Anjel Lertxundi, it is about the experiences of a woman who, as a teenager, witnesses an attack that will mark her life.
Todos estamos invitados (2006)
Directed by Manuel Gutierrez Aragón and filmed in Donostia/San Sebastian, it is about the political situation in the Basque Country in the 90s. In this film you will be taken around the streets of the Old Town, the Port, Ondarreta Beach, the Miramar Palace, the Boulevard…
Frío sol de invierno (2004)
For the feature film Frío sol de invierno, the director Pablo Malo received the Goya Award for best new director in 2004.
This drama, shot in San Sebastian, is about the life of a young man with mental problems who, on discovering that his father has abandoned them, will enter a deprived environment which takes him far from the social status with which we was raised.
El final de la noche (2003)
This feature film by the director from San Sebastian, Patxi Barco, was presented in the Zabaltegi Section of the San Sebastian Film Festival in 2003 and it was shot in Donostia / San Sebastian.
Desiré (1936)
This famous American feature film tells the story of a jewel thief (Marlene Dietrich) who tries to dupe an American (Gary Cooper) who is on holiday in Spain. At the start of the film you can see La Concha Beach and the Londres Hotel, bearing the name of the Continental Palace.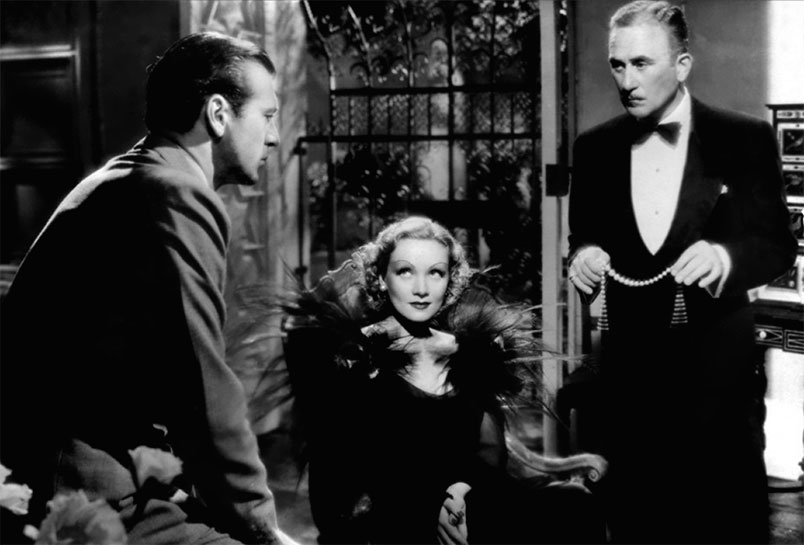 Battle of Britain (1969)
This war film follows the events in the battle that took place between the British and German air forces at the start of World War II. Much of this feature film was shot in Donostia / San Sebastian, Hondarribia and Zarautz.
Other films in which locations in Donostia / San Sebastian also appear
Las películas del Festival Internacional de Cine de San Sebastián y del Festival de Cine de Derechos Humanos
In addition, in the following links you can also enjoy the films that have been seen in these two of the great Donostia film festivals: