San Sebastián day: the tamborrada drum parade
Culture
2023 Jan 03
Bagera...! Gu ere bai…! Gu beti pozez, beti alai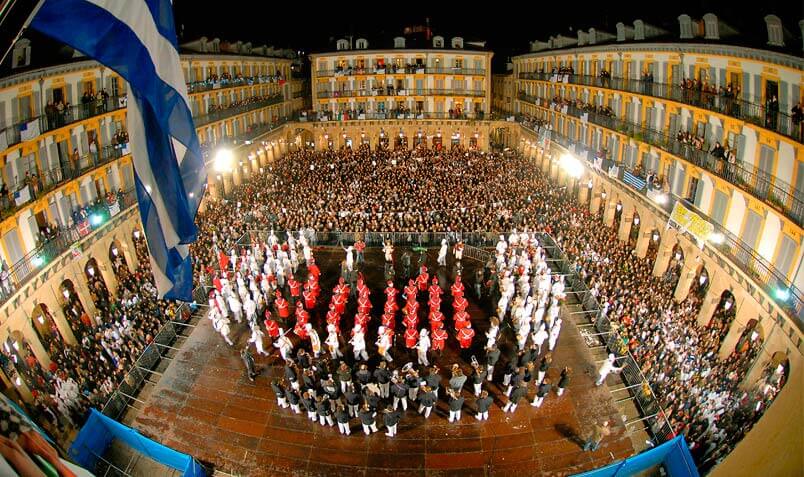 Every 20th January, San Sebastián celebrates its patron saint's day with the Tamborrada drum parade. Events kick off at 12 o'clock midnight on the 19th in the Plaza de la Constitución, when the city flag is raised. The drumming opens with the Sociedad Gaztelubide and representatives of other drum outfits who play to melodies by Sarriegui and continues throughout the following 24 hours.

The event began in 1836 as part of the local carnival; it wasn't long before it became tradition to celebrate the patron saint's day with drum parades in the streets of San Sebastián. At first the participants would dress up, but later they started wearing the same uniforms as the soldiers detailed to the city. The early uniforms reproduced those worn by the Gipuzkoan battalions who fought in the War of Independence and were similar to those of the French army. As the number of participants in the Tamborrada increased, other companies with different uniforms started to appear.

On January 20th it is practically impossible not to come across at least one Tamborrada in the streets of San Sebastián. More than 147 companies (each with 20 to 50 drums and 50 to 100 barrels, accompanied by a brass band, flag-bearers and water-carriers) bring the streets alive with their tunes and dances.
At 12 o'clock midnight on the 20th the Unión Artesana tamborrada lowers the flag and brings an end to the festivities until the following year, often moving the locals to shed the occasional emotional tear.
Do you know the lyrics of the San Sebastián march?
Here we leave you the original lyrics and the translation, so that you can chant it, whether you are in San Sebastián or anywhere else in the world!
Bagera…!
gu ere bai!
gu beti pozez,
beti alai
Sebastian bat bada zeruan
donosti(a) bat bakarra munduan
hura da santua
eta hau da herria
horra zer den gure donostia
Hirutxuloko
gaztelupeko
joxemaritar zahar eta gazte. (berriz)
Kalerik kale
danborra joaz
umore ona zabaltzen
hor dihoaz
joxe mari¡Gaurtandik gerora
penak zokora
festara!
dantzara!
donostiarrei oihu
egitera gatoz
pozaldiz
ihauteriak datoz¡ (berriz)Bagera...!
gu ere bai!
gu beti pozez,
beti alai
We are...!
So are we!
We're always happy,
Always cheerful!
There is a Sebastian in heaven
A unique Donostia in the world
That is the saint and this is the town
That is what our Donostia is!
From Irutxul,
from Gaztelupe
Joxemari old and young
Joxemari old and young
Street by street
Playing the drumm
Spreading good humour
There they go
Joxe Mari Joxemari! From now on
the sorrows out
To the party!
To dance!
We come to call the donostiarras (people from Donostia)
Joyful!
The Carnivals are coming!
So are we!
We're always happy,
Always cheerful.!
For a taste of the Tamborrada: VAGABROTHERS: SAN SEBASTIAN´S TAMBORRADA – THE BEAT OF A BASQUE DRUM