The best vegan options in San Sebastián
Food and drink
2022 Dec 23
San Sebastián is one of the world's premier culinary destinations, and its practically endless options for foodies includes a full range of vegan alternatives, many well-composed dishes that take exquisite care with raw ingredients. Increasingly more restaurants offer a separate menu section for vegans and vegetarians, in addition to three spots with menus dedicated exclusively to %100 plant-based or ovo-lacto vegetarian dishes. Fortunately, the quality and quantity of dishes available for anyone who chooses an animal-free diet has also grown notably in recent years, with some 20 establishments serving up 100% vegetarian dishes.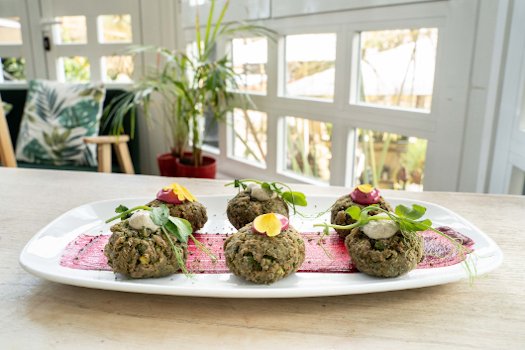 The following list includes a mix of different types of restaurants that offer a range of alternatives for all tastes and budgets. Each serves up mouth-watering dishes, breaking the stereotype that there are slim pickings for diners who choose not to eat meat or fish. And the fact is that a quick glance at the photos and the variety of amazing dishes is enough to surprise even the most die-hard carnivores. Many of these restaurants cook with organic and locally sourced products, enhancing the nutritional benefits of each dish. With so many good places to eat, the only thing you need to do is choose the one that sound best…let's go!
Vegetarian and vegan restaurants
Mapa Verde
Mapa Verde (Calle Trueba 4, tel.: 943 84 18 62) is the only 100% vegan restaurant in San Sebastián. The philosophy of its managers is based on mindful eating: eating without distraction and engaging the senses. The restaurant only uses natural, local and mostly organic products, and produces 100% of the food they serve. The stunning venue, which recently opened its doors, invites diners to take their time while they eat to fully enjoy the experience. Menu highlights include the Mapa Verde and the dishes created to be shared. And if you have a sweet tooth, don't miss out on the tiramisu, which has its own history; the original recipe was handed down from the owners of the legendary Landare, the city's first vegan restaurant, which was located in the same space now occupied by Mapa Verde. Landare closed its doors, but before it did the owners ensured that their iconic dessert lived on in the best hands.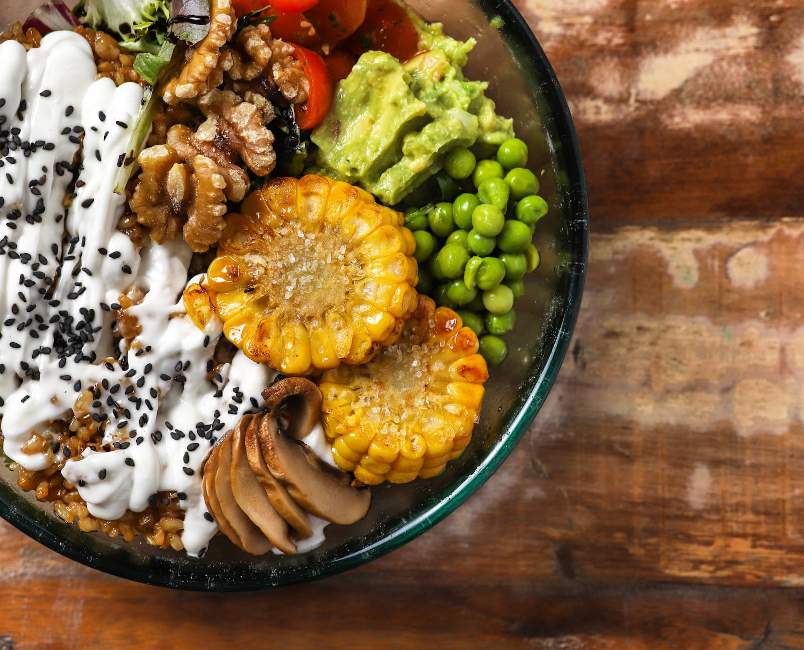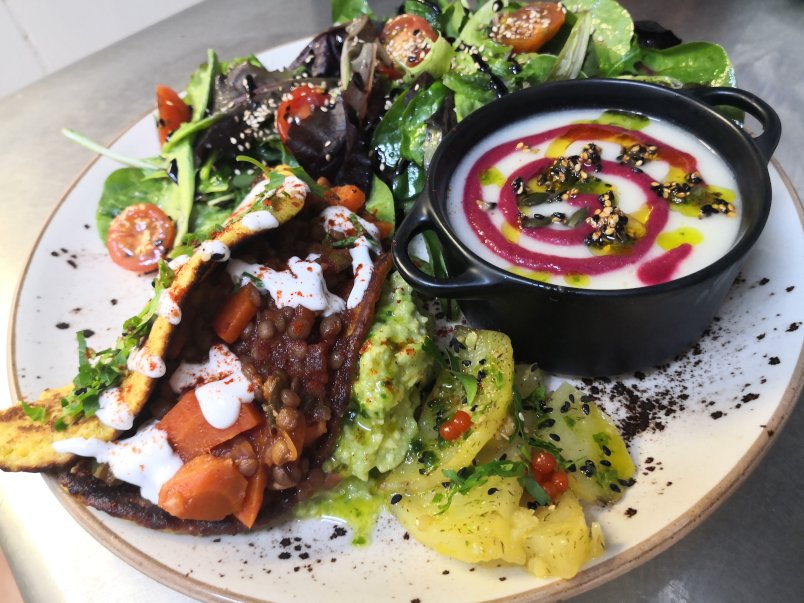 KM. 0
Kilómetro 0 (Duke of Mandas 49, tel.: 943 56 17 51) has earned a well-deserved reputation in the Egia neighbourhood with a largely vegan menu that also includes several ovo-lacto vegetarian dishes. The varied menu features unprocessed food prepared with organic ingredients sourced, as the restaurant's name suggests, from the area around San Sebastián, and the owners prioritise serving diners healthy, balanced dishes. Located next to Tabakalera, its well-stocked bar of vegan pintxos, a treat for both the eyes and the palate, shouldn't be missed.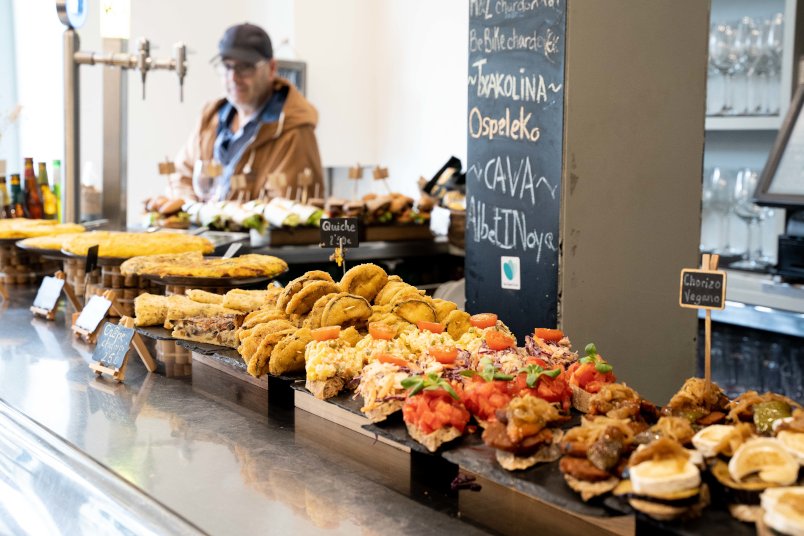 Garraxi
Garraxi (Calle Tejería 9, tel.: 943 27 52 69) is a restaurant with a unique personality. Located in the heart of the Egia neighbourhood, it offers great value for the money alongside an extensive, diverse menu. Well-loved by vegans and omnivores alike, the restaurant is often packed to capacity and booking a table on weekends is recommended. Garraxi incorporates natural and seasonal products into its dishes as much as possible. First-time guests may be surprised to find that diners set their own places and cut the bread for the table at the restaurant's bread station. These are the types of details that lend Garraxi a unique charm and keep diners coming back for more.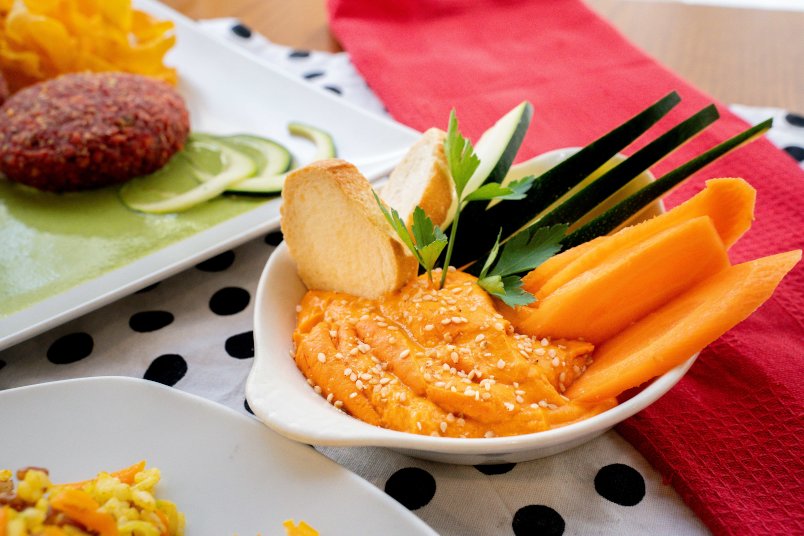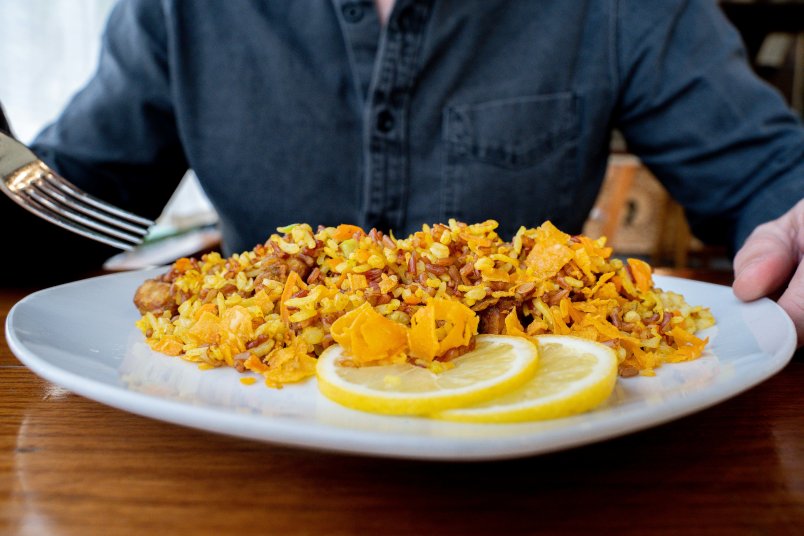 Green Meat
If you're a vegan looking to enjoy the city's popular "pintxo-pote", an evening of pintxos and drinks at a discounted price, then you won't want to miss Thursdays at Green Meat (Txofre, 2 tel: 656 700 469). This vegan shop has a massive variety of animal-free products that it sells to individual shoppers, stores and hotels, and has become a favourite of the entire San Sebastián vegan collective. It also delivers pre-prepared meals.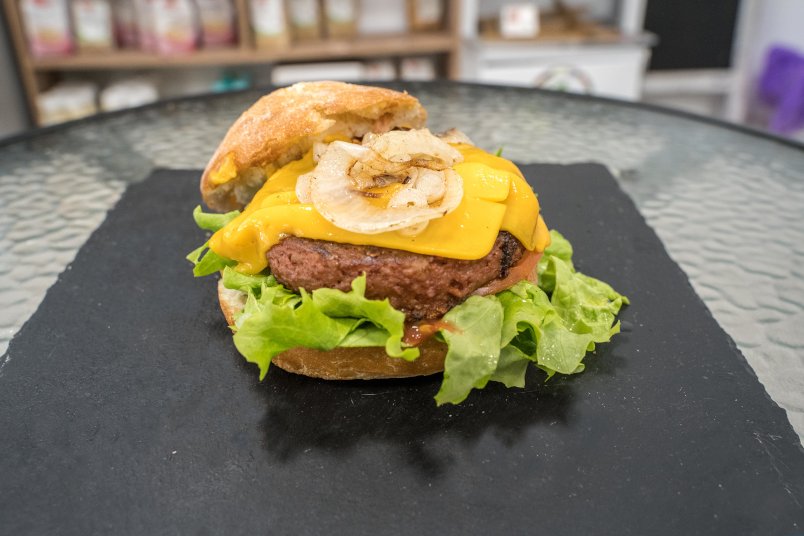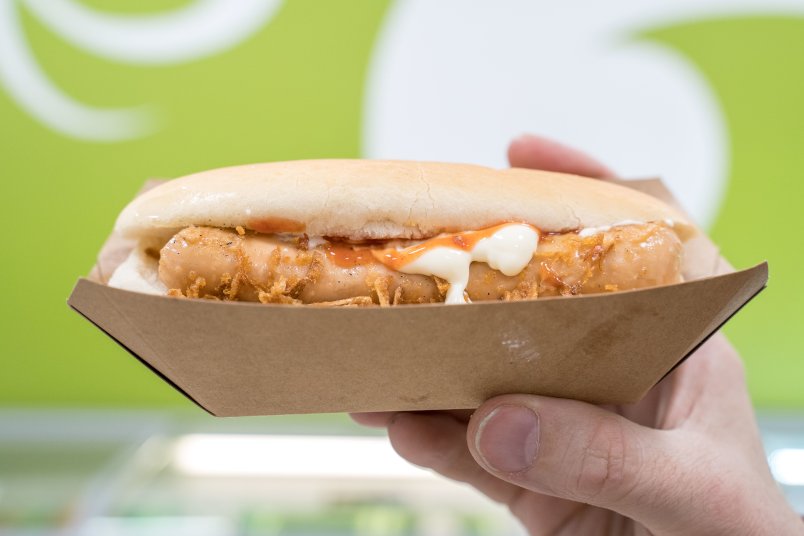 Restaurants in San Sebastian with vegan options
Maiatza
ne of the best spots in the Old Town for vegans is Maiatza (Calle San Vicente 7, tel.: 943 42 18 08), which serves up a 100% vegetarian menu. Open all day, it is a great option not only for lunch and dinner but for breakfast as well, with an outstanding menu with various vegan and vegetarian options. The current owners come from a family of hotel owners and—as they proudly boast—a mother who is a pastry chef. And it shows. Their vegan dessert menu is one of the best in the city and includes cakes, pies, muffins, cookies, and much more. These sweet temptations make it the perfect place to grab a bite any time of day. Savoury options run from sandwiches and hamburgers to salads and vegan dishes. And if you're just looking for a snack, we highly recommend their hummus, nachos, and potatoes with vegan sauces.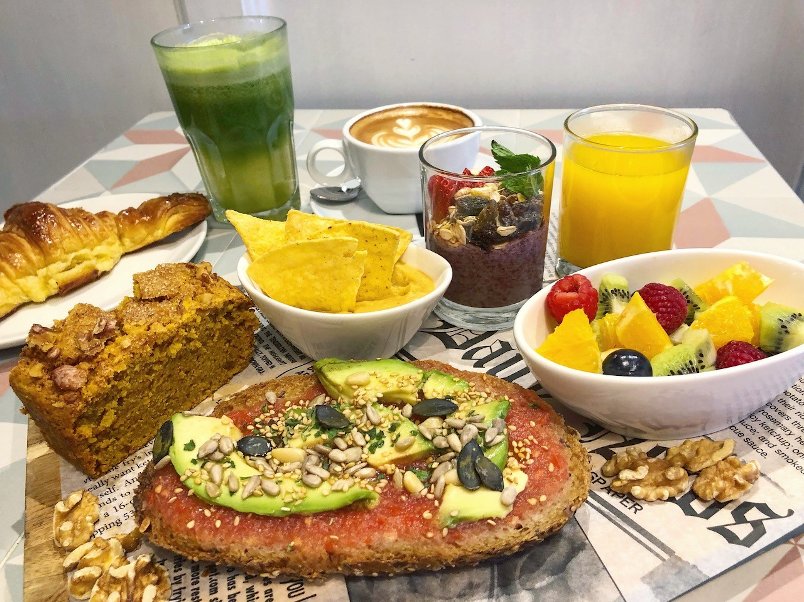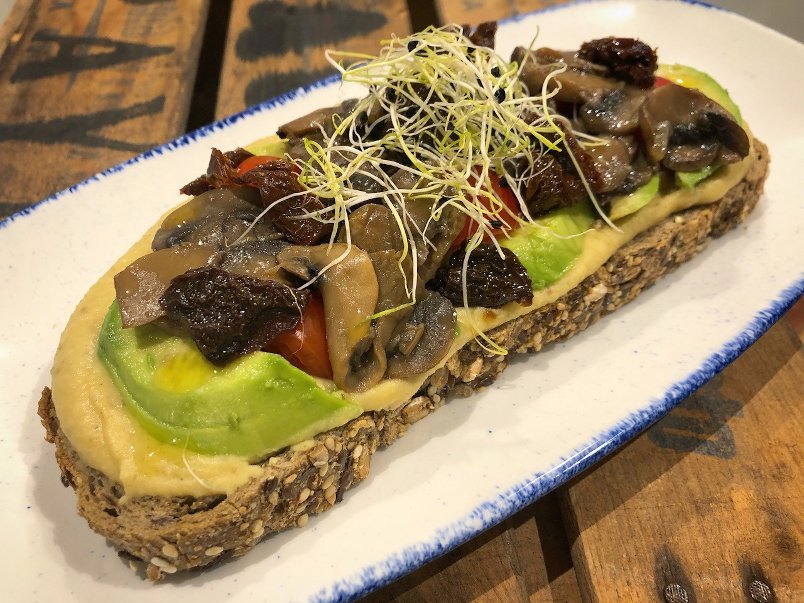 Tedone
Tedone (Corta 10, tel.: 943 273 561) is strongly committed to organic, non-GMO and whole-grain products, the stars of the menu. Created to offer dishes for both vegetarian and omnivores, the á la carte menu and daily set menu always includes alternatives for every taste and dietary choice. As a philosophy, they strive to raise awareness about organic food and value the outstanding products from organic farmers who both preserve the land and respect the environment. With a cosy interior atmosphere and a quiet terrace in the heart of the Gros neighbourhood, the restaurant can also be booked for events (and if you like sake, this is one of the best places in the city).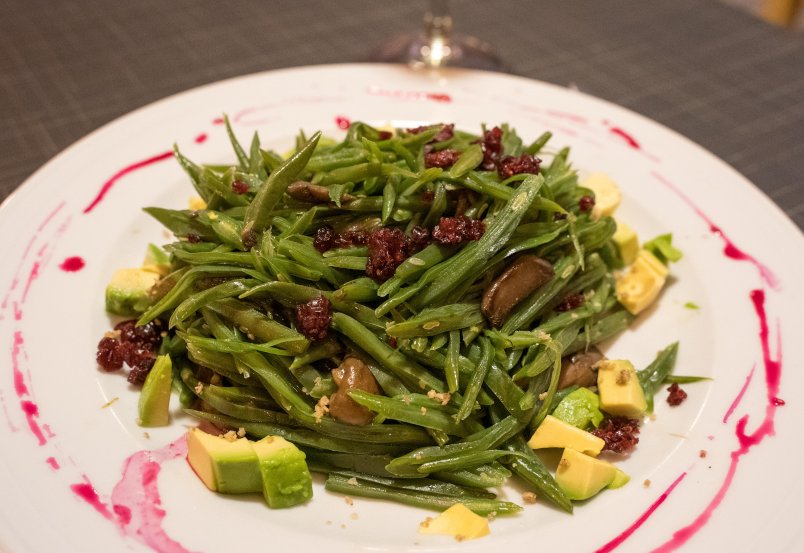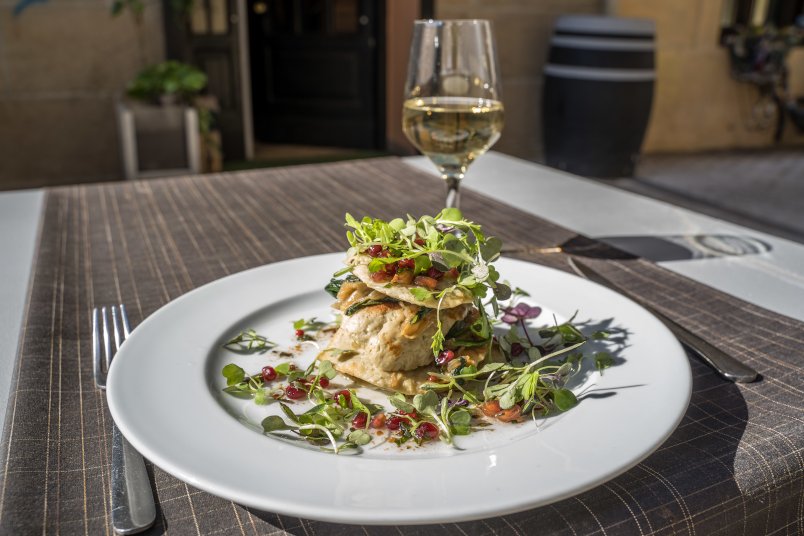 Kafe Botanika
If you're looking for a quiet spot with an enchanting garden and spectacular picture windows, then look no further than Kafe Botanika (Paseo Árbol de Gernika 8, tel.: 943 44 34 75). It was created as a space where diners can enjoy healthy, international food and has stayed true to this concept, serving organic and locally sourced products. Both the á la carte and set menus include mouth-watering vegan options, including a range of hummus flavours, pea falafel, organic vegetables and vegan curry. Diners aren't just limited to lunch and dinner: Kafe Botaniak is the perfect spot for breakfast or a mid-afternoon drink in a relaxed and friendly atmosphere.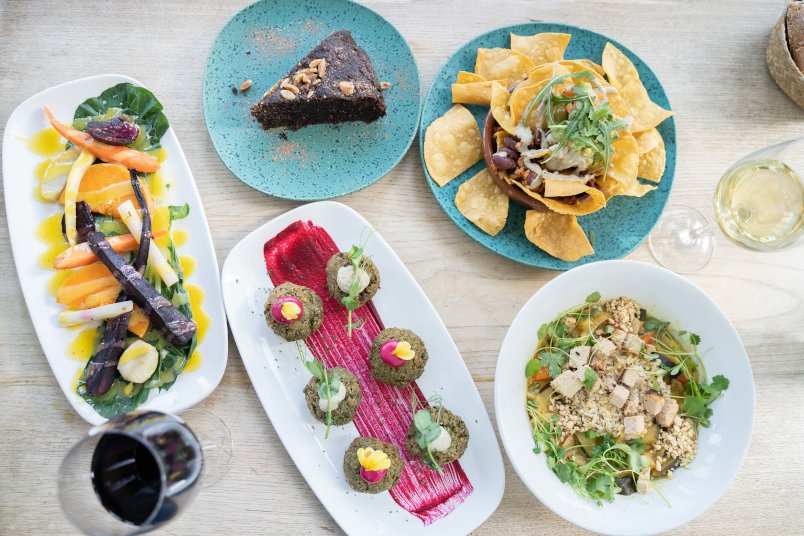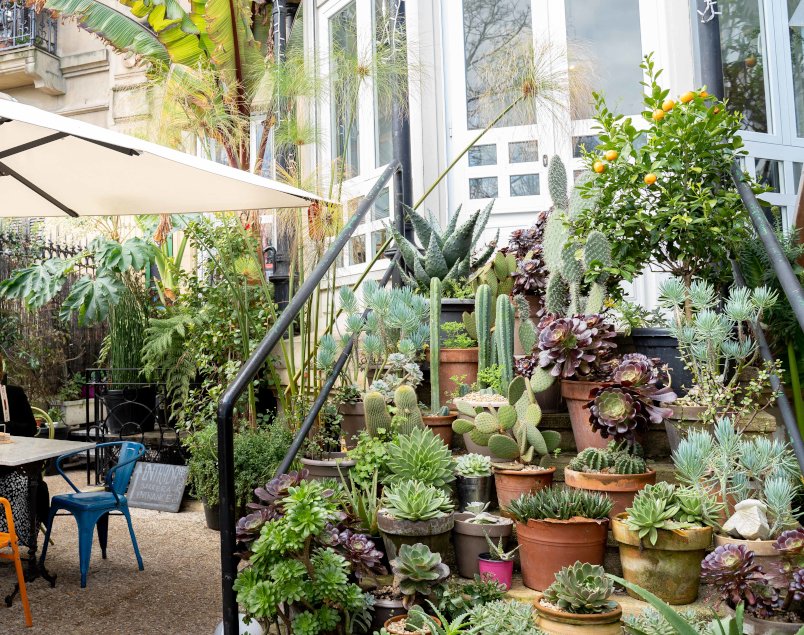 Kaxilda
Another one-of-a-kind venue is Kaxilda (Calle Arroka 2, tel.: 943 57 19 87), a combination critical thinking bookstore and restaurant with a full range of vegan options. The owners aimed to explore this concept, creating a meeting point where guests can grab a bite to eat, attend a book presentation, listen to a concert or participate in political research dynamics. Underscored by this philosophy, they knew they had to focus their efforts on sustainability and fresh, organic and local non-processed products. Except for the vegan cakes, made by renowned San Sebastián bakery Alkhemi Laboratory, all the dishes served at Kaxilda are prepared in-house. Diners also appreciate the venue's spaciousness and its location, very central yet removed from the hustle and bustle.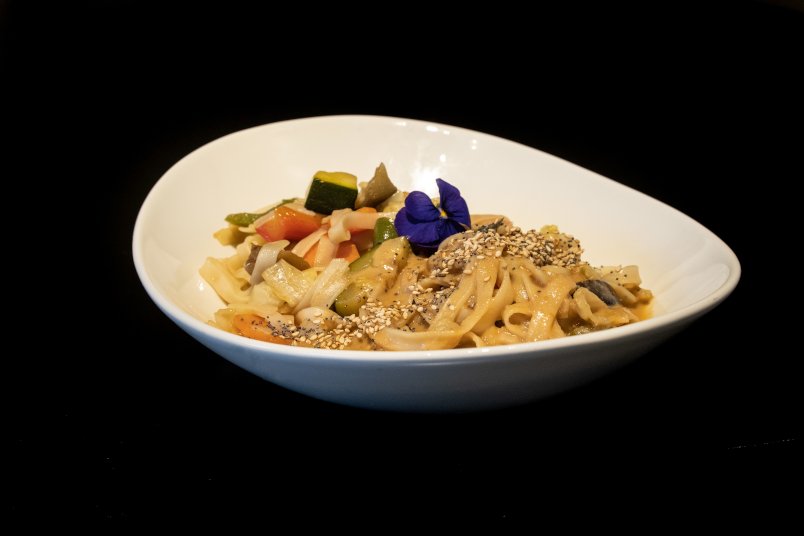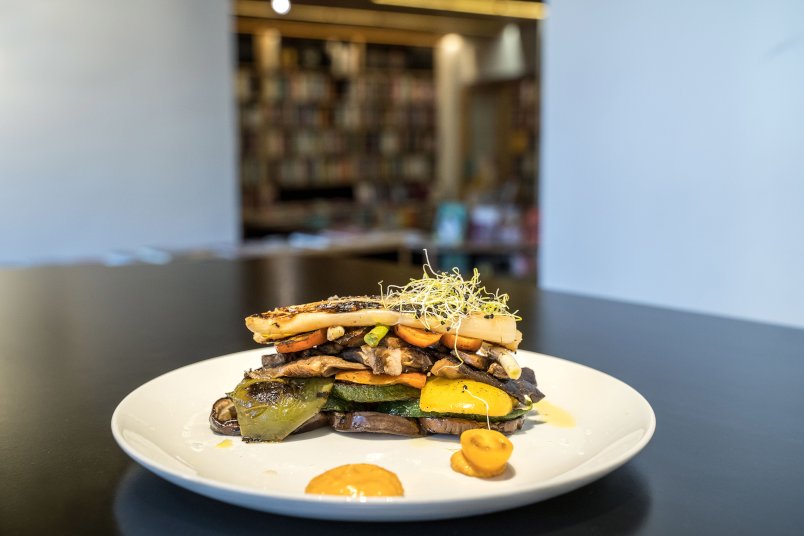 Caravanserai
Caravanserai (San Bartolomé 1, tel.: 943 47 54 18), located next to the Buen Pastor Cathedral, is a large restaurant with a vegetarian menu section that includes a range of vegan alternatives: starters, combo plates, quesadillas, hamburgers and pizzas. It was created as a place where omnivores and vegetarians can dine together, a restaurant where everyone can find something they like. As for desserts, their vegan chocolate cookie skillet, served with hot chocolate syrup and vanilla ice cream, is a must.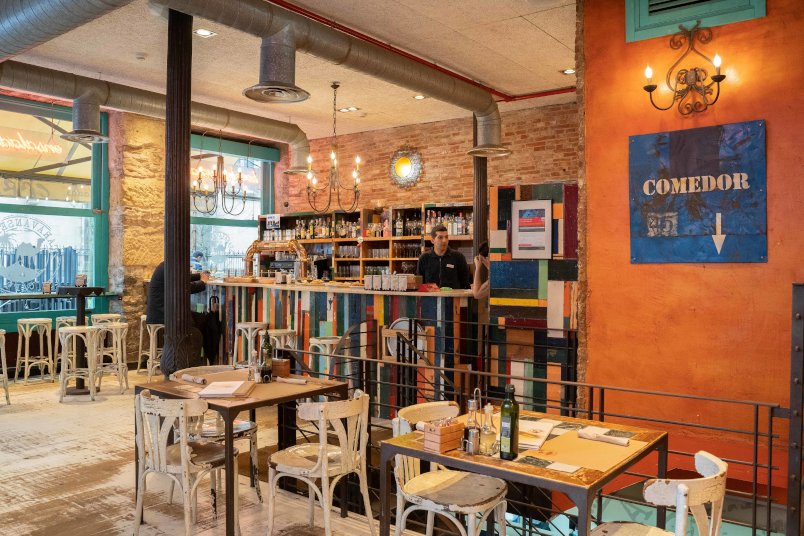 Goxo Poke
Looking for more exotic alternatives? You can't go wrong with Goxo Poke (14 Prim Street, tel. 943 84 87 78). Poke is a healthy and fresh Japanese-Hawaiian fusion food that aligns perfectly with the vegan philosophy. It combines rice or quinoa with fruit, salad, a protein and other ingredients like wakame seaweed or shiitake mushrooms. Goxo Poke offers two fully vegan options, the Vegan Crew and the Veggie Bomb, both carefully created and balanced dishes. They also have a mouth-watering vegan brownie for dessert. Guests can either eat in the cosy dining room or order one of the restaurant's many to-go options.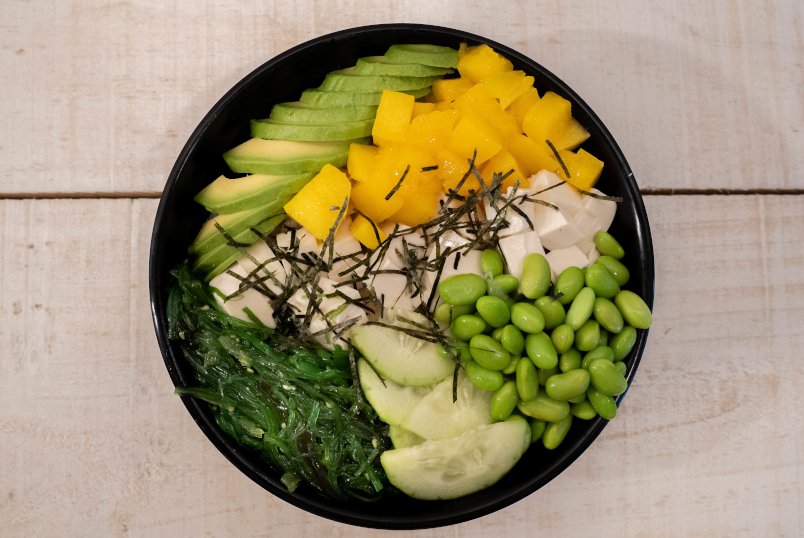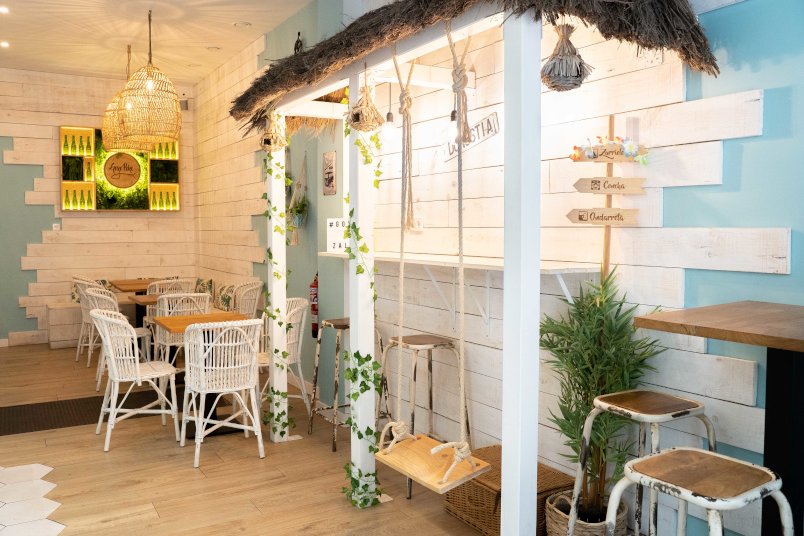 La Farándula
In the search for alternative experiences, none equals a visit to La Farándula (Duque de Mandas 10, tel.: 943 47 73 29), a micro-theatre that offers a blend of culture, art and food. Guests can see one of the venue's small-scale productions or simply order one of the restaurant's hamburgers and vegan toasts. The chefs are committed to locally produced products and have announced that they plan to expand their menu soon with more increasingly popular vegan options.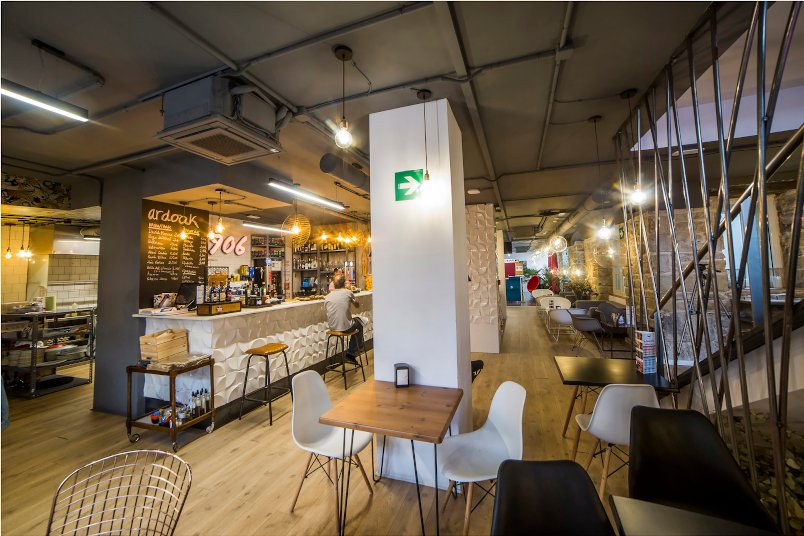 Looking for a restaurant along the spectacular Paseo Nuevo? Kaskazuri (Paseo Salamanca 14, tel. 943 420 894) is one of the oldest establishments in the city. It features healthy food prepared with fresh, premium products with a focus on vegetables. Moreover, both the á la carte and daily set menu incorporate different dietary choices, from vegan and vegetarian to macrobiotic. Book in advance and they can also meet diners' specific dietary requests.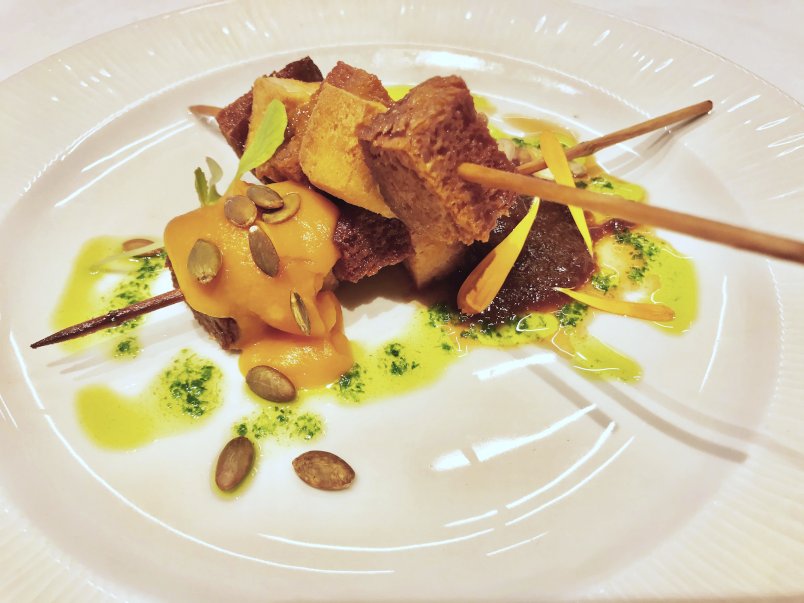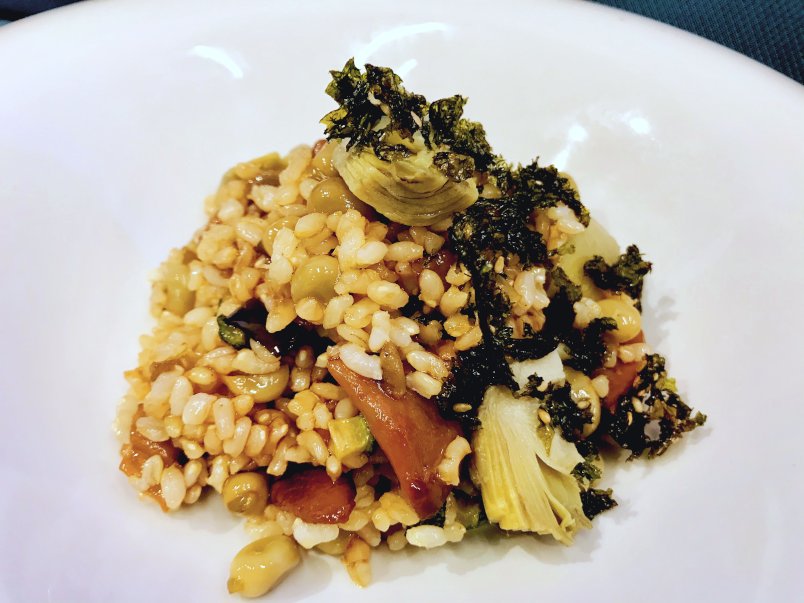 Zinema Corner
Zinema Corner is located in a well-connected spot in the Gros neighbourhood (Plaza Pinares 1, tel.: 943 25 66 36). One of its managers is a vegetarian and has ensured that the menu includes plenty of meat-free options. It is also one of the few places in the city that offers a pintxo-pote with vegan dishes, an alternative that it plans to expand in the coming months.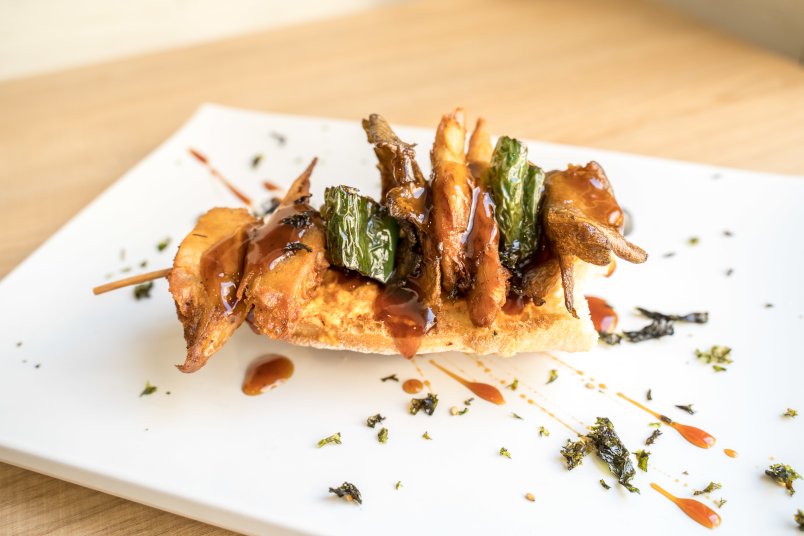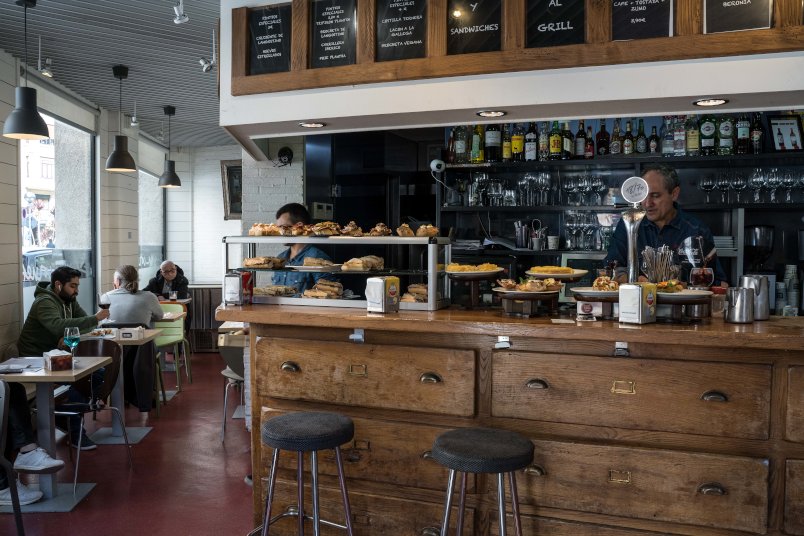 Bizargorri
There are also vegan options outside the city centre, and few places offer such a wide variety of sandwiches, hamburgers, and 100% plant-based dishes like Bizargorri (Mayor J. Elosegi 133, tel.: 943265691). The tavern's management team wanted the space to be "open to everyone" and ensured that the menu had vegan options, from appetizers and combo plates to sandwiches and burgers, even caramelised vegan French toast. Home deliveries are available for the local neighbourhood, and the restaurant recently started offer vegan paella to order, which has been a massive success.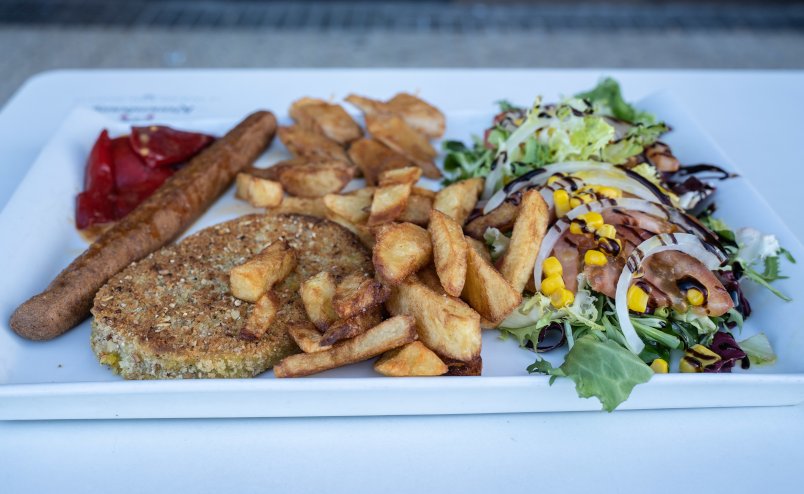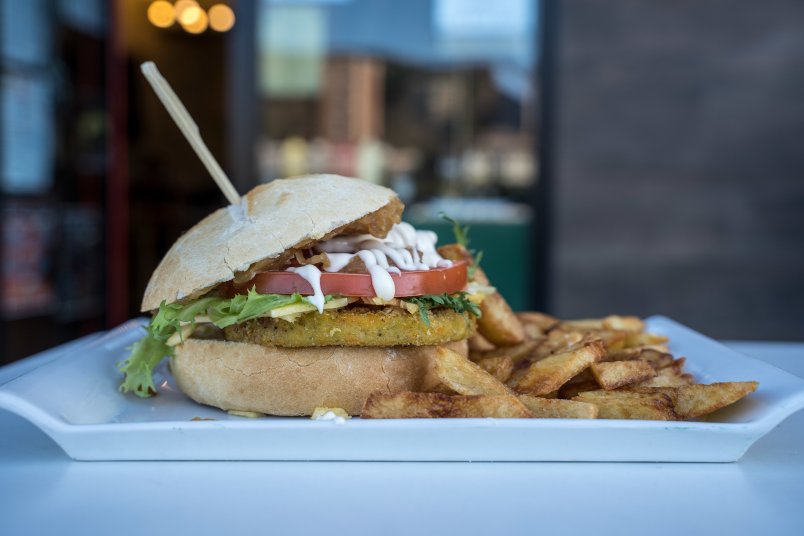 Iruin
Cider houses, a San Sebastián tradition with a typical tavern menu, are opening up their offerings to include vegetarian and vegan customers. Like Iruin (Petritza Bidea 12, tel. 943 36 12 29), a cider bar in an unbeatable location in San Sebastián's Zubieta neighbourhood that serves up a vegetarian menu with dishes than can be made 100% vegan to order. Now guests with all types of dietary needs can enjoy locally made cider along with the incredible atmosphere of the txotx (Basque cider) culture. Interesting fact: one of the managers is a vegetarian, the fourth generation of a cider-making family who now runs the venue with his brother.
(Other cider houses near San Sebastián like Saizar, Ipintza, Iparragirre and Petritegi also have a variety of vegan dishes on their menus).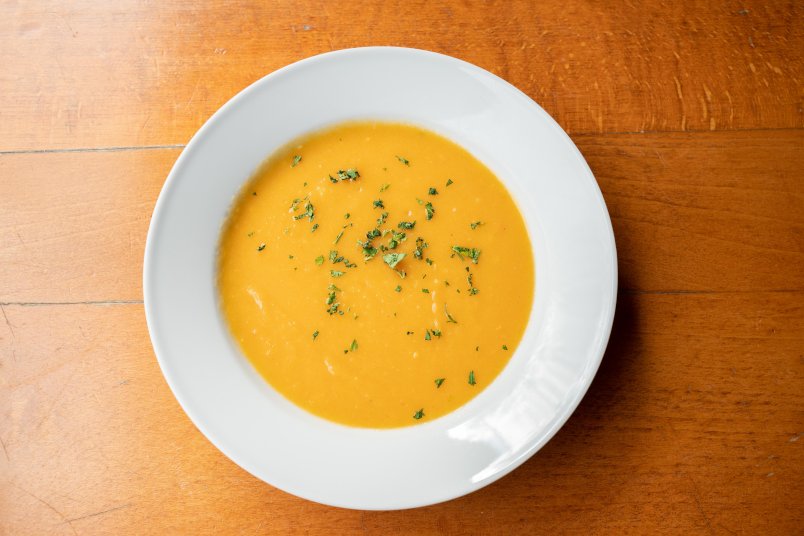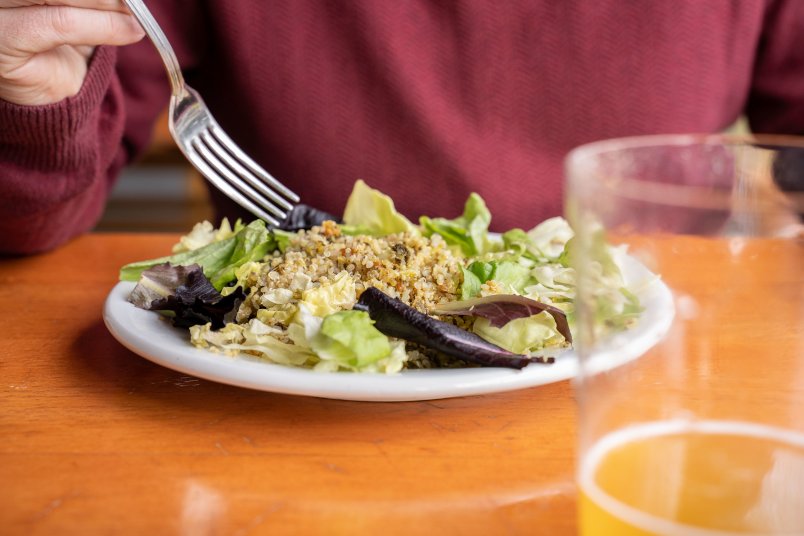 Vegan options at upscale restaurants
Mirador de Ulia
Mirador de Ulia (Paseo de Ulía 193, tel.: 943 272 707) is located in an outstanding enclave that provides guests with spectacular views of the city, the kitchen is run by Rubén Trincado, a chef committed to innovative cuisine rooted in traditional Basque cuisine. He applies the most advanced culinary techniques to his passion for flavours and aromas to surprise diners with his compositions. Fresh, seasonal produce is crucial. Trincado took on the challenge of adapting cuisines to new dietary restrictions three years ago, designing both a vegan and an ovo-lacto vegetarian menu that has been a hit with guests.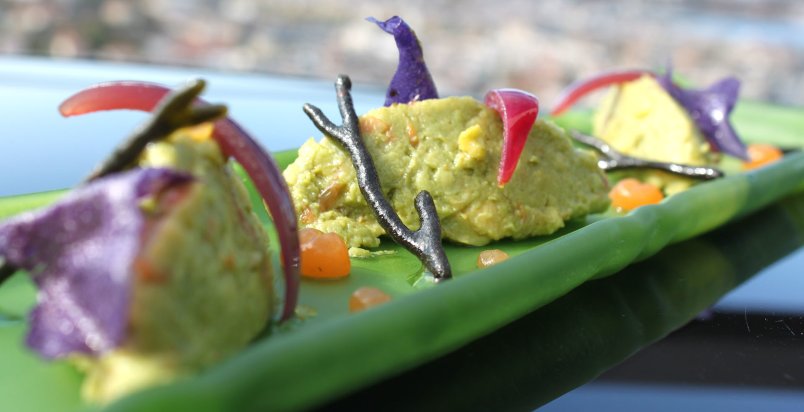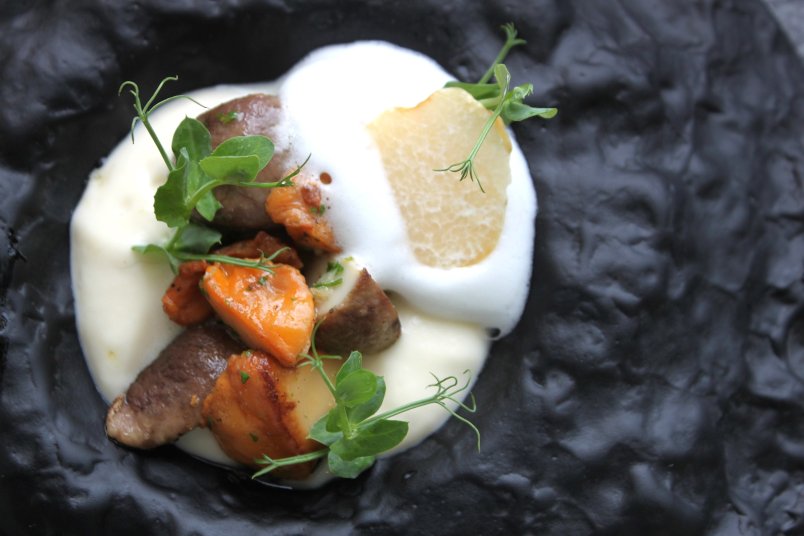 Misura
Misura (Paseo de Miramón 162, tel: 943 56 66 38) has a clearly defined philosophy: a respect for the environment and a commitment to nature and healthy living. Its 100% vegan menu is packed with high-quality, innovative, sustainable and organic options based on local products grown without synthetic chemicals. The open-kitchen plan means that diners can watch the chefs through a large window, getting a front-row seat to a live culinary performance. The restaurant also offers a private room, round tables and a large terrace that opens to the forest.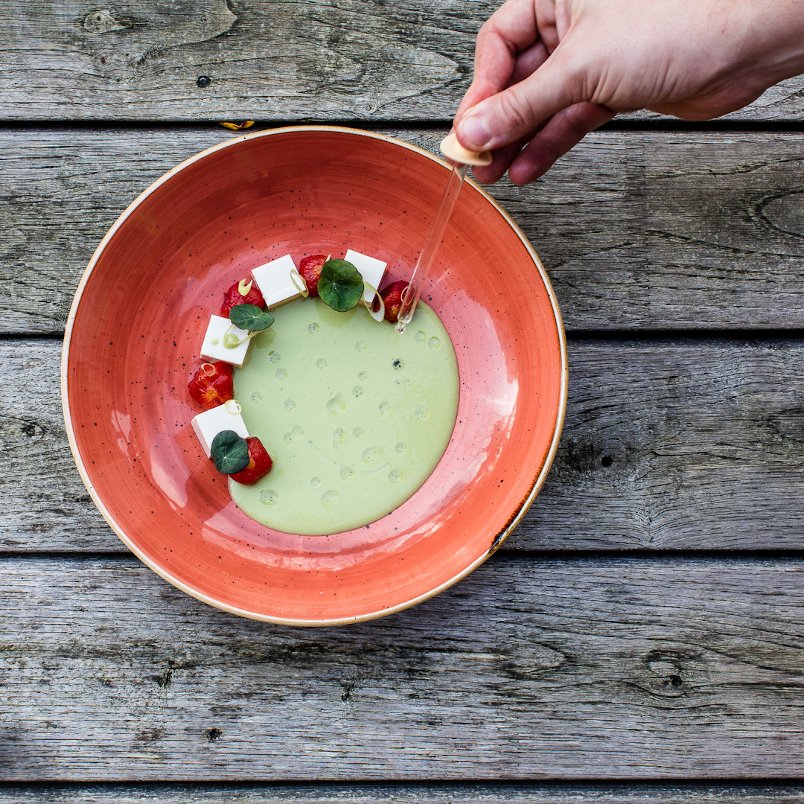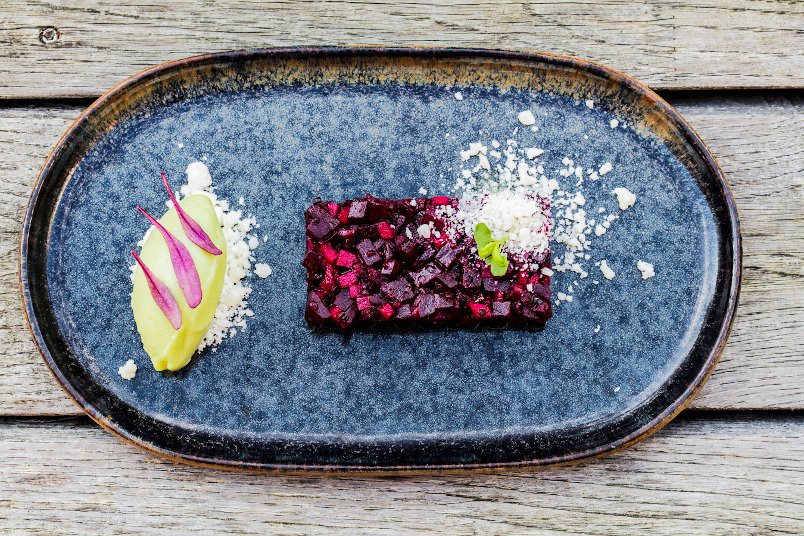 ---
+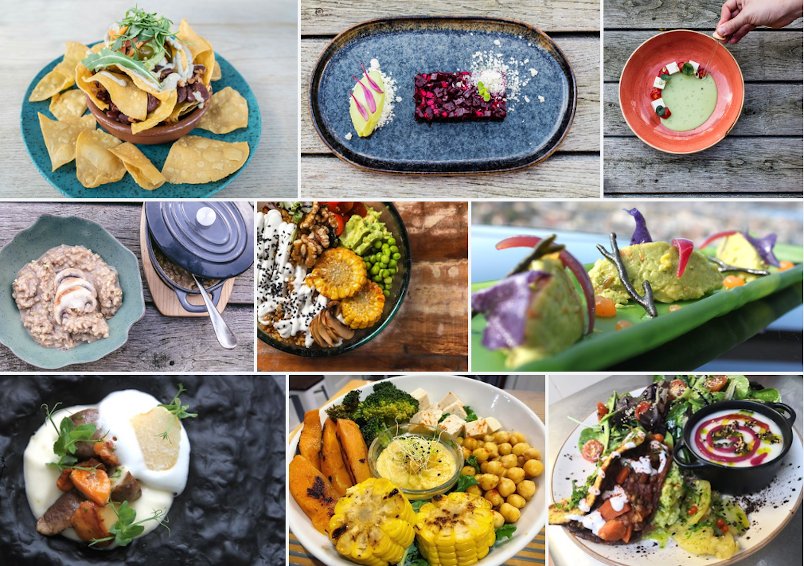 See more photos