TOP 5: Pintxos in Egia
Food and drink
2023 Jan 05
We had some unfinished business. After visiting the Old Town, the centre, Amara, Gros and Antiguo in search of the finest pintxos (tapas), it was plain to see that we needed to visit one of the most charismatic districts of Donostia/San Sebastian: Egia "where happiness reins", and lately many more things too…
Egia has become a cultural and artistic powerhouse of the city for a number of reasons. Places that have always been there like Le Bukowski and Gasteszena, along with other, new places like Dabadaba and La Farandula offer cultural activities almost on a daily basis. Concerts, theatre and all kinds of events. The opening of Tabakalera (the old tobacco factory) in 2015 as a centre for contemporary culture put the icing on the cake.
However, the thing we like most about Egia is that, unlike other districts when they become trendy, it has adeptly managed to keep the neighbourhood's same old personality, its Basque identity and its working class feel intact.
As you'd expect, when it comes to cuisine, they haven't lagged behind. For our route today, we have selected some long-standing eateries, as well as some of the new establishments, to illustrate the good mix of old and new cuisine that has been brought together by the egiatarras (residents of Egia).
KM0
Unleavened bread roll, homemade hummus, lettuce, tomato, vegan mayonnaise and a falafel ball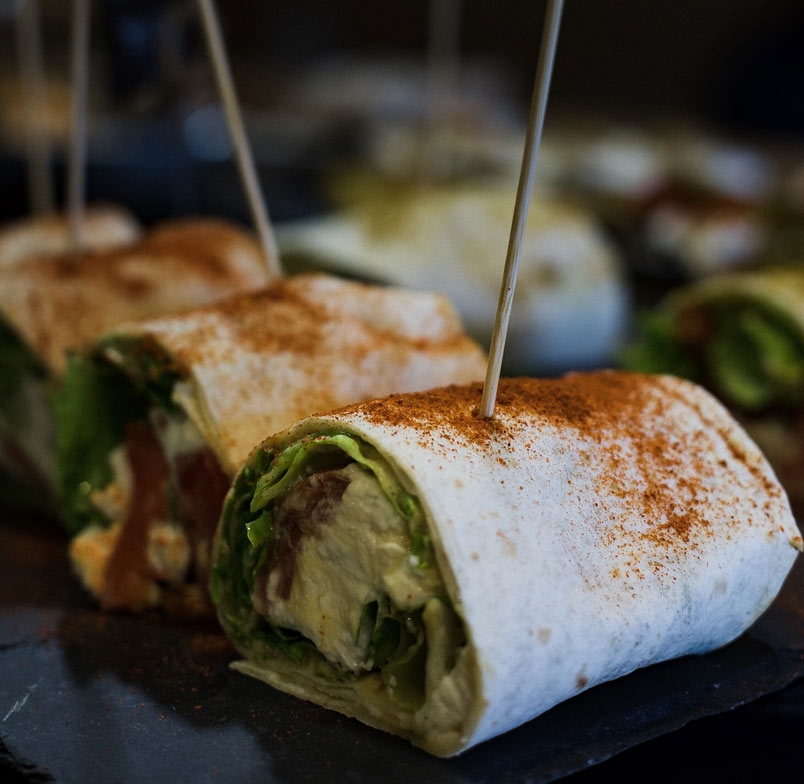 Km. 0 is a vegan/vegetarian restaurant on Paseo Duque de Mandas, right opposite the impressive Tabakalera building. This is a large yet cosy eatery. Numerous lamps are suspended from the ceiling, hanging over the dining area, creating a relaxed ambience for lunch and dinner. Iñaki, a cookery teacher and the owner of the restaurant, explains its origins. "Although we opened four years ago, the idea came to me while I was on a trip seven years ago. I visited a vegan philosophy community where I noticed that, although the people weren't necessarily completely well when they left, they were certainly much improved. And I, who had already virtually stopped eating meat and fish by then, decided to take the leap and embrace veganism. Going from there to wanting to offer that to people in San Sebastian was only a natural progression".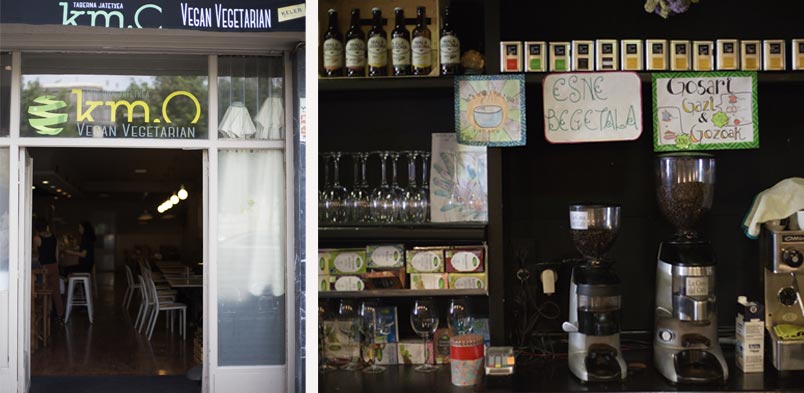 His philosophy is simple and universal: to serve good food. With a menu that is 95% vegan, it is surprising to learn that "We make almost everything on the menu except from the bread".
We opted for one of their durum wraps: an unleavened bread roll, homemade hummus, lettuce, tomato, vegan mayonnaise and a falafel ball. We chose curry as the dressing, but you can also choose a spicy or garam masala dressing or add nothing at all. However the customer likes it.
Cafetería Atotxa
Mushroom tartlet with Iberian ham and Roquefort sauce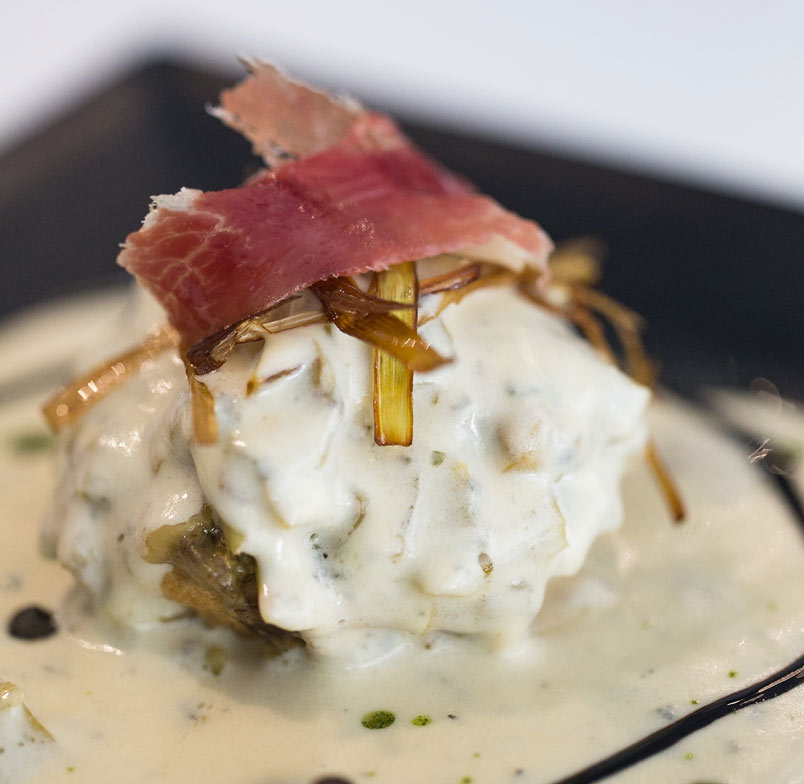 Opened in 2003, almost at the same time as Plaza Teresa de Calcuta where it is located, Cafetería Atotxa offers a selection of homemade meals in a modern setting. Just like the rest of the eateries in the square, its customers are mixture of neighbours of the Plaza and workers and visitors from the city's nearby court.
The number one pintxo on the menu is, as you'd expect, the one that shares its name, the pintxo Atotxa. Mushroom tartlet with Iberian ham and Roquefort sauce, all garnished with fried leek, balsamic vinegar and some pepper balls.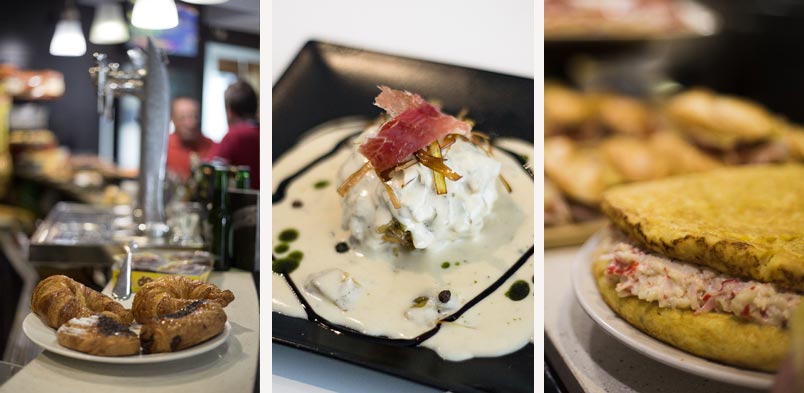 Although Itziar, the waitress who serves us, explains that its food is "traditional", to be honest we found this tapa to be quite exceptional. Common ingredients, yes, but perfectly selected and combined.
Tribuna Norte
Ham crostini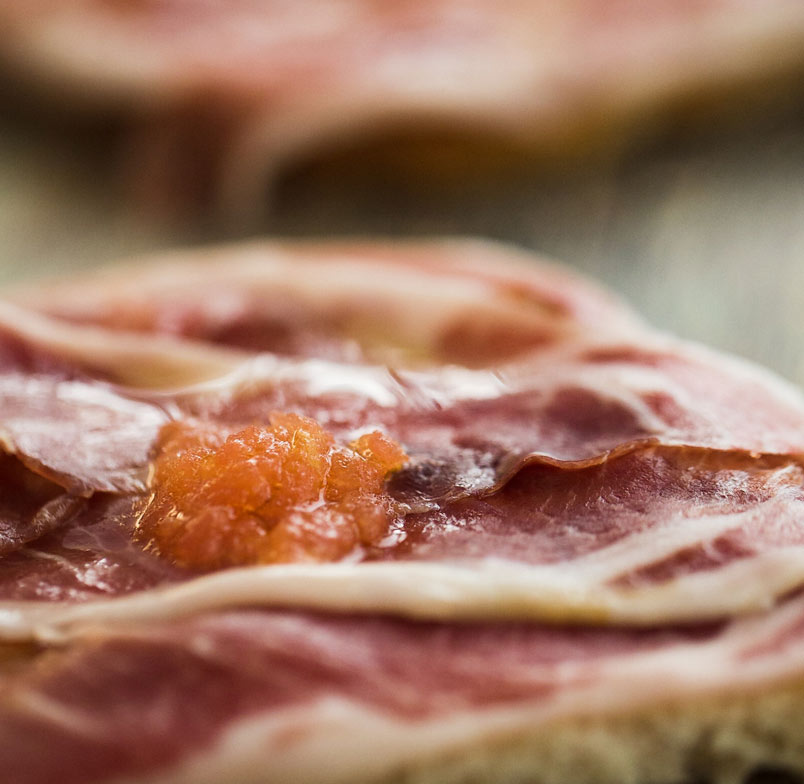 Paying homage to the district's history, which from 1913 to 1999 was the home of the tribuna norte (north stand) of the Atotxa football ground that has since disappeared, the Tribuna Norte bar is another old favourite of the popular Plaza Teresa de Calcuta. "On the 23rd of July this year we'll have been here for 15 years. We came to fill the gap left by the stadium and to liven things up and provide choice in this new area", says Pepe, the really friendly guy behind the bar. A well as describing the huge variety offered on its menu, from simple mini-sandwiches to curious artichokes stuffed with bacon and prawns, he highlights one of the special features of the bar, "We serve food at all hours; we don't close the kitchen. We serve a lot of customers from the court. They leave work late or outside normal meal times and we always offer them a great option".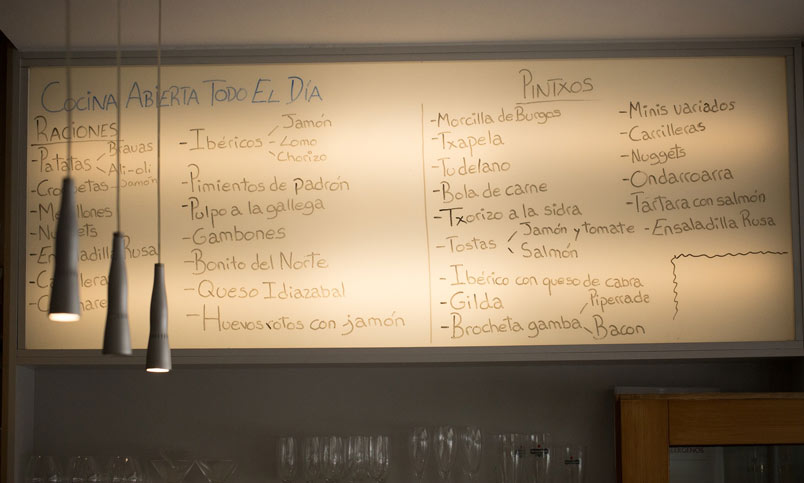 We chose one of their crostinis. "We grill them, we give them a touch of garlic, a little top-quality olive oil and the ham...well just look at it".
He's right! Here's a photo so that you can see for yourselves.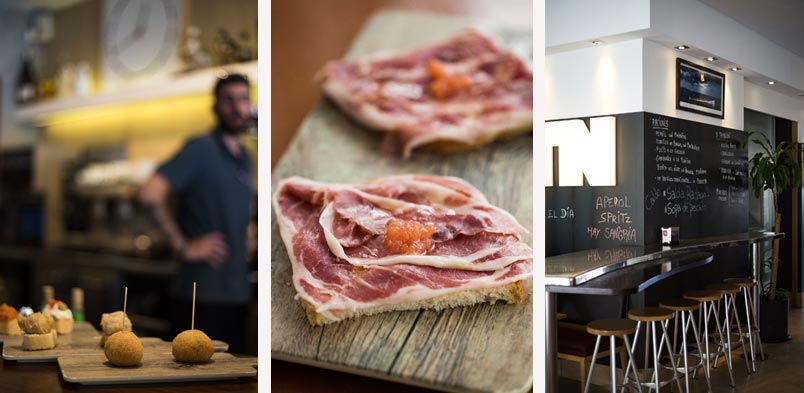 Bar Egia
Toasted bread with breaded wild asparagus, wrapped in ham and shredded leek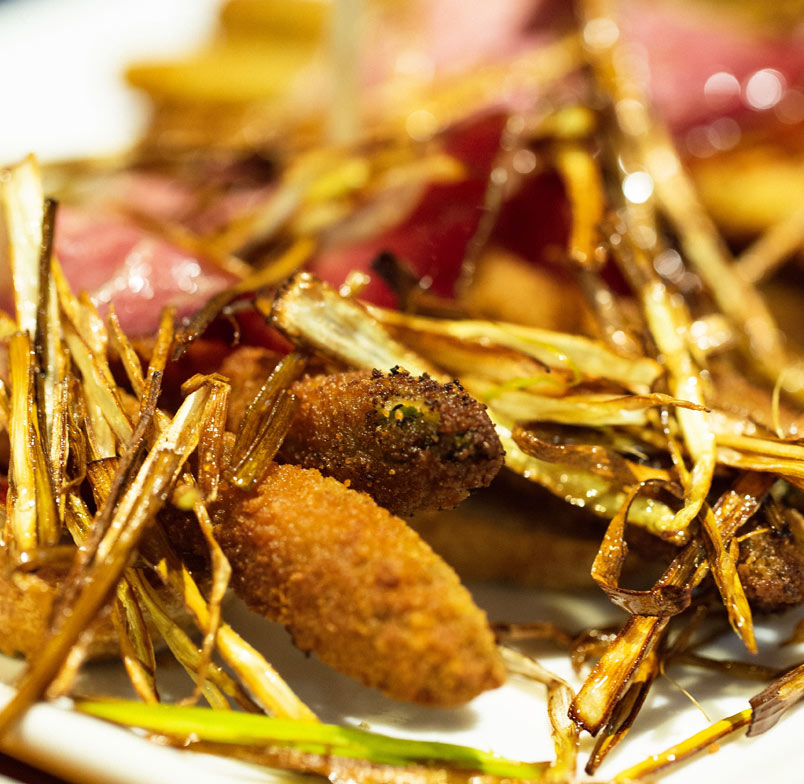 We climb up the neighbourhood's first hill, Calle Egia, stopping off at the top to visit our fourth eatery. Bar Egia. We are greeted by a long bar and a large dining area. People passing through mix with the regulars who are playing cards on the bar's wooden tables.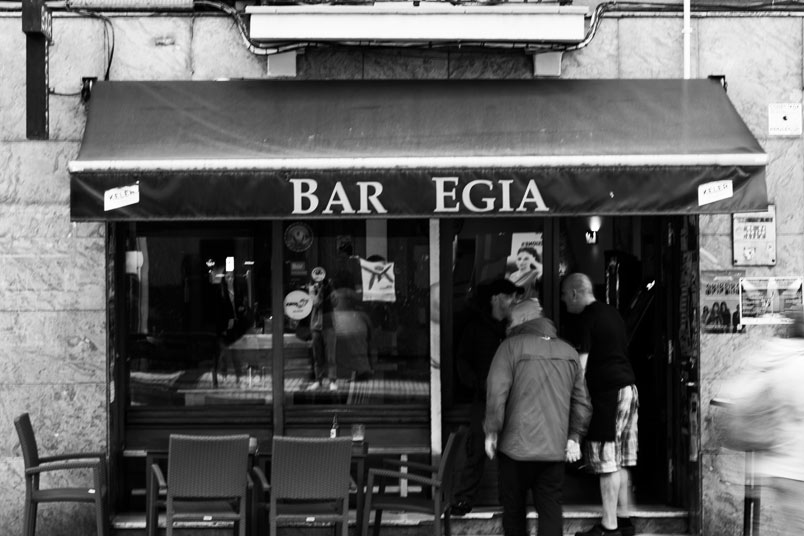 We opened 35 years ago. "We mostly serve set main courses, sandwiches and a wide range of pintxos. As is customary, on Fridays we have pintxo pote (a free tapa with every drink)...but we are best known for our omelettes", remarks Antonio, the owner of the bar.
Unfortunately, we have arrived too early and too late to try them. It's 11.30 in the morning and the first two omelettes have been finished. "We're on the second round now; they're preparing two more right now in the kitchen. They'll be ready in a bit".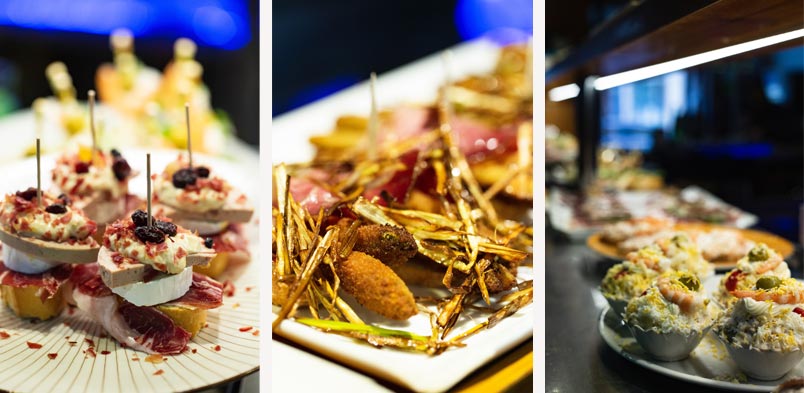 Never mind. We decide to have one of the bar's other pintxos, one that caught our eye as soon as we entered the bar: toasted bread with breaded wild asparagus, wrapped in ham and shredded leek. Delicious.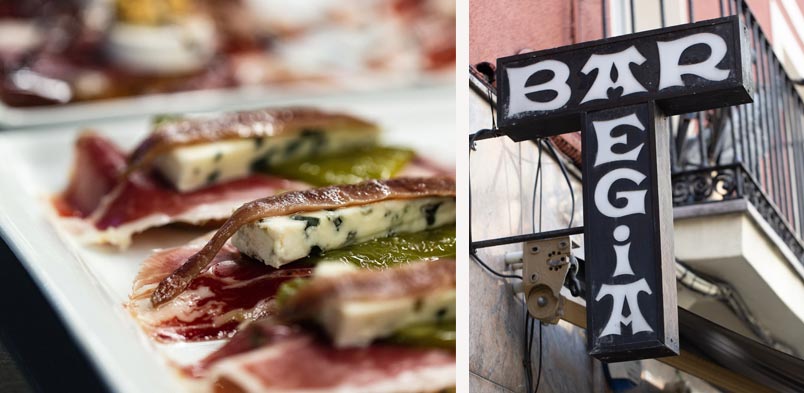 But to be honest, we really wanted to try their famous omelettes. "You can order them. There are loads of companies around here, and lots of workers from the court who order them".
We leave, promising to place an order soon...we couldn't bear to come back to Bar Egia without trying what some people say is one of the best omelettes in the city.
Bar Bidea
A tartlet with a lettuce base, avocado, pineapple, surimi, cocktail sauce and prawns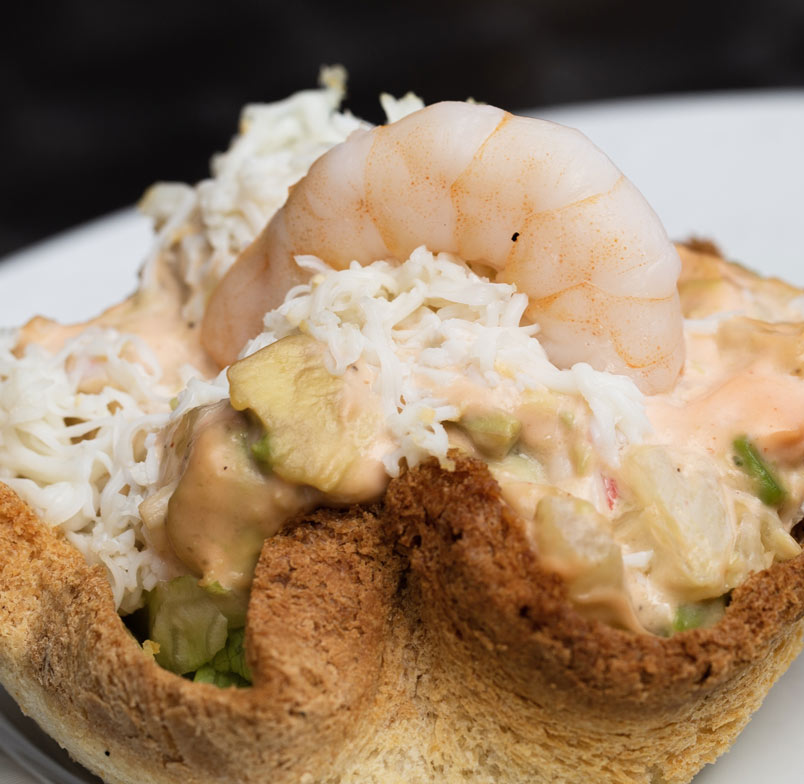 Every sacrifice is rewarded. And the reward for the tough climb up the steep Calle Virgen del Carmen, one of the backbones of the neighbourhood, along with its counterpart, Calle Ametzagaña, is being able to enjoy one of the liveliest bars in Egia: Bar Bidea.
"We opened in 1982, as a simple café. They said we wouldn't last long but look at us now! We now offer daily menus, weekend menus, snacks, breakfasts...everything!" the owner Txomin tells us, laughing. And what started as a simple café became so much more. They formed what is now the oldest Real Sociedad supporters' club around today: the Peña Bidea. "We hold a club party every year, in the second week of June. We provide a place that brings together fans and local residents".
From the bar, Isa offers us one of their most popular pintxos. A tartlet with a lettuce base, avocado, pineapple, surimi, cocktail sauce and prawns. "We make the tartlet ourselves, with baked sliced bread", they tell us as a matter of interest.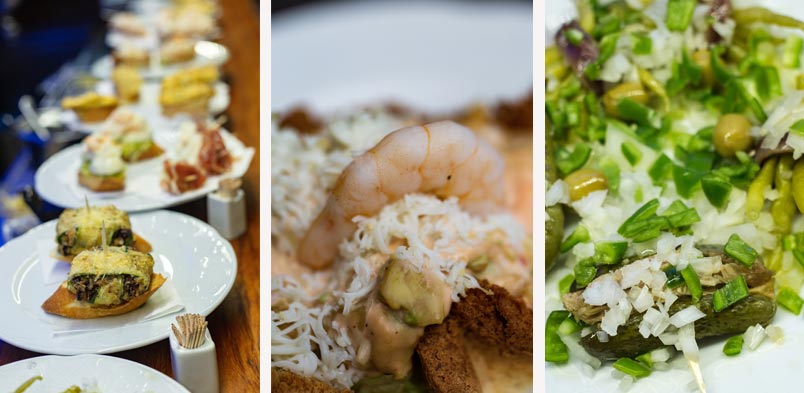 Before we leave, they recommend that we come back on a match day. "It gets packed to the rafters in here. In the bar and on the terrace, where we put an extra television so that nobody has to miss a single kick of the ball. The atmosphere is great".
We leave Bar Bidea, promising to return and see it for ourselves...although that will mean having to climb up all of these hills again! And at the end of the day, a neighbourhood as authentic as Egia, from its southernmost point to its northern tip, is worth every long walk and climb up and down the hills. And besides, it also saves us gym fees.