TOP 5: Pintxos in the Historical Quarter
Food and drink
2018 Jan 06
The Historical Quarter is must-see for foodies and pintxo fans.
As we delved deeper into the neighbourhood, following Calle 31 de Agosto, it became obvious that one of the biggest challenges of the day would be narrowing the list down to only five bars. But a foodie has to do what a foodie has to do.
Gandarias
Old beef sirloin with green pepper and Maldon salt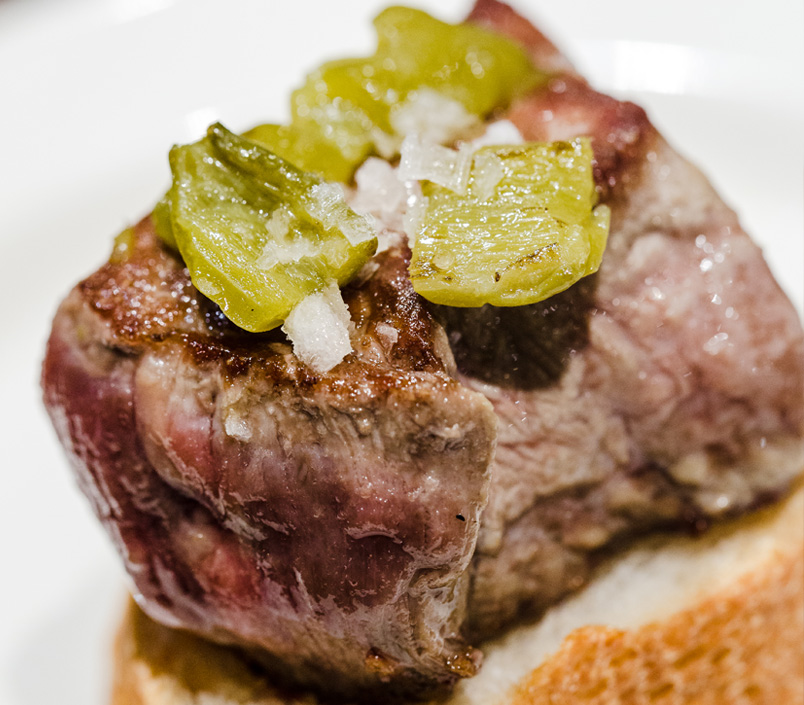 The first thing to strike us about Gandarias was the order and symmetry that the seemingly endless bar area presented us with. The pintxos are laid out one after the other, placed in perfect circles, and we were a little reluctant to shatter the equilibrium so we decided to order a hot pintxo directly from the kitchen. The extensive menu covers every possible preference and is very inclusive, offering pintxos for coeliacs and vegetarians. We were in danger of losing ourselves in the face of such a broad selection, but we remembered that we had come to sample the best from every location, so we asked for their most frequently-ordered pintxo.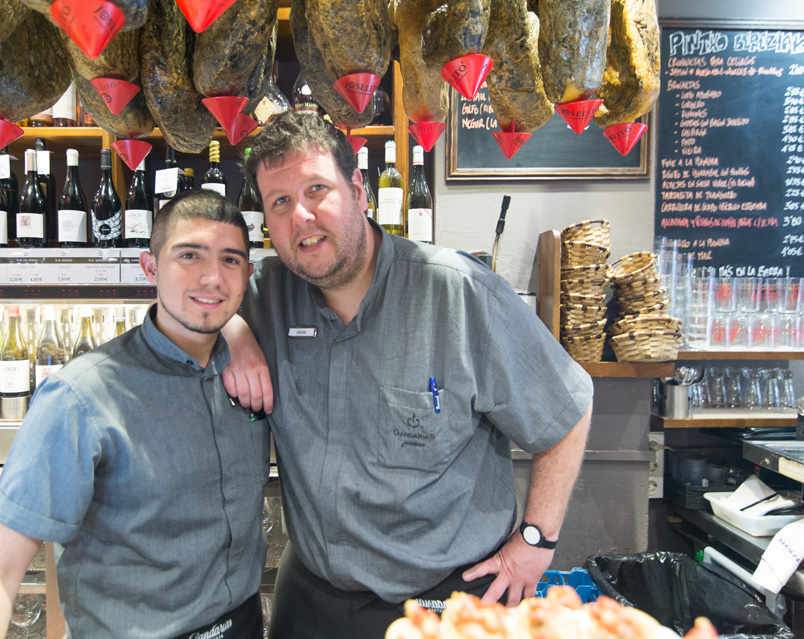 And the result didn't disappoint. Minutes later, we were faced with a pintxo crafted from old beef sirloin with green pepper and Maldon salt. The meat was absolutely on point, and the pepper provided a majestic accompaniment to the sirloin, with the fortifying salt giving the perfect finishing touch.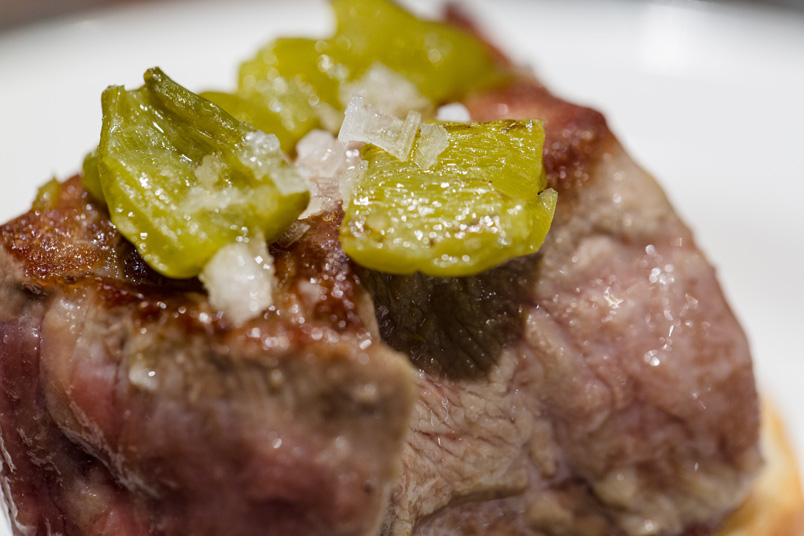 Txuleta
'Txuleta' croquette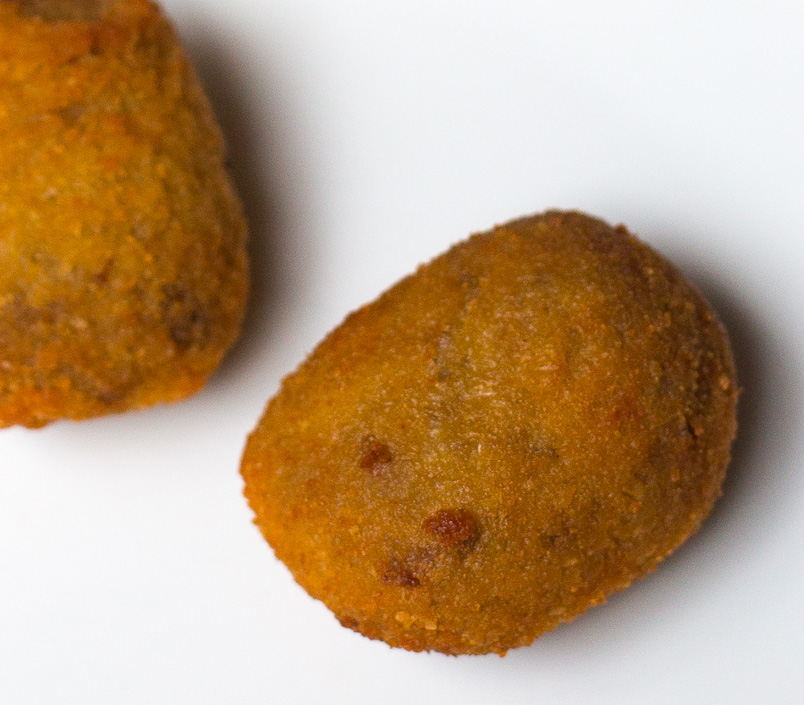 In the heart of the Plaza de la Trinidad, the Txuleta bar and restaurant has been a reference in grilled cuisine for more than eleven years and as its name suggests, visitors can eat the best 'txuletas' ('steaks') in the area here. Txuleta has an indoor dining area and a glazed outdoor dining area where visitors can enjoy an extensive menu of meats and other local specialities with magnificent views of the plaza and of Calle 31. Grilled txuletas and turbot feature together with the highest-quality seasonal ingredients: anchovies, bonito, chilli and so much more.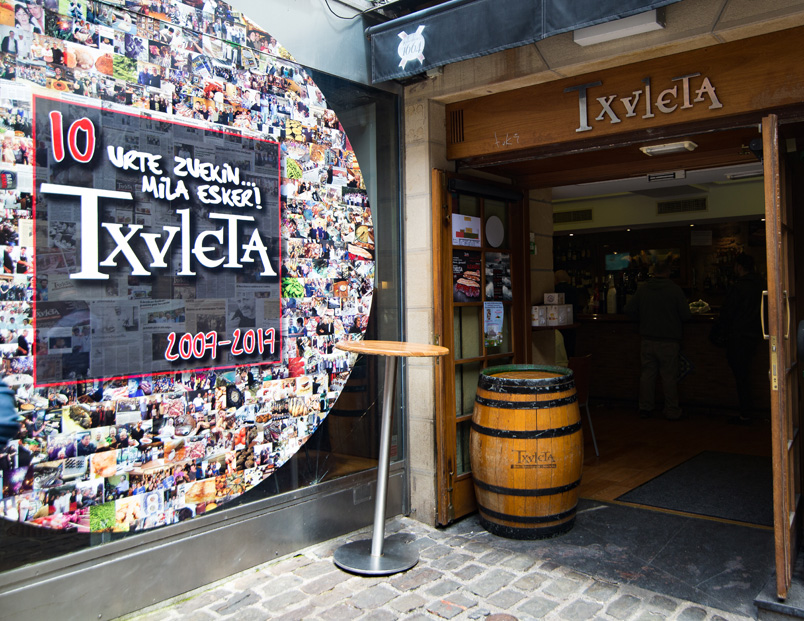 Sadly our stomachs were unable to accommodate such a wide variety of pintxos, so we opted to try a delicious mini txuleta instead, this time appearing in the form of a glorious croquette.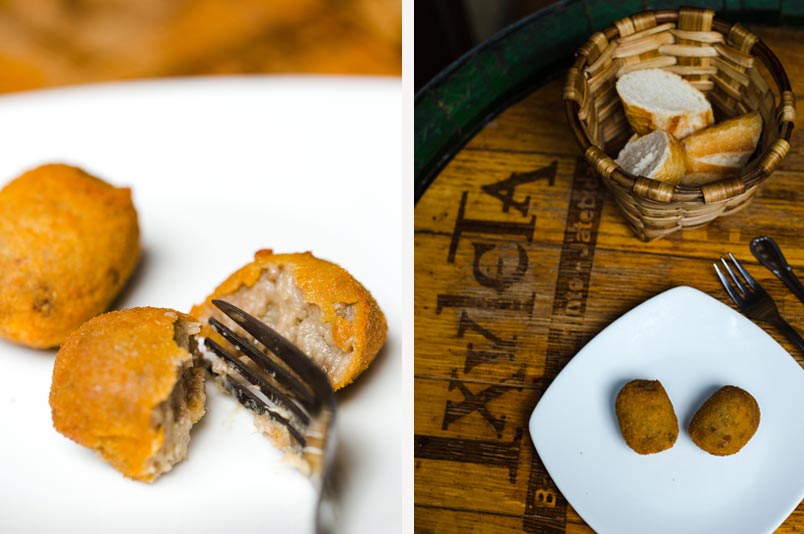 A Fuego Negro
Mackobe with 'Txips'
A Fuego Negro (AFN) opened its doors on 6 June 2006 (6/6/6). However, this curious combination of numbers seems not to have brought the owners bad fortune – quite the opposite, in fact, as they have won awards for the best pintxo and the best bar area on numerous occasions. Founded by siblings Edorta and Amaia, the initial idea was to bring the haute cuisine of chefs such as Arzak, Berasategui, Subijana and Irizar to bars and to a younger audience.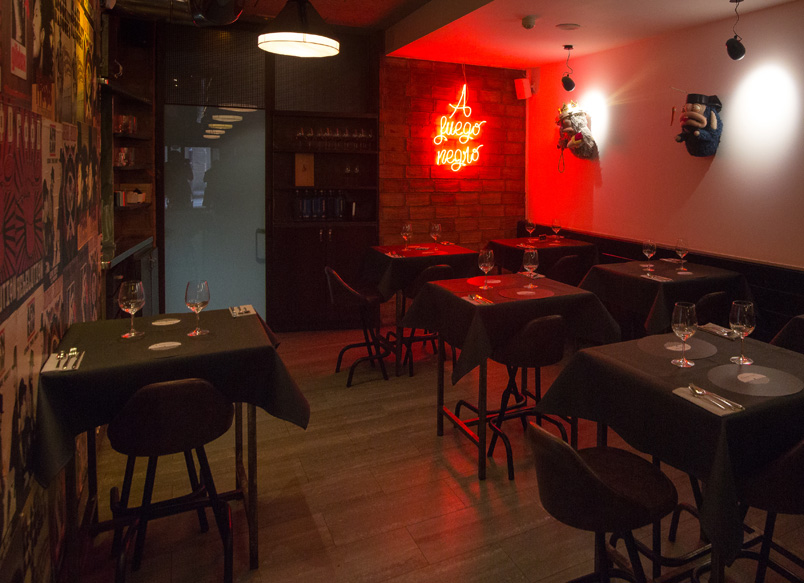 "At AFN we select our ingredients carefully, nearly always relying on local produce. Then, we like to lend an unexpected creative twist to the palate. Each pintxo breaks with an established tradition, and this emphasis on innovation leads us to change the selection at our bar area every four months", Óscar, the bar manager, tells us.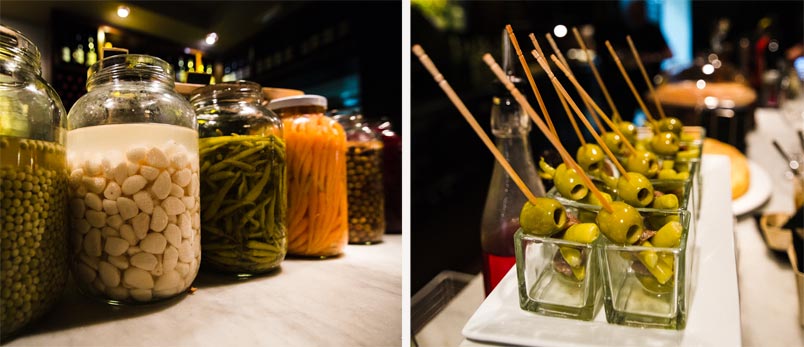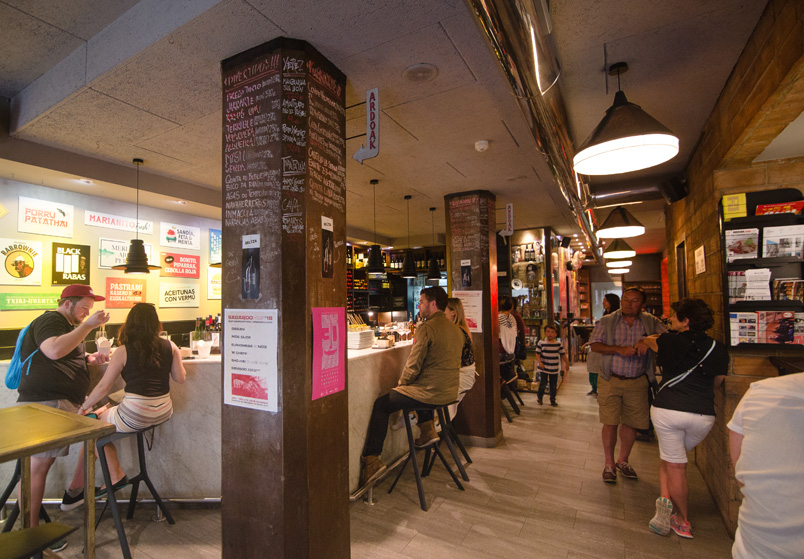 We were presented with the Mackobe hamburger with 'txips' (Kobe-style meat, artisan tomato bread, lettuce, spring onion with salmorejo mayonnaise and a side of banana chips), and upon sampling this we became undying fans of AFN, leaving with the promise of returning at least... weekly!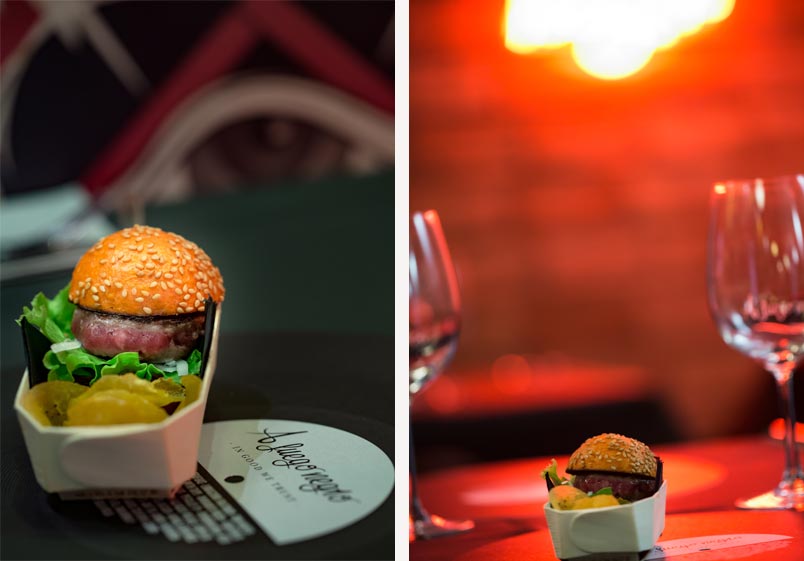 Astelena 148
Grilled octopus with marinated boiled potatoes, onions and kimchi mayonnaise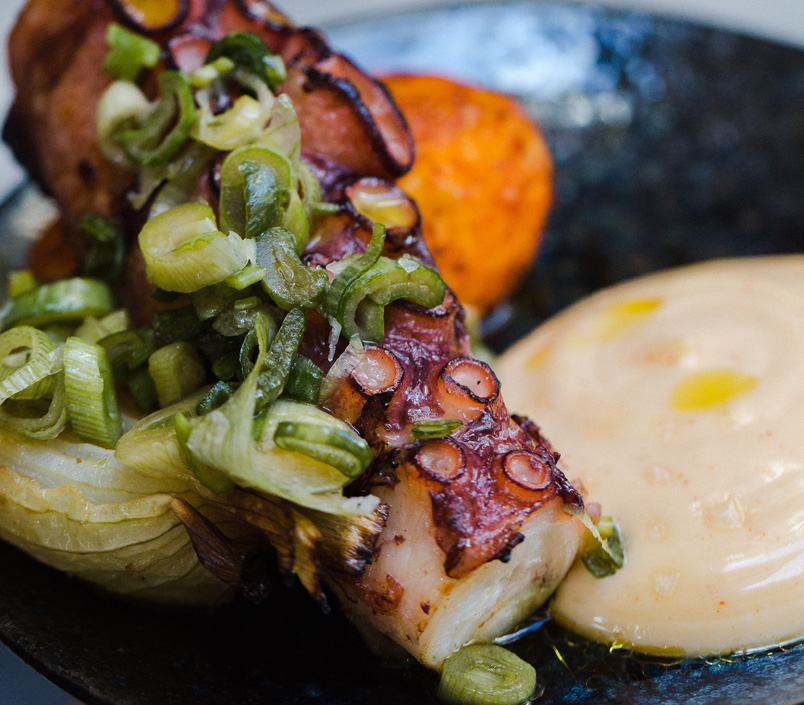 Opening in December last year, Astelena 148 is the newest place on our list. Behind this emphasis on traditional cuisine with a modern touch is the Gastroleku group, which already manages Atari and Sirimiri, two other places in the area which share a similar philosophy.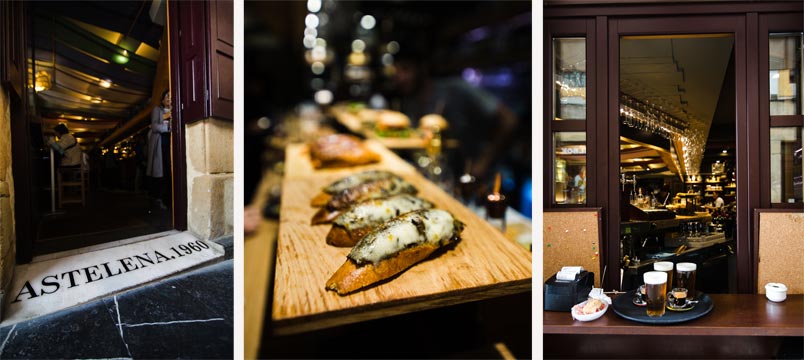 The décor at Astelena 148 is impossible to miss. Red tiles and blackboards make up the front of the bar area. Spreading over the wooden tables, starting from the sides of the bar and passing over the ceiling, blue, brick-red and ochre canvases create a nautical yet very elegant ambience.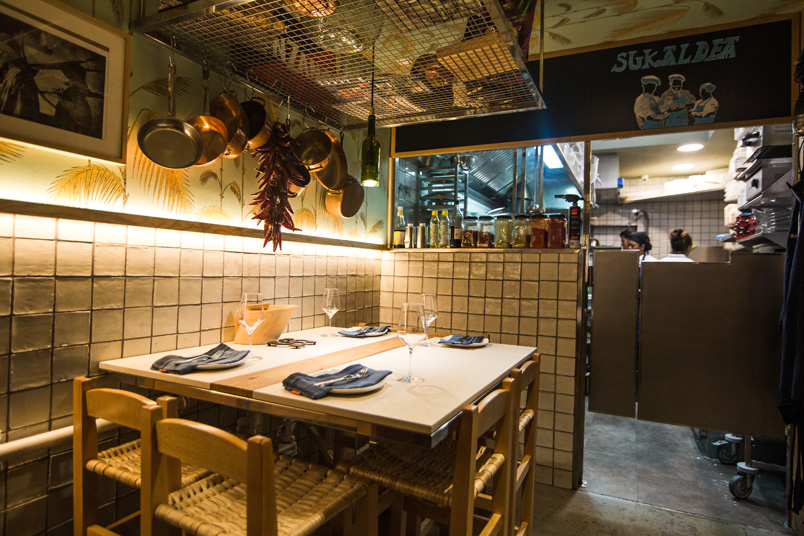 Charlie, the friendly and entertaining waiter that we were pleased to become acquainted with, offered us one of the most highly sought-after pintxos: grilled octopus with marinated boiled potatoes, onions and kimchi mayonnaise. "It's cooked on a Josper oven, which gives it that extra-special grilled touch"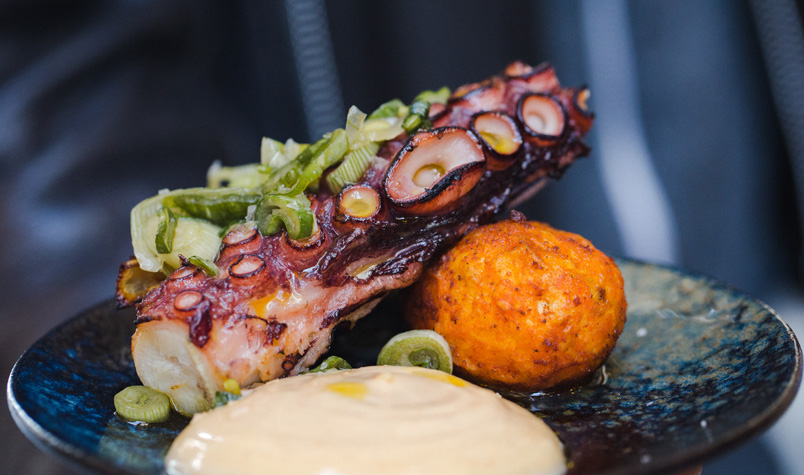 We enjoyed savouring the moment in this last stop on our journey through the Historical Quarter. As we sat on Astelena 148's spacious terrace on the Plaza de la Constitución, we reflected upon the events of the day and summoned up strength for all of the neighbourhoods that we were yet to discover.

La Cepa
Old beef sirloin with chips, Gernika peppers and glazed piquillo peppers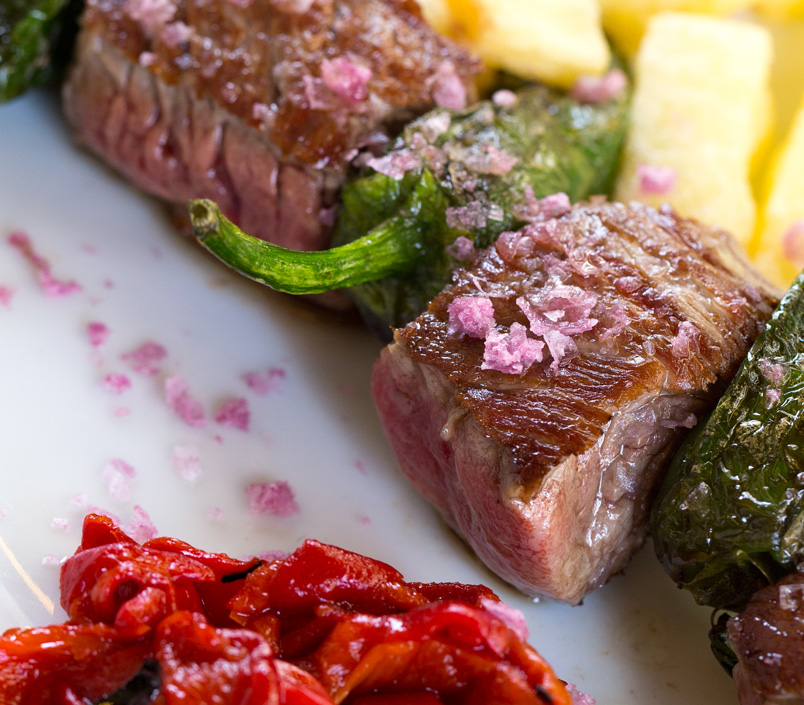 La Cepa is a well-known venue on the historical Calle 31 de Agosto, frequented by local and not-so-local people, and it has been mentioned in countless international magazines and blogs. Whether this is a factor in its level of fame or not, one always has the impression that they are visiting La Cepa at peak time. Waiters dash from one side to another and chefs work at breakneck speed to finish orders on time.
"Our aim is to offer 100% traditional, premium-quality Basque cuisine, especially so that visitors to the city can discover our local produce". The Pollos family has commanded the bar for nineteen years, although La Cepa as such dates back as far as 1948.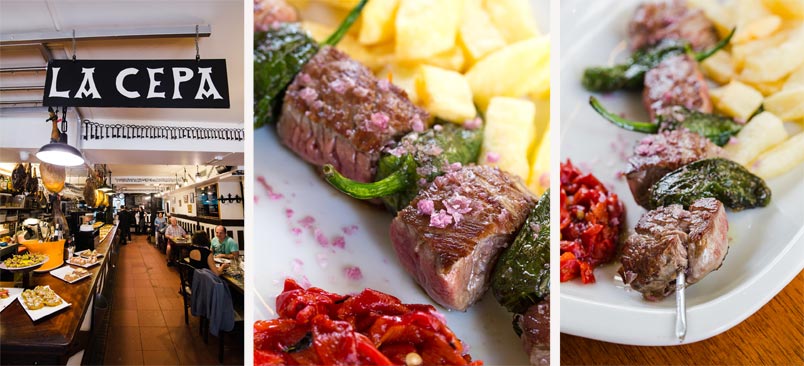 At La Cepa there are many classics, but today we were recommended the old beef sirloin. This was accompanied by chips, Gernika peppers and glazed piquillo peppers.