The TOP Pintxos in the Centre
Food and drink
2018 Jan 06
It's twelve noon, surely a perfectly acceptable time to get started and order a round of pintxos. Or that's what we said, but perhaps it is more that in this city it is impossible to wait until one o'clock before getting stuck in. Sitting on a bench on the Plaza Gipuzkoa square, we spread our little map out and decided upon a route around five of the most highly-recommended bars. We were a mere kilometre stroll away from the very best flavours that awaited us in this neighbourhood.
Mesón Martín
'Trainera': slice of ham, grilled baby squid, prawn and Mesón Martín sauce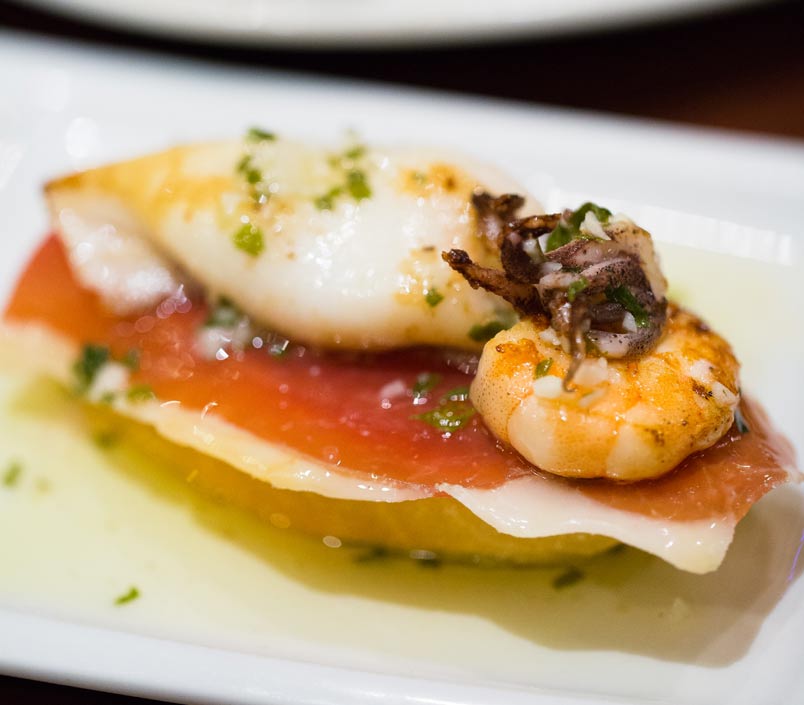 Two minutes later, and with our stomachs already somewhat more settled, we headed down Calle Elcano and made our next stop a mere matter of metres away. The Mesón Martín always seems to be packed to the rafters, even in the outdoor area. When we stepped in, the first thing to strike us about this establishment was the classic wooden bar area, covered with plates brimming with pintxos. We approached the bar with a degree of excitement and, as we had been intending to do throughout our route, ordered the "star pintxo", the one that they take the greatest pride in presenting.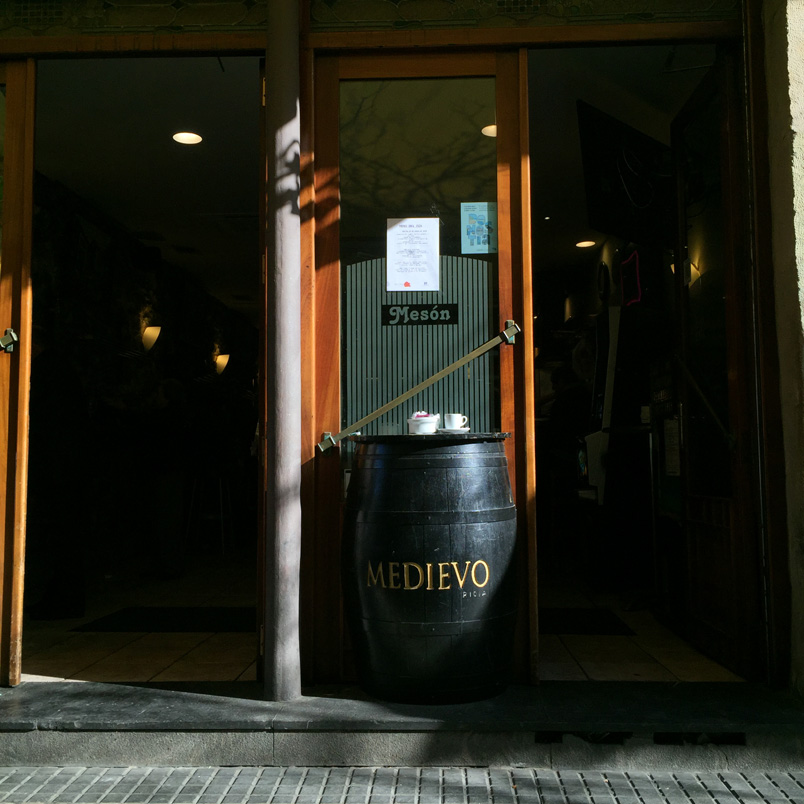 The decision came easily to them in the form of a 'trainera': a slice of ham, grilled baby squid, a single prawn and a sauce that we are unable to reveal the secret of. Simple yet somewhat mysterious, and incredibly good.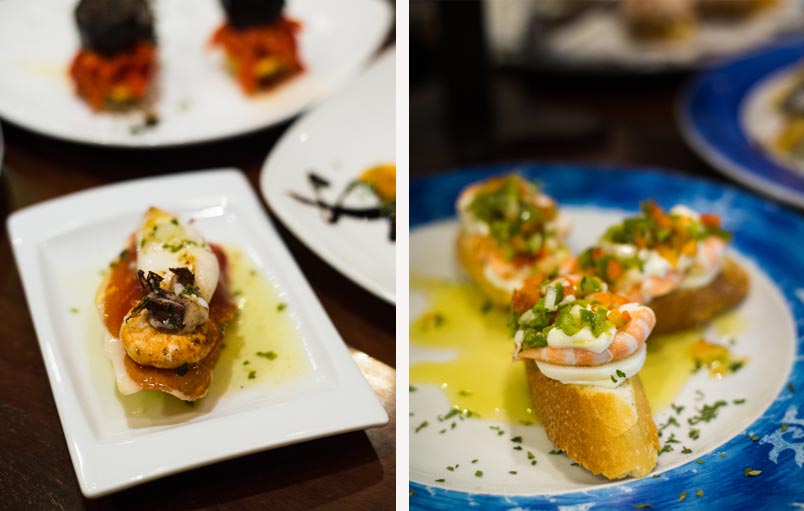 Iturrioz
Potato churros with egg and truffle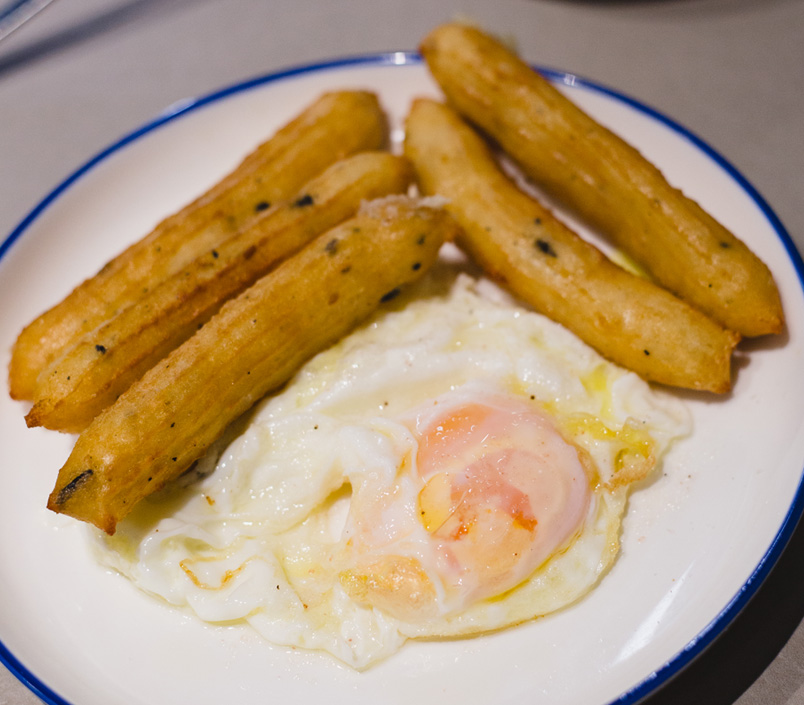 Under the colonnades of the Calle San Martín, in a unique location for escaping from the Donostia rain and well-placed opposite the Catedral del Buen Pastor, we were faced by the bar Iturrioz. Father and son welcomed us from behind the bar and a board bearing a list of recommended items caught our attention immediately. We were particularly intrigued by the "potato churros with truffle and egg". Churros? At first we were convinced that this was a breakfast item.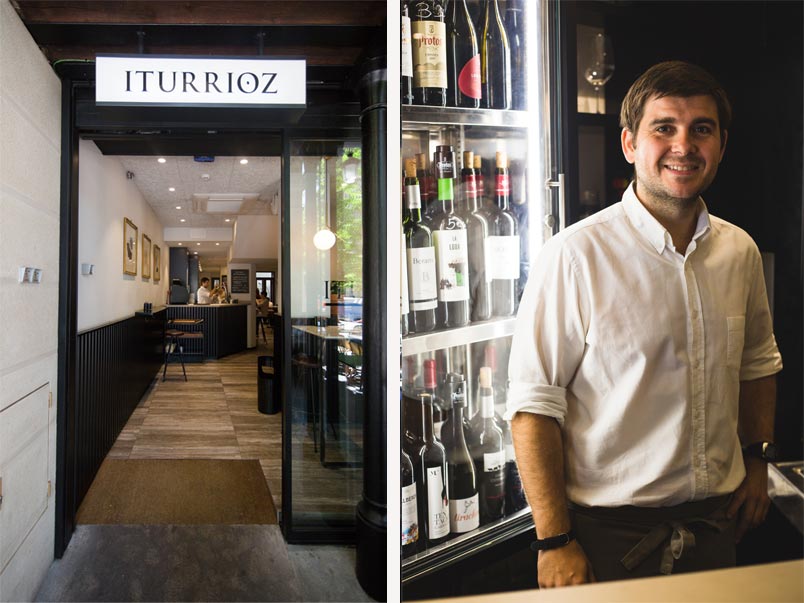 Without hesitating for a second we placed our order, and all of our doubts were resolved. It is more than evident that churros have moved on from being a mere breakfast item, although in truth we would have no qualms whatsoever in starting our every morning this way.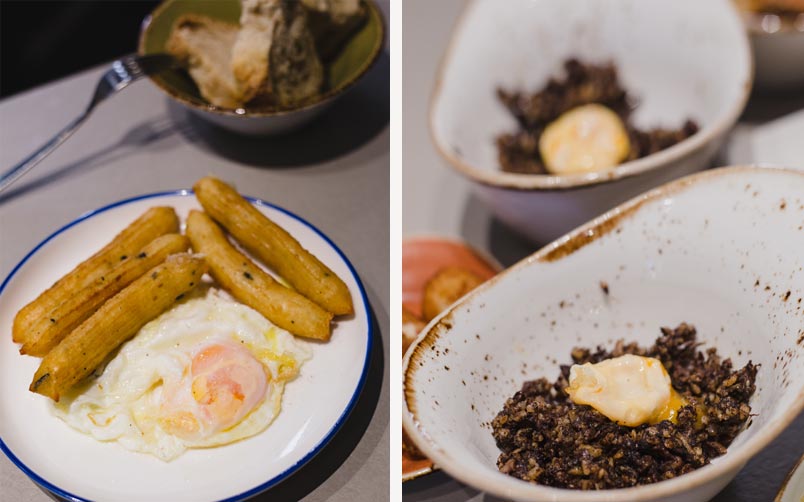 The egg was cooked to perfection, the yolk creamy, and the potato churro was crispy on the outside and beautifully fluffy on the inside.
Bar Antonio
Prawn tail wrapped in Italian pasta, leek and carrot and an onion sauce with a dash of white wine
The bar Antonio , which has been open since 1969, is without doubt a mandatory stopping-off point for anyone that happens to be passing down Calle Bergara. We were greeted by its current owners, Umberto and Ramón, who told us more about the new focus that they are applying to their cuisine: finer and more delicate creations, representing miniature cuisine in its purest form.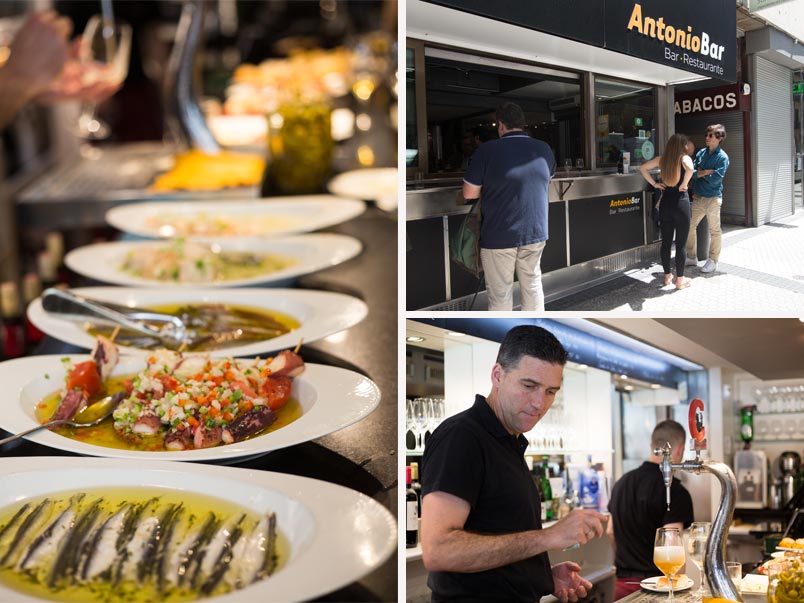 And this is obvious. The pintxo that we were lucky enough to try was even more exquisite than the level of service that we received.
This was prawn tail wrapped in Italian pasta, leek and carrot and an onion sauce with a dash of white wine which lent a certain sweetness. Bar Antonio may be a compact establishment, but there is no doubt that it conceals many great things.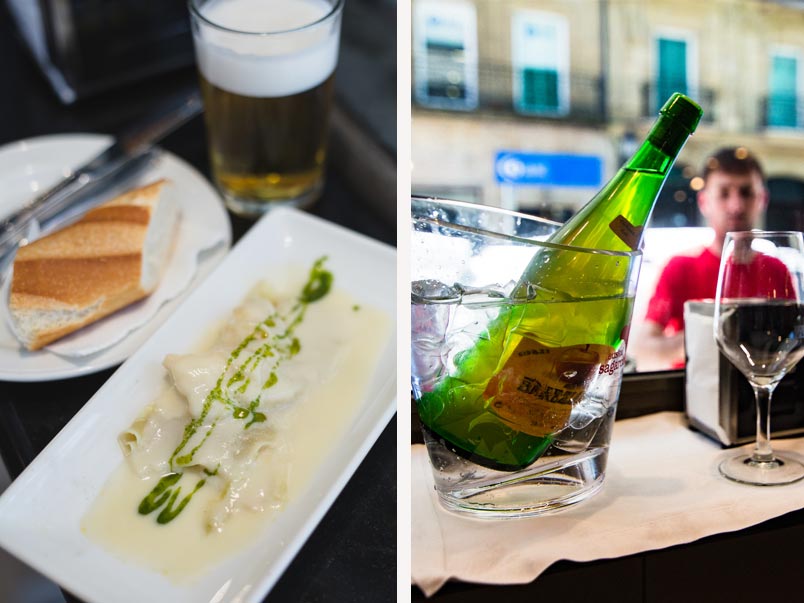 We scraped our plates clean and left the bar reluctantly, all the more so knowing that we were on our way to our last stop of the day.
Avenida XXI
Pancakes with chocolate and whipped cream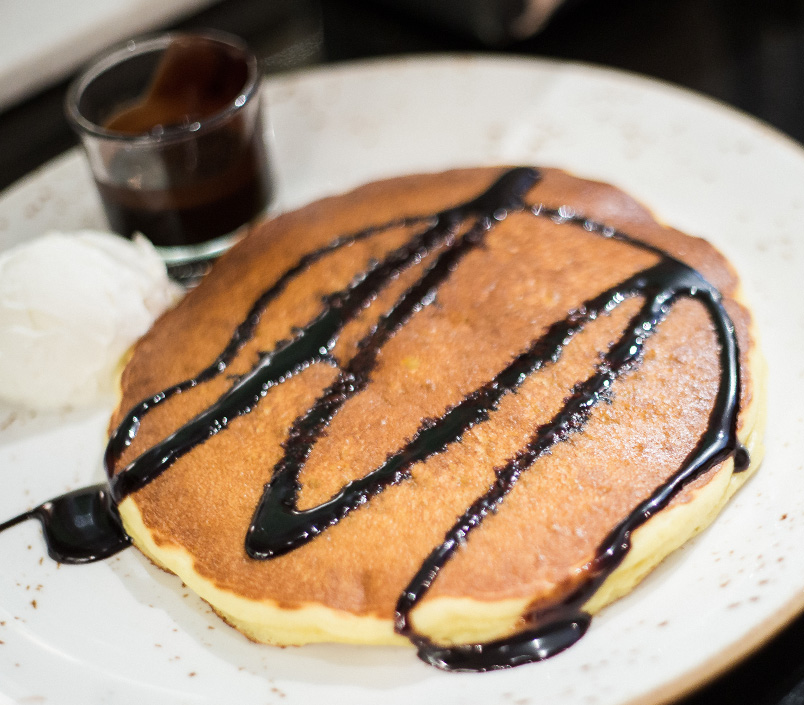 Any self-respecting menu is rounded off by a good dessert, and this occasion was no different. Pancakes with chocolate and whipped cream, an American culinary highlight, have their best ambassador in the city in the form of the Avenida XXI bar.
"Pancakes are our speciality. We have been using the same batter recipe since 1981. And we make our pancakes on the spot, as they are ordered by our customers. You can take your pancakes with anything you like: honey, chocolate, cream, jam...".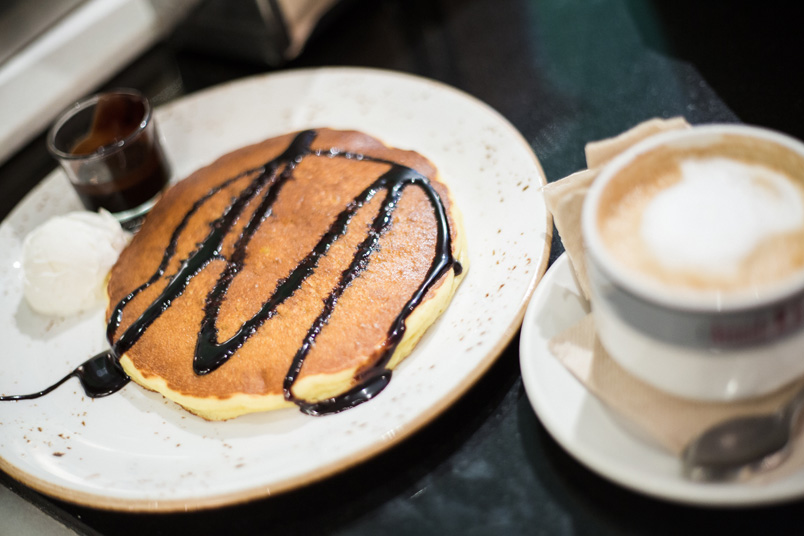 When we asked about the Avenida XXI philosophy, the answer was "Excellent produce, prepared by the best professionals. We have a solid and tight-knit team. The majority of our team members have been here since the nineties and both we and our customers feel the benefit of this. Since our staff turnover is so low, we end up becoming familiar with all of our regular customers and our service is very friendly. You understand that with a simple glance". We liked this idea, and we told them that they could start preparing our pancake batter as soon as they saw us on our next visit. With jam, whipped cream, chocolate and honey… with the entire selection.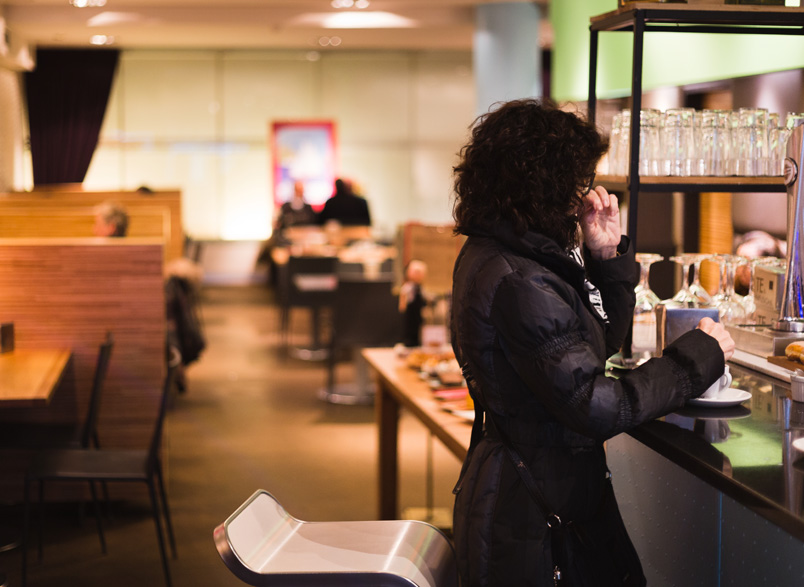 Still not having completed the day's duties, we exited Avenida XXI and set off in the direction of the bay, sitting down to let our food settle on a bench facing La Concha. We ended our foray in the same way as we had begun it – or nearly the same way. For now we know something that we had previously only suspected a mere two hours ago: that there is no doubt whatsoever that it is worth crossing the Boulevard and delving into the culinary selection that the city centre has to offer.
+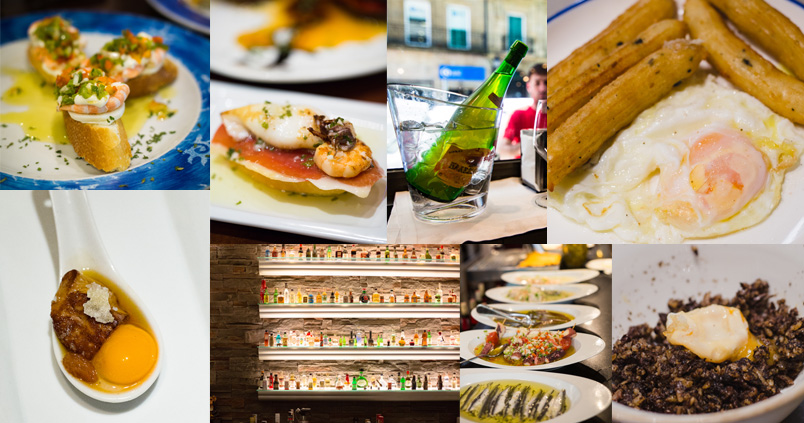 See all photos