TOP 5: Pintxos in Antiguo
Food and drink
2018 Jul 06
We continued along the Paseo de la Concha walkway until arriving at the oldest neighbourhood in the city, as its name in Spanish suggests. Those that have known an Antiguo person will have sensed the special pride that they have for their neighbourhood. People from Antiguo are very much "of Antiguo", almost independently of anything else. And to an extent they are not short of reasons to feel confident in their own identity: they have a beach, wide avenues, a university, countless offices and places of business and, of course, a selection of eating and drinking options that will knock you off your feet.
We began our walk on the liveliest street in the area, Calle Matía, and luckily for us the street was closed to traffic because it was a public holiday.
Drinka
Codfish fritters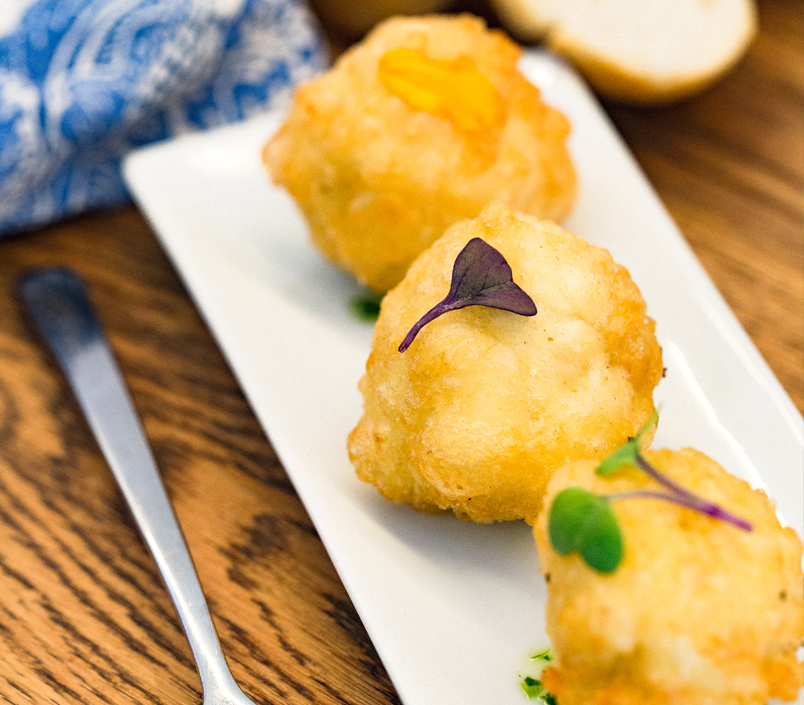 Although it feels like a new arrival to the neighbourhood, Drinka has been making a bold impact and creating excellent food in equal measures for three years now. Its façade and its lovingly cared-for interior décor hinted that we were not in front of just any bar. Behind this demonstration of quality and impeccable taste, we found three sisters: Carmen, Elena and Isabel.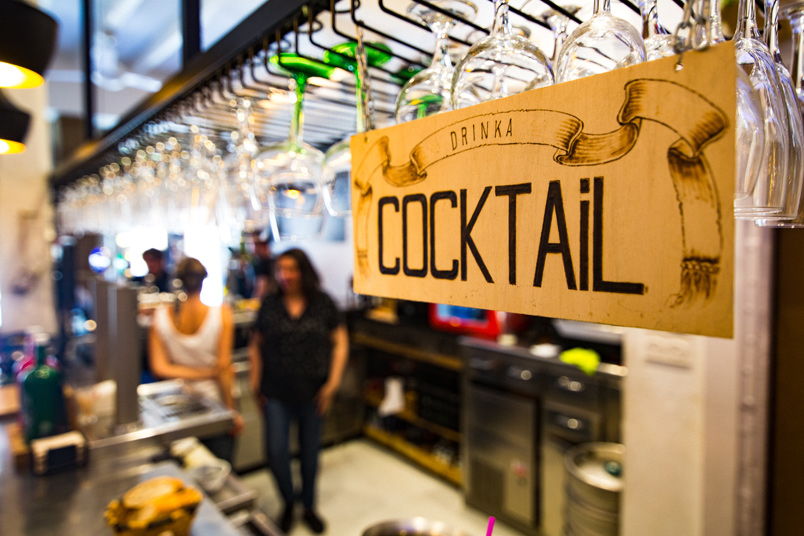 We sampled the codfish fritters and the sisters told us that in preparing them, "We cook the codfish with oil and garlic, then we use the codfish ball to create a tempura. But we never use cream or milk".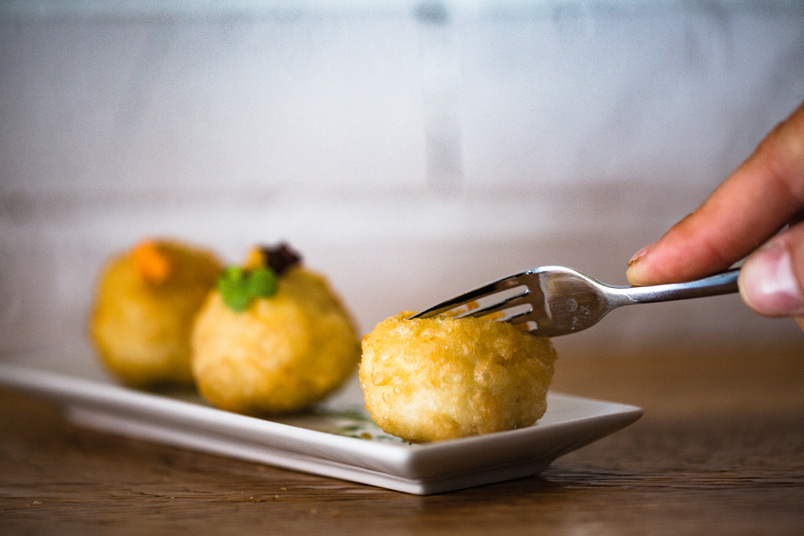 While we savoured our last mouthful, we contemplated the Drinka slogan which is written in large letters on the right wall of the bar: "EDAN, JAN, GOZATU" ("eat, drink, enjoy", in Euskera). Simple and accurate, though after this visit we think that "GOZATU" should be written in bold as a "warning". We shall be back to continue our enjoyment.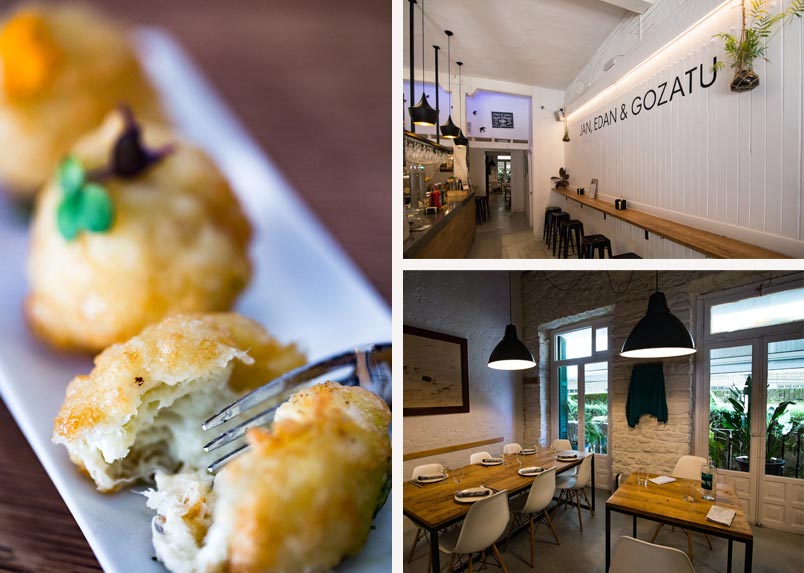 Trikuharri
Grilled squid with caramelised onions, a dash of Modena vinegar and a secret ingredient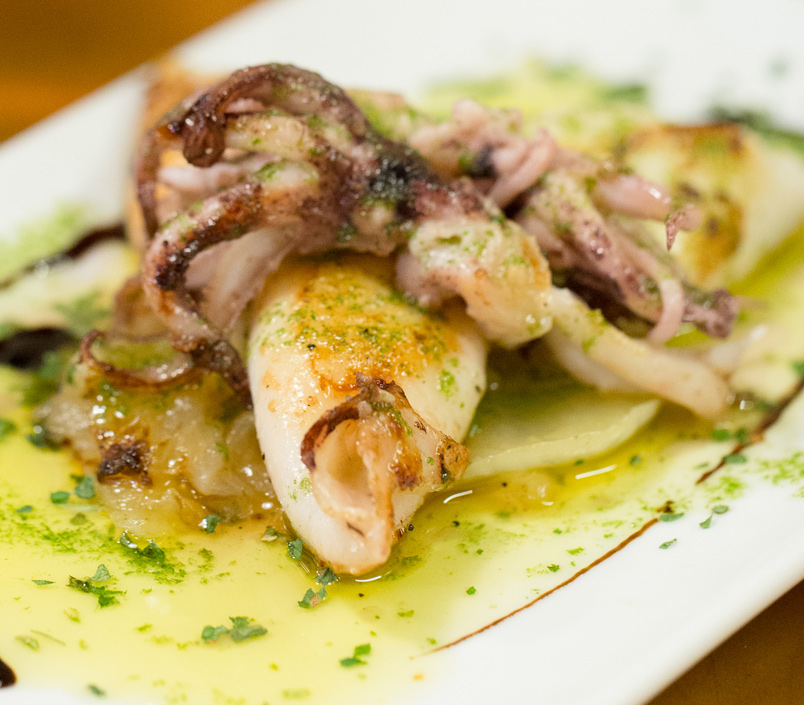 Trikuharri opened its doors five years ago and continues to be a hit among people from this neighbourhood. Lately it has also been pulling in a crowd from further away. The owner told us that at the beginning, the clientèle was mainly from the local area but that in the last year it had been seeing a lot more foreign visitors. This hasn't led them to change their prices or their working methods, though. A small draught beer continues to cost two Euros, and the entire menu retains the same essence and the same emphasis on reasonably-priced quality.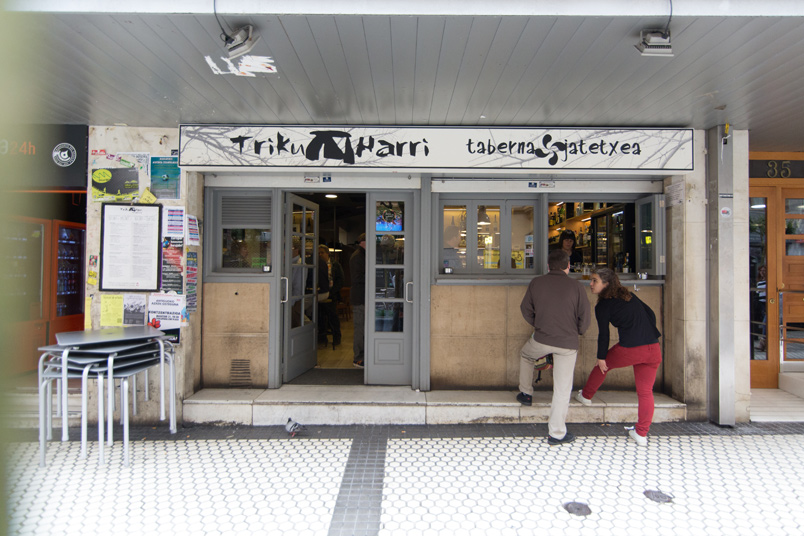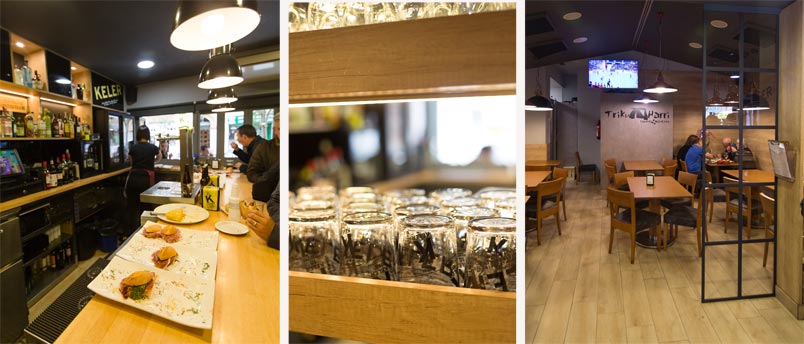 One of their most characteristic pintxos? Grilled squid with caramelised onions, a dash of Modena vinegar and a SECRET ingredient. In the subsequent ten minutes we tried all kinds of tactics in an attempt to let the secret slip, but our efforts were all in vain. We shall have to return to continue our investigations. And let's be honest: it will be great pleasure to do so.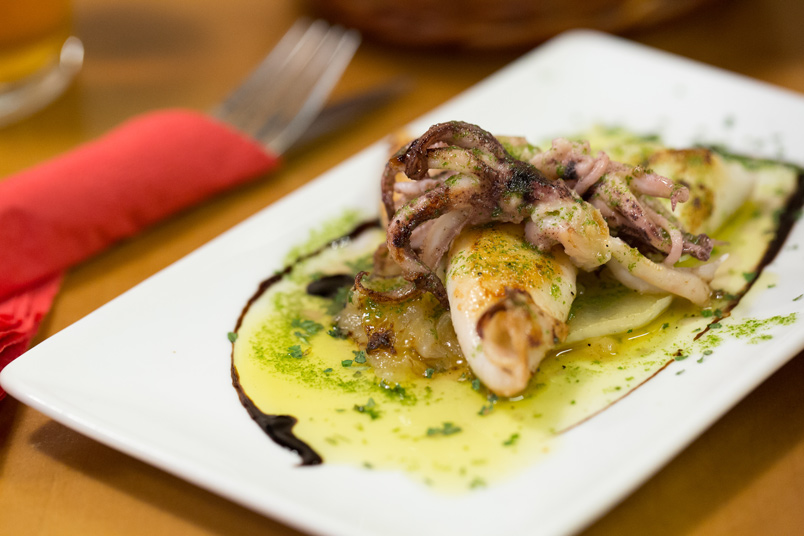 Café de Mario
Prawn and bacon skewer on toasted bread seasoned with vinaigrette dressing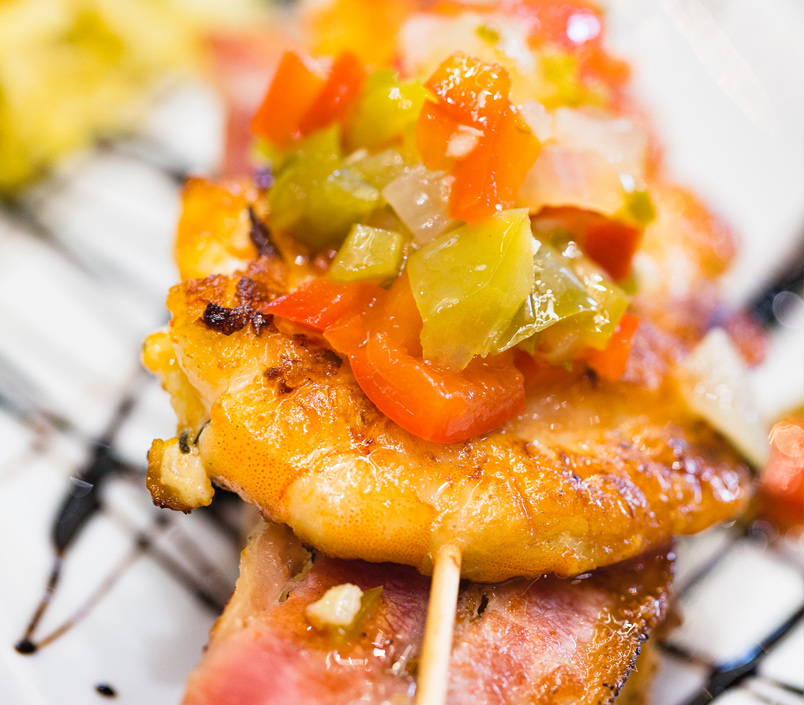 "Nobody goes hungry at Café de Mario", laughed the owner, Carlos. "We open at seven in the morning and serve food until well into the night: sweet and savoury breakfasts and a €12 weekday menu with high-quality home-made food. At weekends we keep the home-made emphasis but present this in a more cultivated fashion with a more sophisticated menu. And at night we have an extensive list of items to choose from".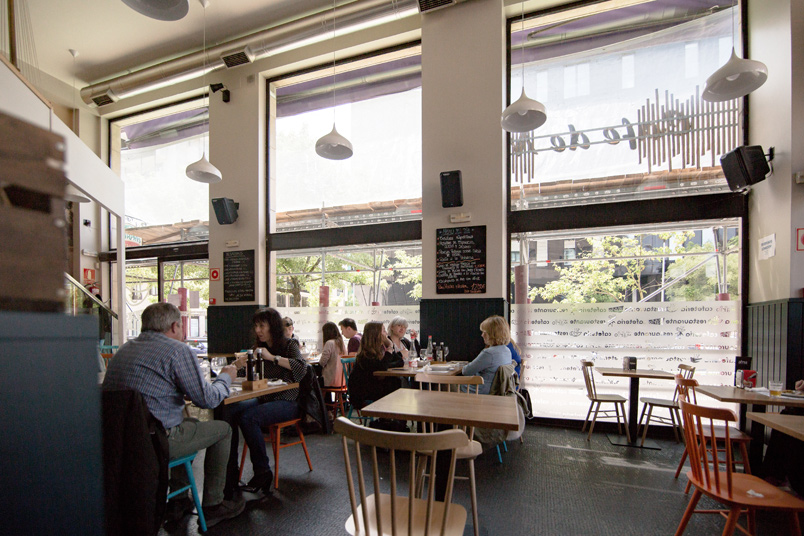 And of course, they offer so much of what we had been looking for. Of all of the culinary delights spread out across the bar, and those that we were told could be ordered from the kitchen, we opted for a prawn and bacon skewer on toasted bread seasoned with vinaigrette dressing.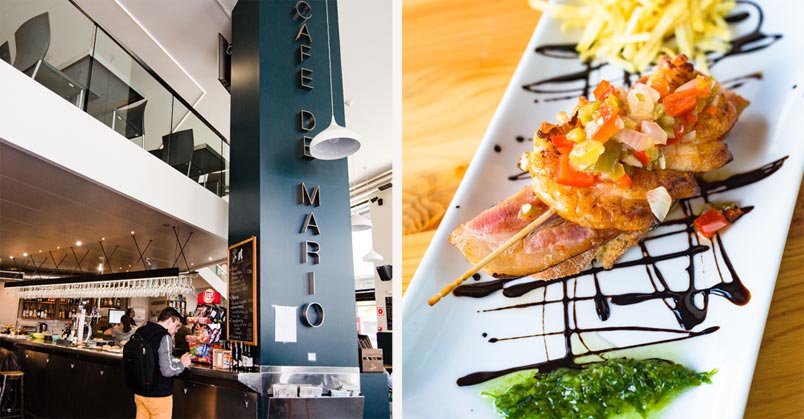 Lobo
Mushroom 'txapela' stuffed with foie and dressed with alioli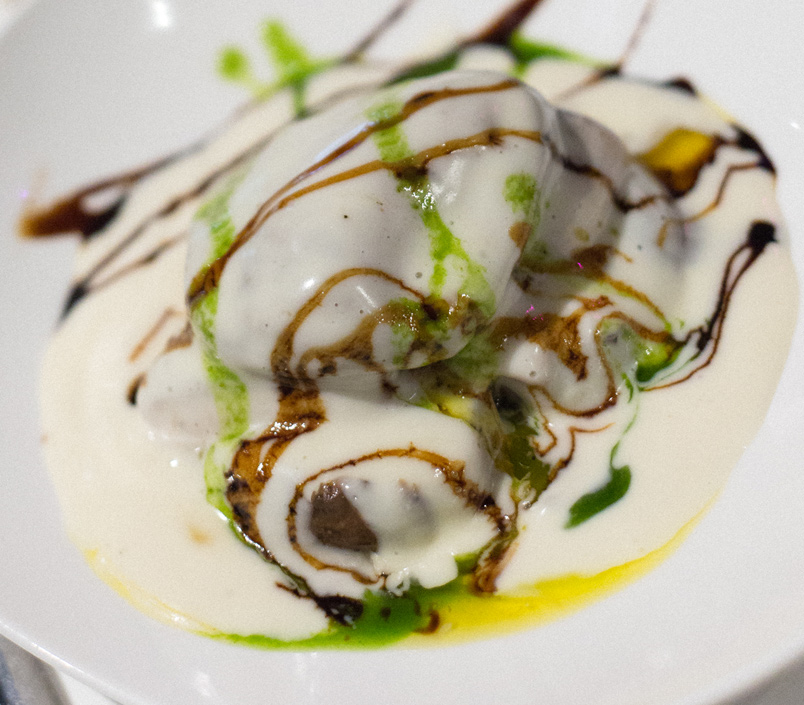 As soon as we stepped inside, two details caught our attention above and beyond the imposing lobo or 'wolf' which stared us down from the back of the bar. Firstly, all of the pintxos laid out on the bar were based on products from the sea. Secondly, several enormous copper beer barrels were suspended over the bar area, extending over our heads. Erik, the pleasant waiter that served us, explained that these are barrels of bodega beer: beer which has no added carbon dioxide, relying only on the fermentation process of the beer itself.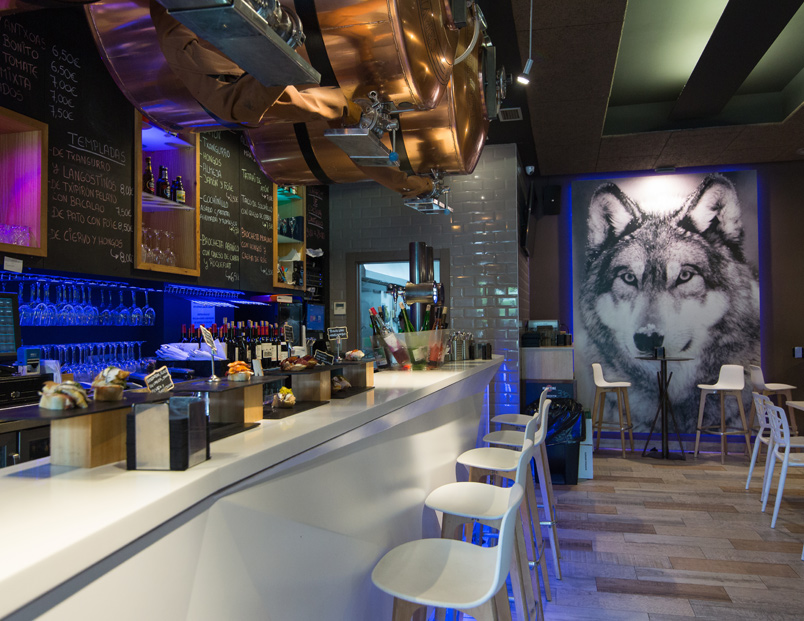 Equally out of this world was the pintxo that we were about to sample this time: two mushroom 'txapelas' stuffed with foie and dressed with alioli.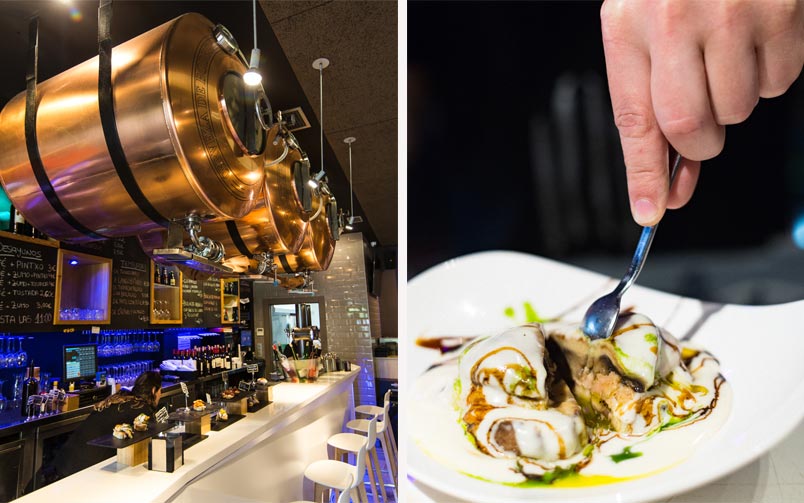 During our ten-minute visit we had a lively conversation with Tamara and Erik, the waiters, and with the chef Josu, who explained further details about the bar's particular philosophy. The love of detail and passion for quality produce are a hallmark of all of the Lobo branches in the city and as we left the bar we felt convinced that there should be a Lobo in every neighbourhood of San Sebastián.
Mandrágora
Toasted bread with red pepper, boiled egg, mayonnaise and prawn crowned with a layer of onions and chopped pepper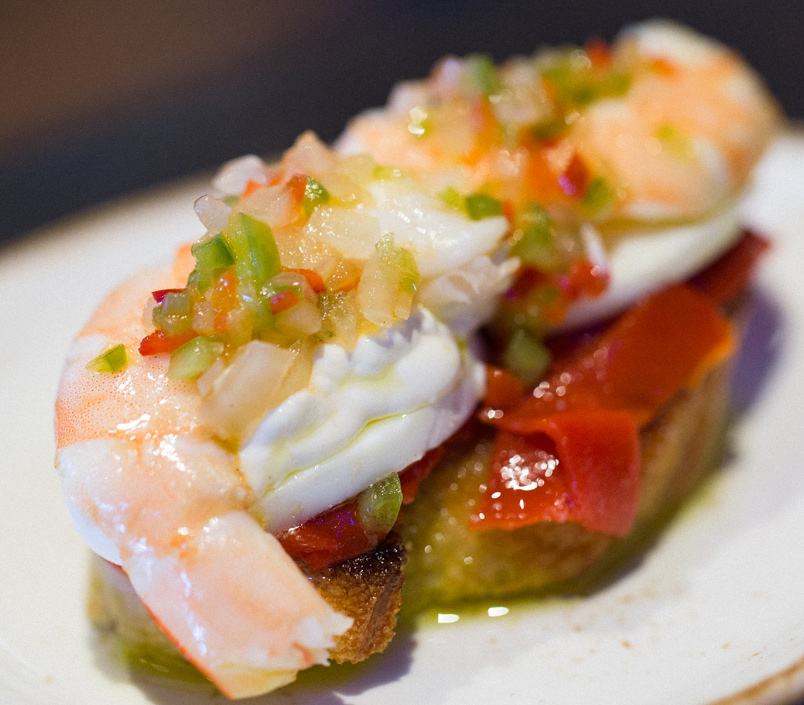 Opening twelve years ago and renovated three years ago, Mandrágora is one of the most successful bars on the liveliest square in Benta Berri: the Plaza Jose María Sert. The most characteristic feature of Mandrágora is the use of wood on all of the surfaces: the bar, tables and walls. The waitresses told us that among their most successful items were the different kinds of toast, which came as no surprise to us. We read the menus, also printed on wood, and they all looked incredible.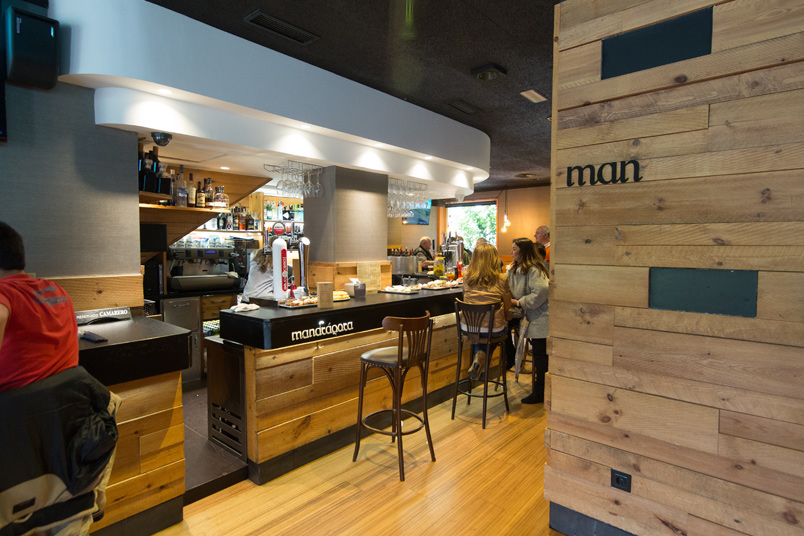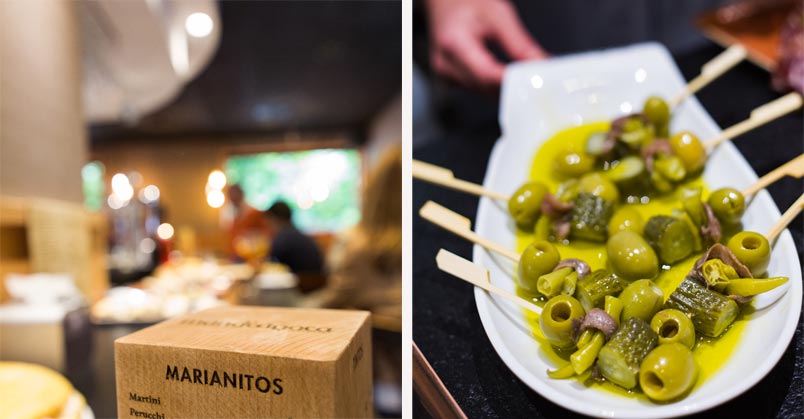 But we came for the pintxos, and luckily Mandrágora is way ahead in this area too.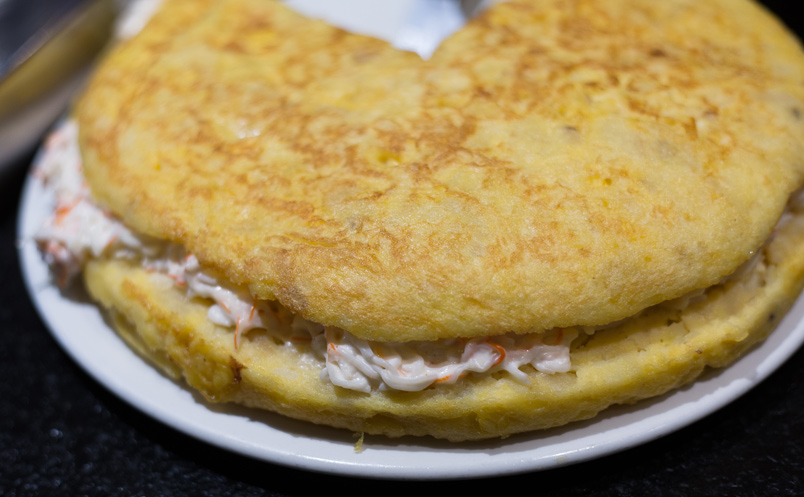 This time we had the pleasure of sampling the toasted bread with red pepper, boiled egg, mayonnaise and prawn, crowned with a layer of onions and chopped pepper.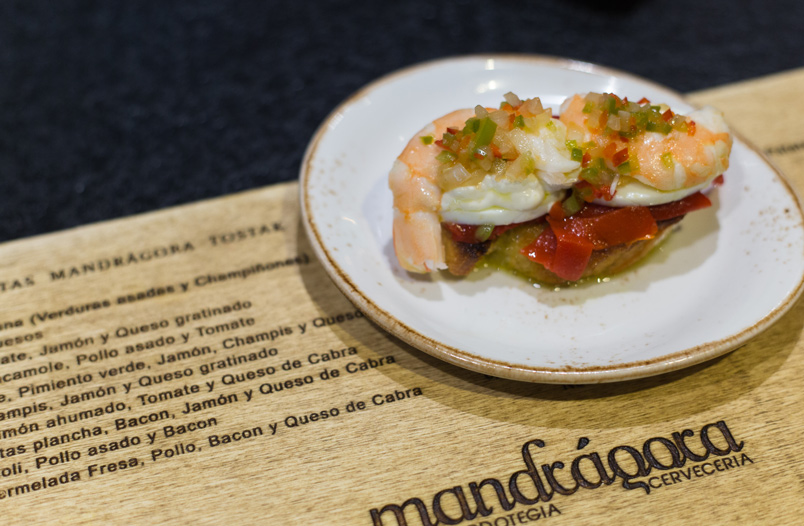 We stepped out from the last stop on our itinerary and in doing so brought a close to an adventure that had taken us across half of the city and led us to venture into many of its different neighbourhoods in search of the culinary excellence of which Donostia-San Sebastián is so justifiably proud. Our visits combined reassuring confirmations of the old and welcome discoveries of the new in terms of quality, flavour and excellent customer service. However, with so many more neighbourhoods and places to visit, we are confident in assuring you that in this "small big city" you will eat well no matter where you go.