TOP 5: Pintxos in Amara
Food and drink
2018 Jul 10
On our fourth day we returned to the left bank of the city. Amara, one of the largest and most densely-populated areas of the city, awaited us on the other side of the modern Puente de Mundaiz bridge. Upon our arrival we realised that in Amara we were lucky in being able to feel a true "neighbourhood" atmosphere only a stone's throw from the city centre. Removed from the tourist hustle, we set about discovering the treasures (or rather, a small selection of the many treasures) that this neighbourhood had in store for us.
Aukera
Crumbled crab in won ton pasta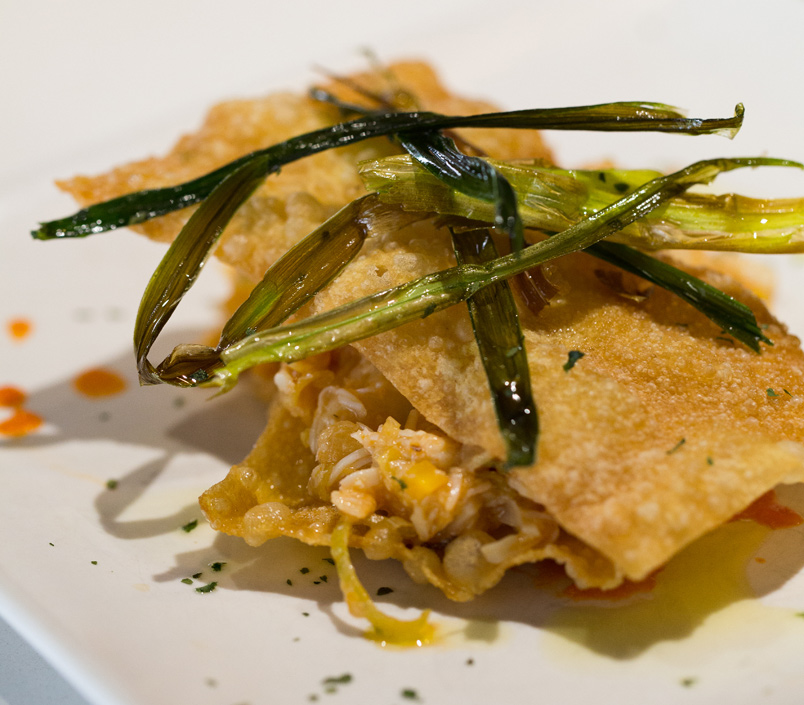 As soon as we arrived in Aukera Aukera our eyes were drawn to the txuleta that was being presented on the adjacent table. We went to the bar and the friendly owner explained the concept behind the menu: daily specials with an emphasis on meat and fish, always served by piece by piece. As reluctant as we were to pass up the opportunity of ordering a txuleta, we had to leave room for what was still in store for us. We ordered the most special pintxo on the menu: crumbled crab in won ton pasta.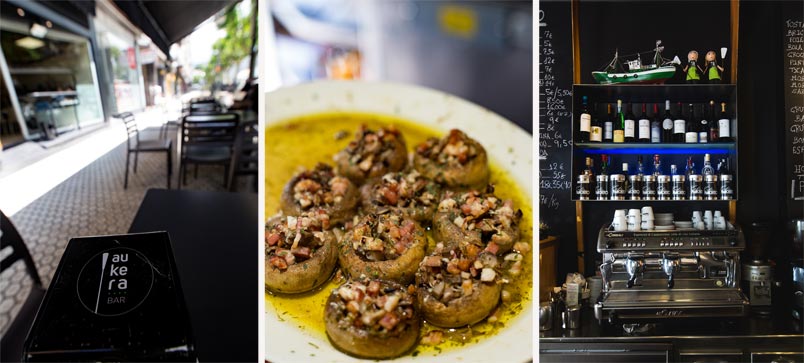 Nos sentamos en una mesa de su gran terraza y rendimos cuenta de este curioso pintxo que mezcla a la perfección un producto tan nuestro con una pasta que viene del lejano oriente. En boca la fusión nos encanta y despierta nuestra imaginación a otras posibles combinaciones que esperamos probar pronto en el bar Aukera.
Divinum
Bacalao laminado al pil pil, con patata panadera y pimientos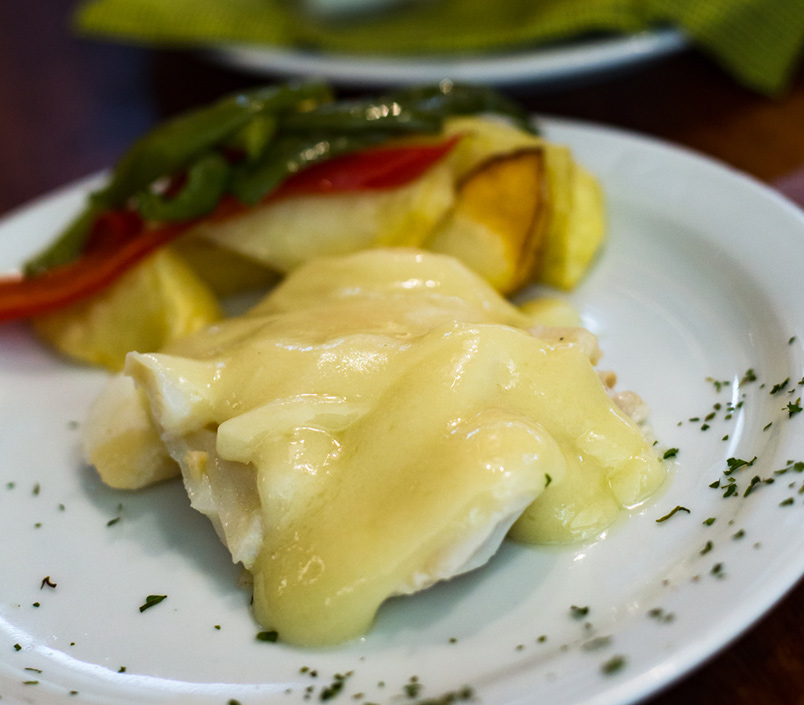 En Divinum llevan más de trece años reivindicando los pintxos tradicionales y sin florituras. Gran prueba de ello es su tortilla hecha "al estilo de la abuela" como nos relata la camarera y prosigue explicando "cortada en lascas, a cuchillo y frita". Y sin embargo, en esta segunda parada, y recomendados por la camarera, seguimos apostando por los productos del mar. Nos decidimos por algo autóctono; el bacalao Divinum, que con ese nombre solo puede anticipar cosas divinas, pensamos.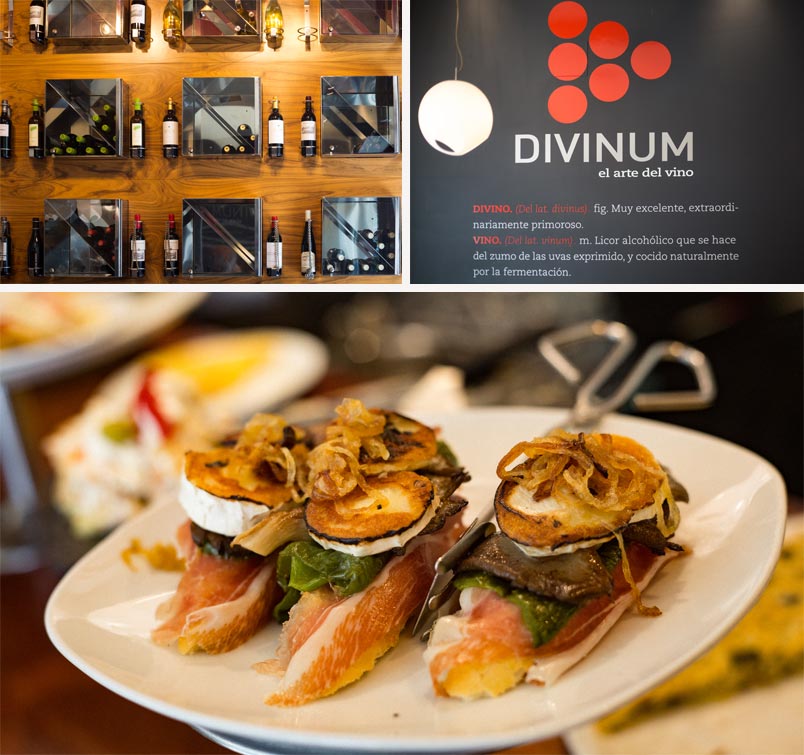 Y sospechamos bien. Minutos después estamos probando esta maravilla clásica. Bacalao laminado al pil pil, con patata panadera y pimientos.
Bar Arrate
Pan tostado con bacalao ahumado, tomate natural casero, confitura de piquillo y alcaparra.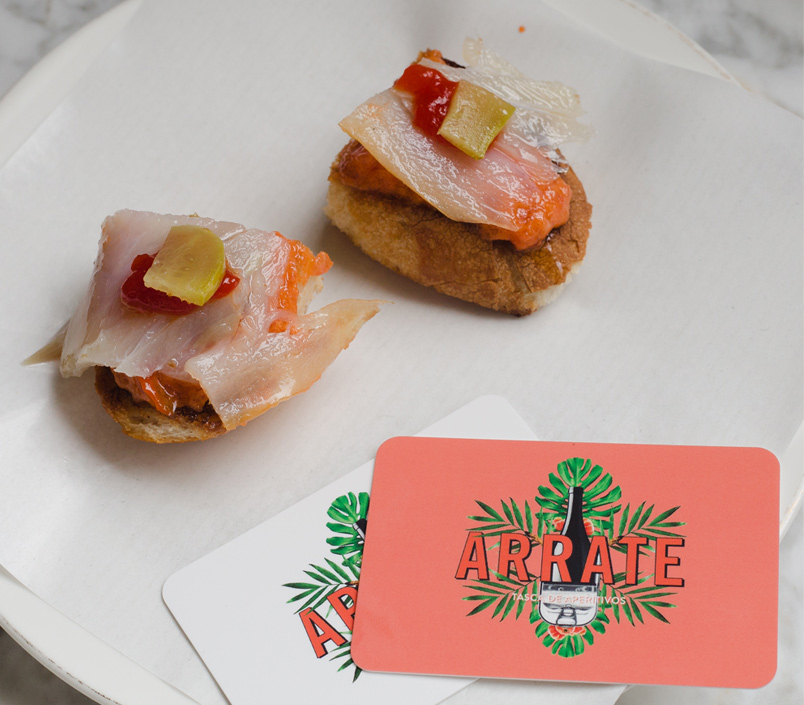 Llegamos a la esquina donde se ubica el Bar Arrate y quedamos fascinados por su fachada. No sabemos dónde mirar primero. Las paredes exteriores del bar están decoradas con flores, macetas, plantas, estanterías...¡incluso una bici colgando! El espacio interior es reducido pero como las buenas latas de conservas, que son junto con el vermut casero que traen desde Madrid las especialidades de la casa, el Bar Arrate es una maravilla bien empaquetada. La decoración está llena de guiños vintage y no tardamos ni dos minutos en sentirnos como en casa ¿Su filosofía? Buen producto y pintxos hechos al momento, como el que tenemos la suerte de probar esta vez: pan tostado con bacalao ahumado, tomate natural casero, confitura de piquillo y alcaparra.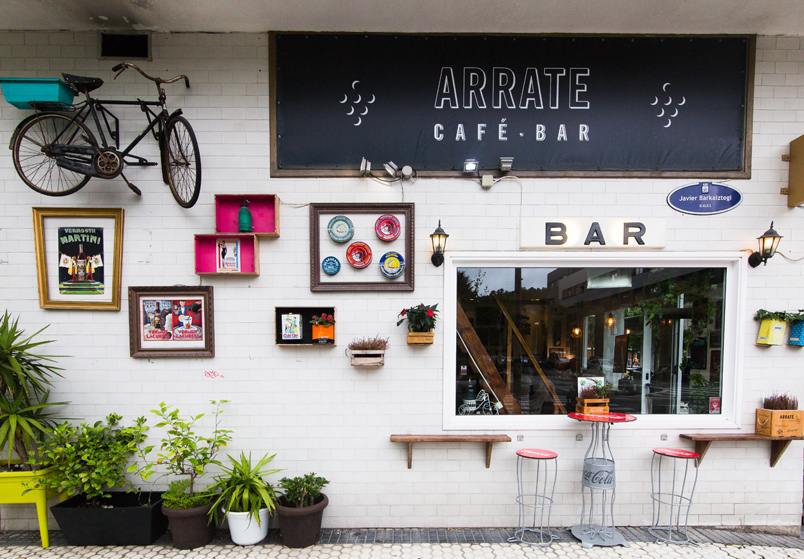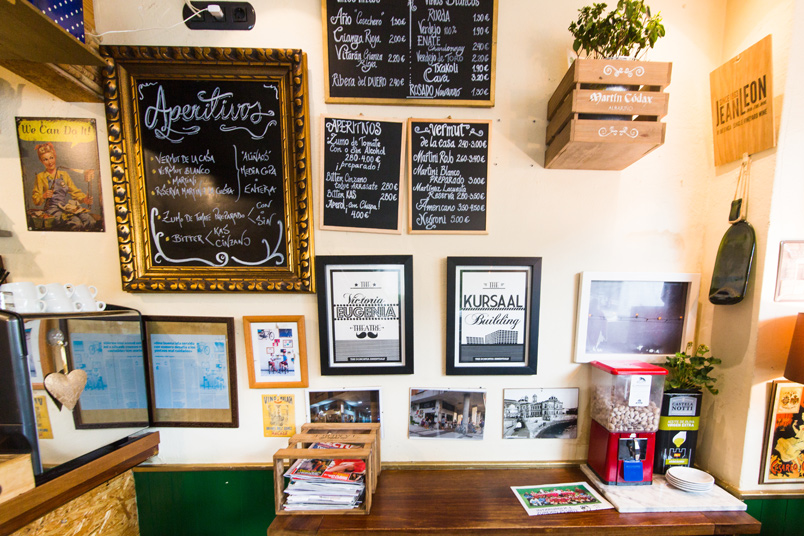 Y decimos esta vez porque una segunda visita está más que asegurada. Apuramos el vermut (¡qué corto se nos ha hecho!) y volvemos a la calle rumbo a la próxima parada.

Bar Xanti
Ración de pulpo

El Bar Xanti, ubicado en las inmediaciones del estadio de Anoeta es un bar habitual de todo aficionado de la Real Sociedad y de cualquier deportista que se acerque a la ciudad deportiva. A la pregunta "¿Cuál es el concepto del bar?" nos contestan con un sencillo "Croquetas y calamares". Y es que dos pintxos tan clásicos, siempre que estén hechos con tanto cariño, pueden ser sin lugar a dudas un concepto de bar en sí mismo. "Pero hoy os recomendamos la ración de pulpo" añaden. Y nos dejamos hacer.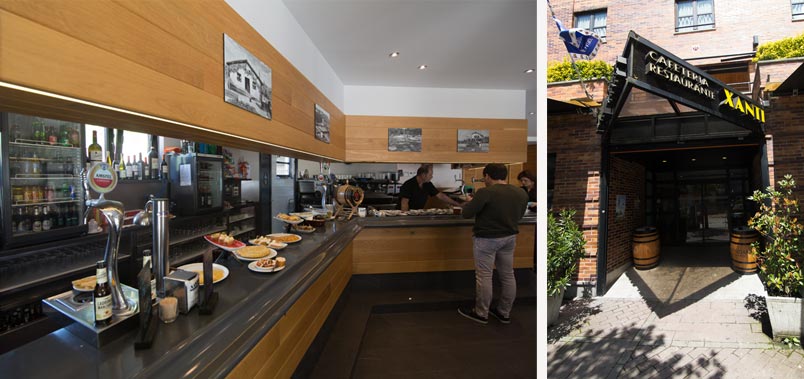 Dejarse llevar no ha sido una desilusión. Salimos felices del Xanti a pesar de ser un día de no-partido y consultamos en el móvil la ubicación del próximo destino.
Darlalata
Vermut y tortas de camarón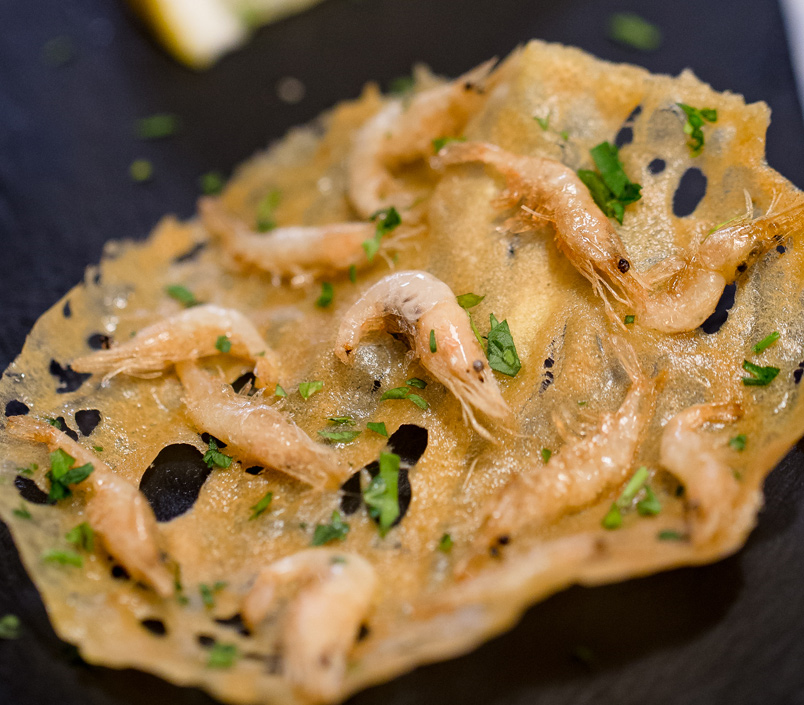 Darlalata es un espacio de culto al vermut dedicado al aperitivo gourmet que abrió sus puertas recientemente en plena Avenida de Madrid. El local nos deja impresionados. Parece que hubiéramos entrado en un antiguo colmado de barrio de los años 60 reconvertido en un elegante bar. Suelos hidráulicos, estanterías de hierro, objetos antiguos, un increíble muestrario de conservas y quesos y muchísimas botellas de vermut por supuesto. "150 tipos de vermut" nos aclar
Nos sentamos en una curiosa mesa con motivos de sardinas a rendir cuenta de unas tortas de camarón que le van como anillo al dedo al vermut que estamos tomando.

Una de las camareras nos explica la inmensa gama de latas de conserva que ofrecen, latería con especialidades seleccionadas en origen por su calidad y elaboración. "Además tenemos los platos de la carta, bocadillos gourmet y en fin de semana mariscos de barra". Confirmado. Ya tenemos plan para el sábado que viene.