TOP 5: Pintxos in Gros
Food and drink
2018 Jul 11
Crossing Zurriola Bridge, we reached the Kursaal Congress Centre, which owes its name to the Gran Kursaal building which once occupied that spot. We sat down on the terrace located between the two hubs, and, feeling relaxed under the rays of the sun, we pored over the map that would lead us to discover some of the best places hidden within this youthful surfing area of San Sebastián. As always, our difficulty was not so much in choosing a few select places as in deciding which ones to rule out, but we decided on a mixture of traditional and contemporary options. Crossing the Avenida de la Zurriola we entered the Paseo Ramón María Lili walkway with its gorgeous views across the river, and we paused there to make our first stop.
Taquería Kursaal
Slow-roasted pork mini-taco with guacamole and picked onion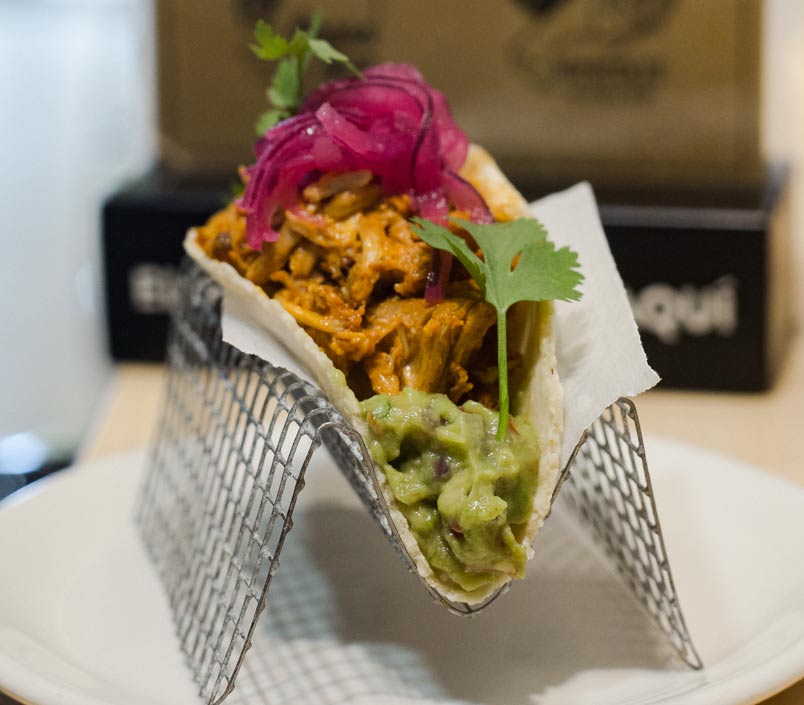 Set on a privileged location a mere manner of metres from the Kursaal Congress Centre and on the banks of the Urumea River, Taquería Kursaal has been creating a perfect fusion of traditional Basque and Mexican cuisines for the last three years.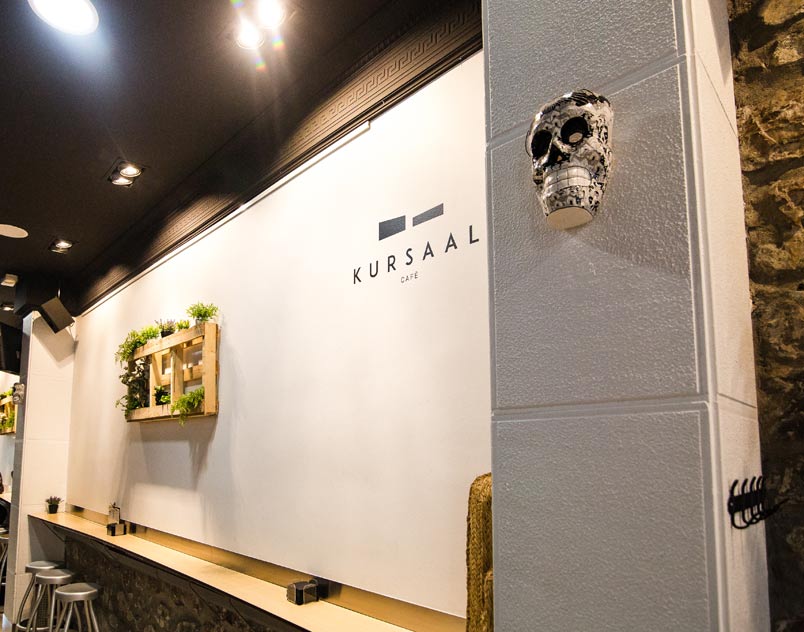 We were met by Juan, Mexican by birth but Donostian in spirit, a renowned chef who is known for blending different culinary cultures. Juan studied in the prestigious Luis Irizar culinary school and after working in a selection of different restaurants he made his dream of opening his own culinary space a reality in 2015

We told Juan that we loved Mexican cuisine and that we had high hopes of visiting the country one day. In the meantime, we settled for the slow-roasted pork mini-taco with guacamole and picked onion that he presented us with, a dish which spirited us away to Mexico for a few happy moments. This feeling was boosted by a smooth bossa-nova melody playing in the background of the café.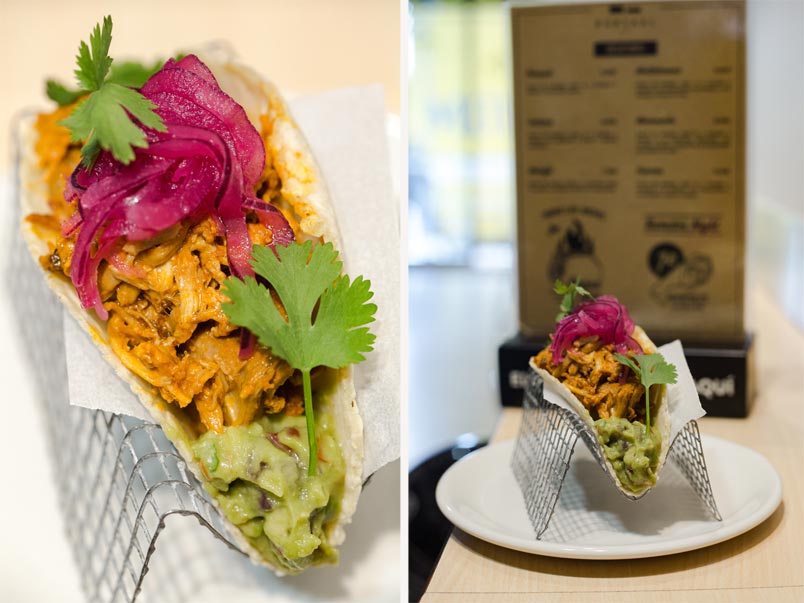 We will be back for more: the grilled pintxo menu is very temping...
Topa Sukaldería
Basque-style pork taco-talo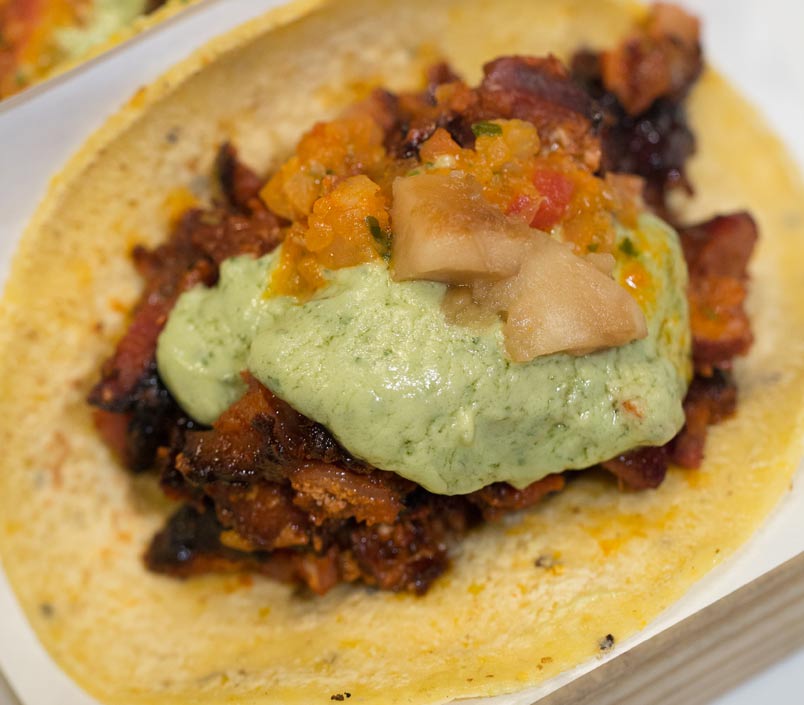 To visit Topa Sukaldería is to be capable of visiting two continents at the same time, at least from a culinary point of view. We entered safe in the knowledge that a double Michelin-starred chef was behind the proceedings. Andoni Luis Aduriz designed Topa with the aim of paying tribute to the relationship between Basque and Latin American people and their movements in both directions throughout the course of history. "Topa is contact cuisine: a culinary approach which invokes a oneness between both sides of the ocean and celebrates our centuries of shared history", explains kitchen manager Jessica Lorigo.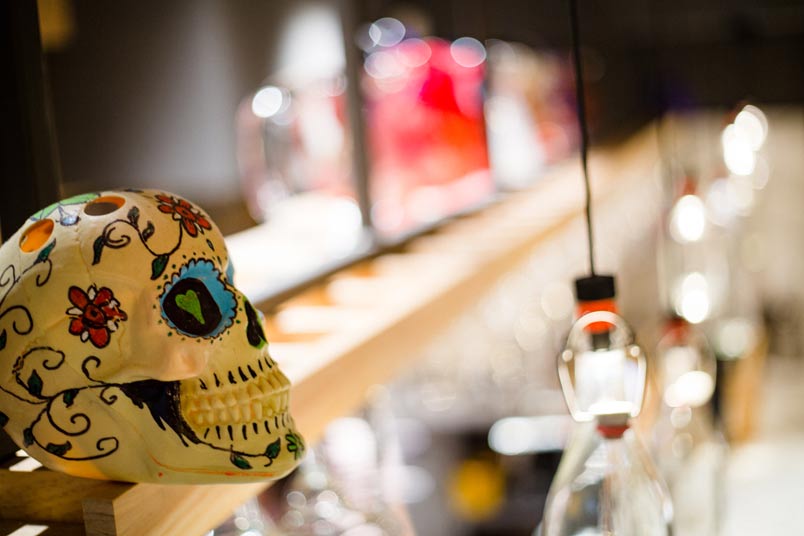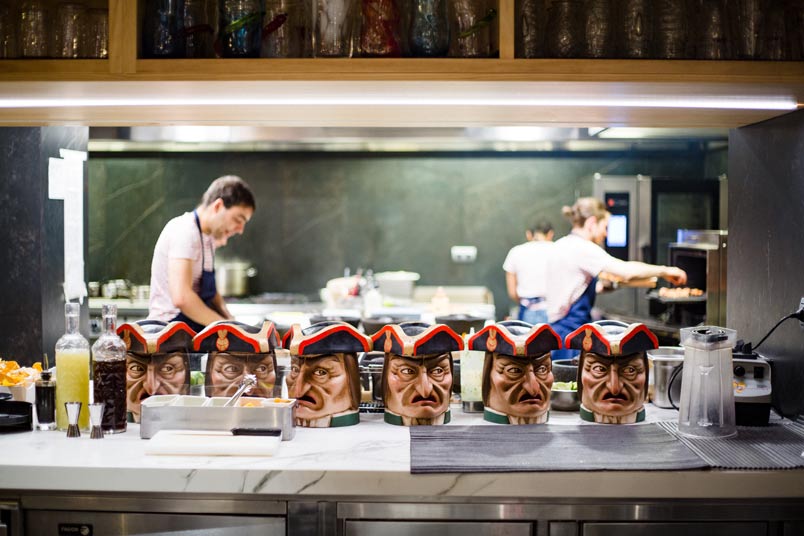 Following Jessica's recommendations, we sampled the Basque-style spit-roasted pork taco-talo. "The taco dough combines maize and millet, millet being the cereal crop that Basque people used before the arrival of maize from South America. It contains pork marinated in Espelette pepper, and the meat stays extra-crispy because it is cooked in a rotating oven. And instead of the traditional touch of pineapple, we give this dish a Basque twist with Errezil apple".
The taco-talo also contains cream of avocado, chopped vegetable salad and bacon. Our first mouthful had us feeling like we had been transported far, far away without having the impression that we had moved from our spot, as impossible as this may sound.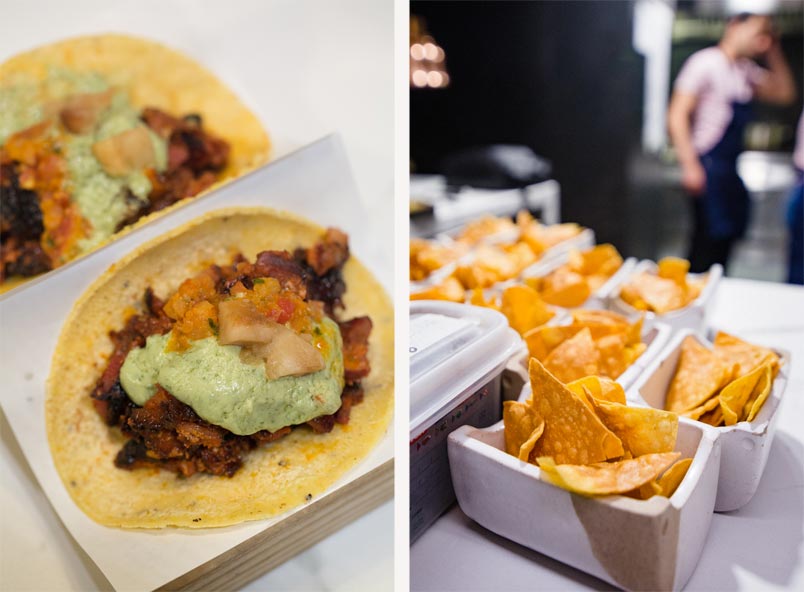 The rhythmic music in the background, designed by Javi Pez, and the décor of the area with its Judas Arrieta mural put the finishing touch on this perfect blend of kindred cultures, something which translates into innovative and surprising food and cocktails.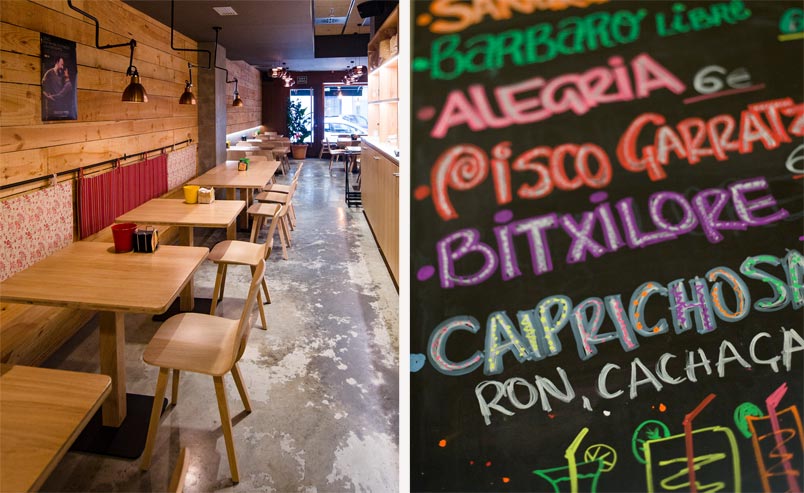 Bodega Donostiarra
'Gilda': a blend of chilli, anchovy and olive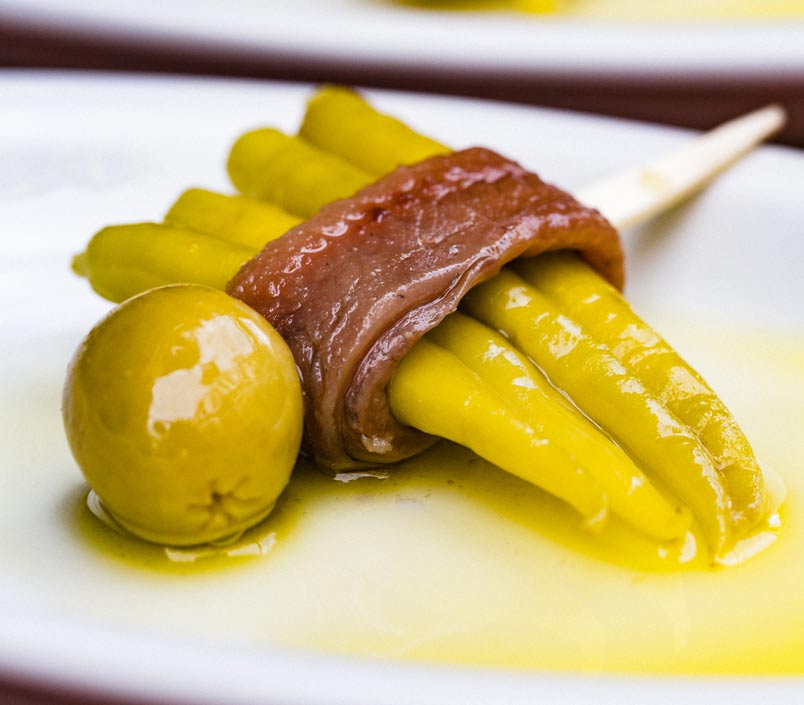 On the lively pedestrian area of Calle Peña y Goñi we find ourselves at La Bodega Donostiarra which has been open since 1928 and has been under the helm of its current owners for the last nine years.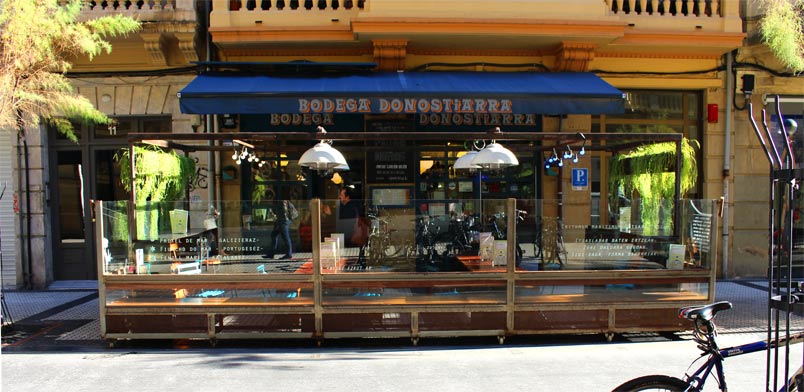 Its blue exterior, comfortable terrace and highly-renowned tortillas which are made on the spot are only three of the signature features of this historical bar.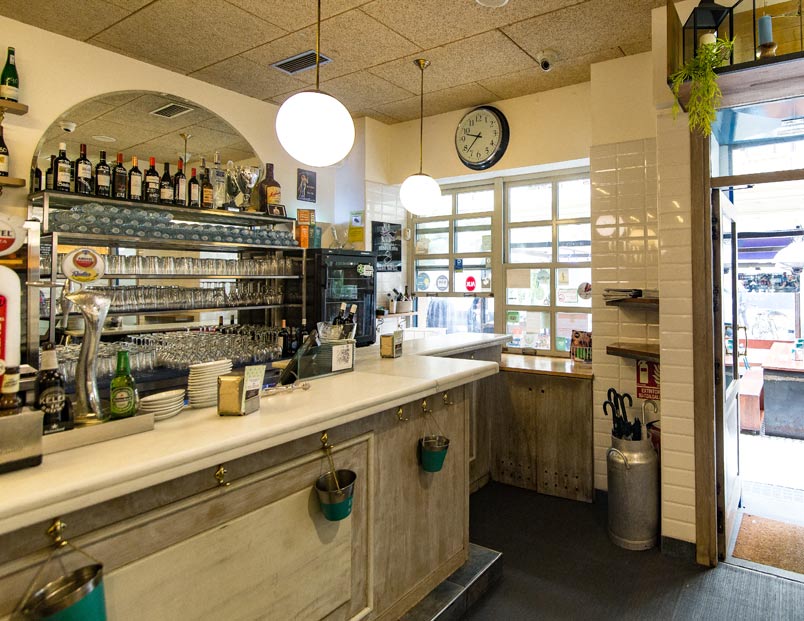 This time we spoke with Mikel, the manager. While serving us some 'gildas', the traditional Donostian pintxo made up of the solid combination of chilli, anchovy and olive, he gave us a short but very intriguing history lesson about the pintxo that we were about to try.
"In the beginning, only drinks were served in hostelries. Workers would come and they would bring their own food along. We are talking about a time when there were no fridges, so the first pintxos that these places started to lay out were pickles and other similar products that could last without refrigeration: boiled eggs, salted anchovies, olives and chillies, among other offerings. And at Bodega Donostiarra we have kept this spirit alive".
We were delighted to discover that the traditional gilda pintxo, part of what had once been a simple solution to a problem, had not only stood the test of time but also become a culinary icon of our city.
Ramontxu Berri
Brie cheese coated in poppy seeds and home-made tomato conserve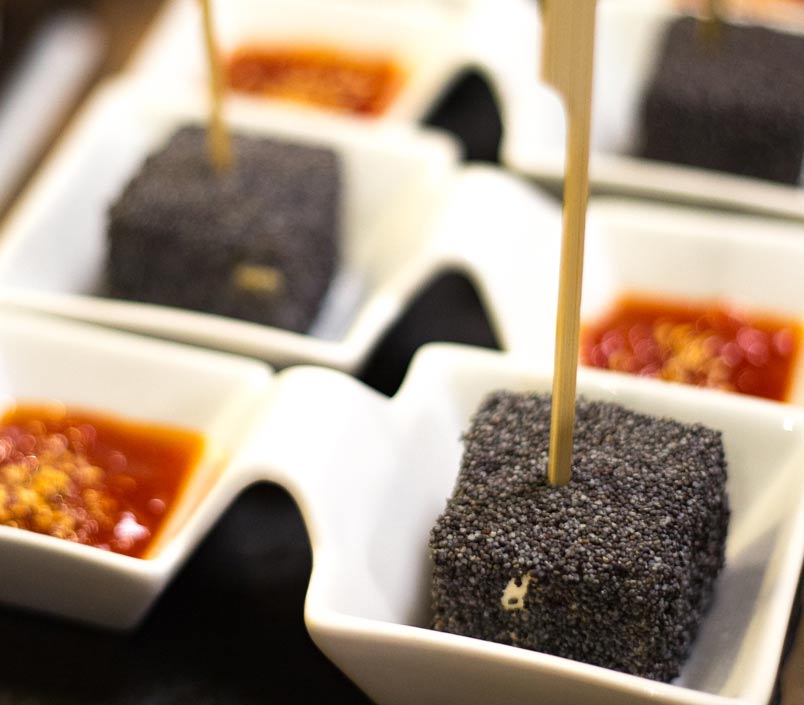 Some scarce metres from our previous stop, and still on the same street, we came across the Ramontxu Berri bar, where the white wooden design and the excellent lighting make this a particularly welcoming environment. We took a seat in two of the free stools at the end of the bar and a very specific item caught our attention: brie cheese coated in poppy seeds and home-made tomato jam. The sweet and savoury combination won us over. "What is interesting is that people order this dish as both a starter and a dessert – that is the advantage of it being sweet and savoury at the same time", we were told.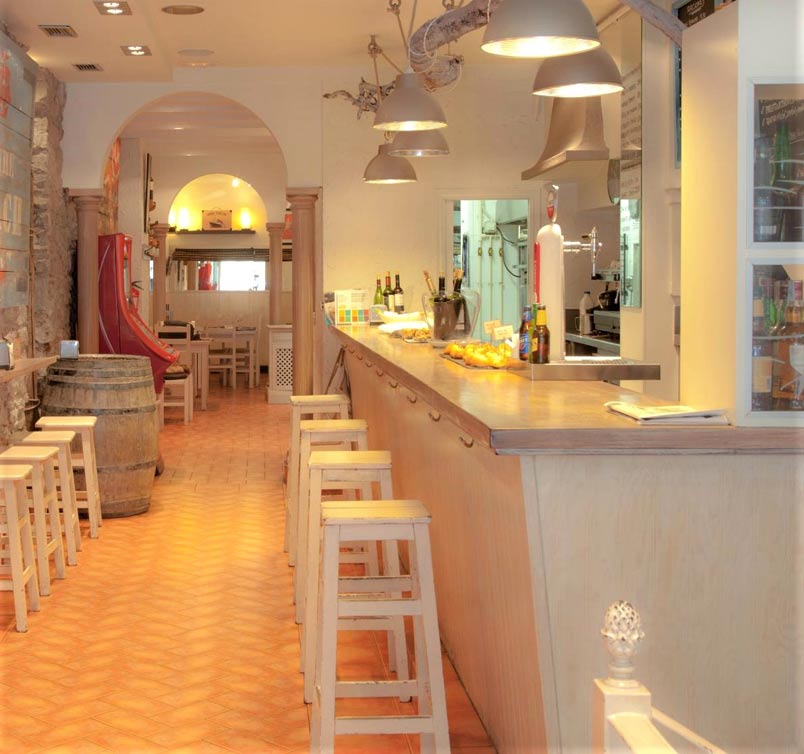 Another interesting feature of Ramontxu Berri is the way in which the menus are designed. "If it is cold outside, we make heartier dishes that will warm people up. If it is hot outside, we offer lighter dishes".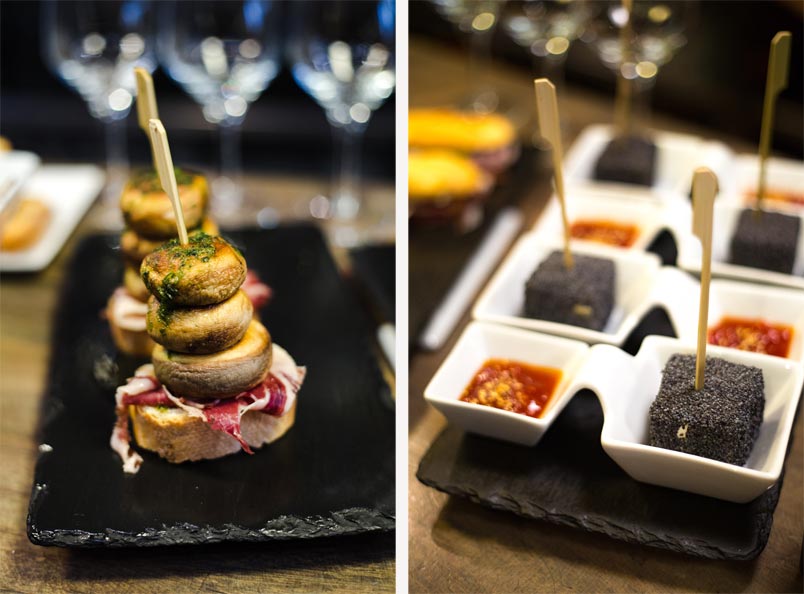 The other highlight of Ramontxu Berri is the crunchy baby squid, which are "individually coated in a special type of flour", something which left us intrigued. This has to be our excuse for a second visit.
San Francisco 33
'Belartieta': crispy bread, a bed of rocket, brie cheese, tomato, coriander, avocado and a twist of lemon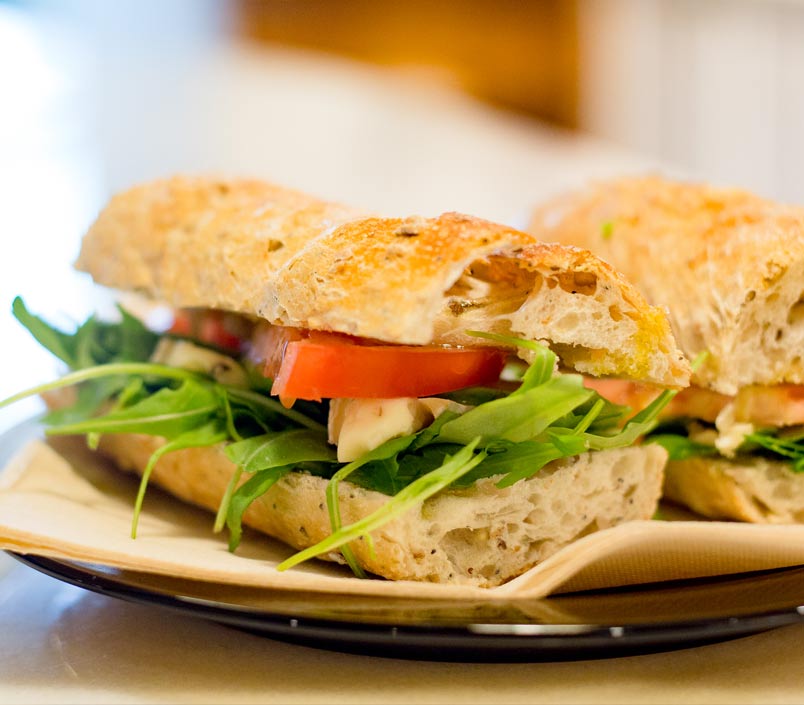 San Francisco 33 is a Fresh & Food sandwich bar which opened its doors in the heart of Sagües last summer. The owners have another branch with the same name in Zarautz and following on from their successes there they decided to conquer the capital with their selection of takeaway sandwiches, salads and light snacks.
Speaking from an aesthetic point of view, San Francisco 33 is simply stunning in terms of the green wooden façade, the tiled floor, the marble worktops and the rustic wooden boards which are used to carefully and delicately prepare every sandwich as if it were the only one.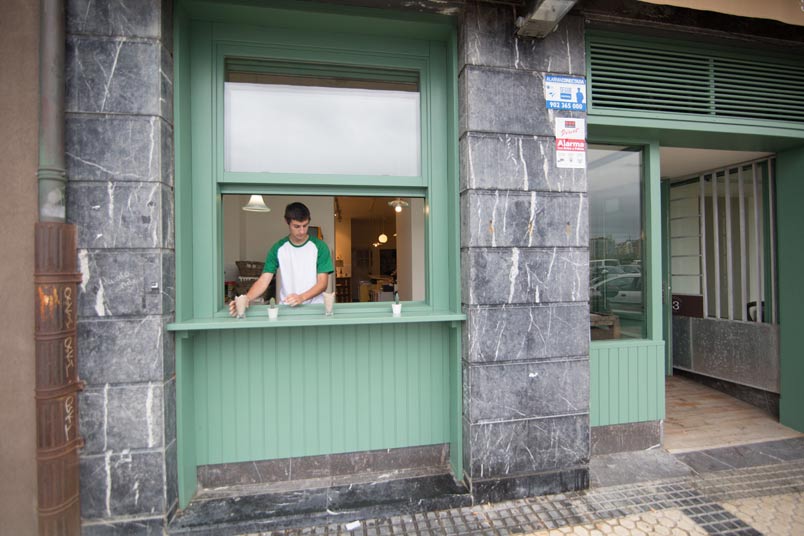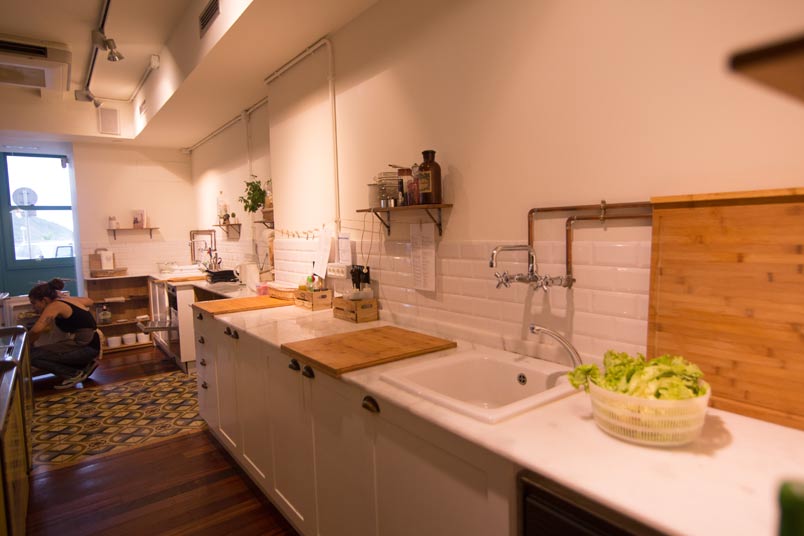 We had a quick read over the menu, which includes some items with the signature of such illustrious chefs as Juan Mari Arzak, Martín Berasategui and David de Jorge, among others, and we had no difficulty in identifying the spirit of this sandwich shop's approach: fresh, healthy ingredients in unexpected new combinations. But we were even more surprised when Amaia and Aitor, the two young employees that served us from behind the counter of San Francisco 33, told us about their delivery service to the beach. "Everything that you see on our menu can be delivered to your home, but also to your towel". "What do you mean, to our towel?" we asked, stunned. "Yes, indeed, we take it straight to your towel. You call us, you place your order and we take it to you on the beach on that yellow bicycle in the corner". We loved the idea and promised to get a few orders in once the weather started to improve.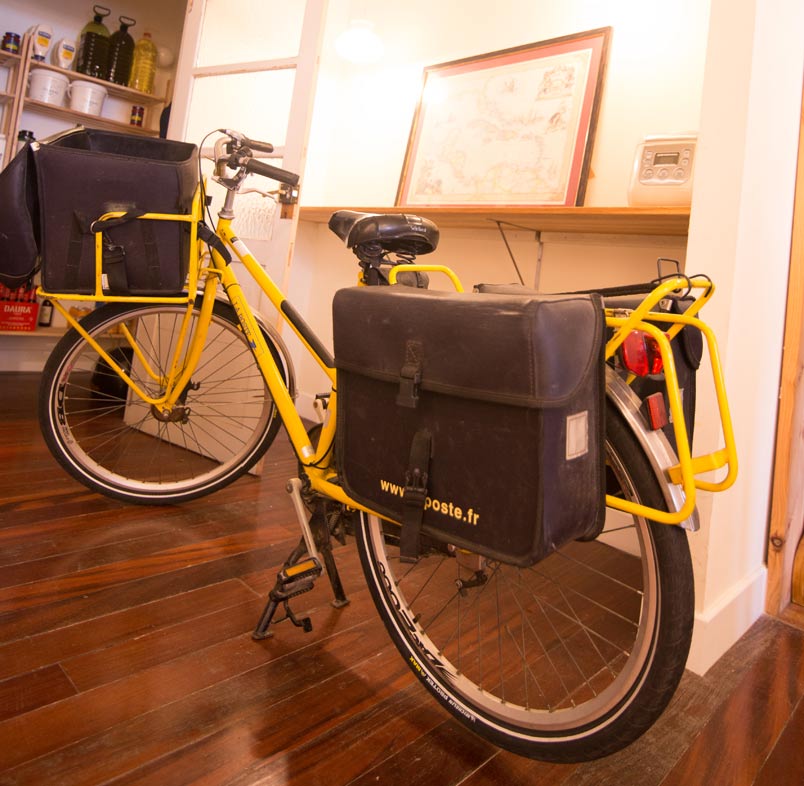 We went for the most frequently-ordered sandwich, the Belartieta, and we were not disappointed by the crispy bread, bed of rocket, brie cheese, tomato, coriander, avocado and dash of lemon. Being healthy has never tasted this good.