Let the Christmas spirit seduce you in Donostia / San Sebastián
Donosti Feeling
2022 Dec 12
The European Capital of Christmas awaits you with thousands of surprises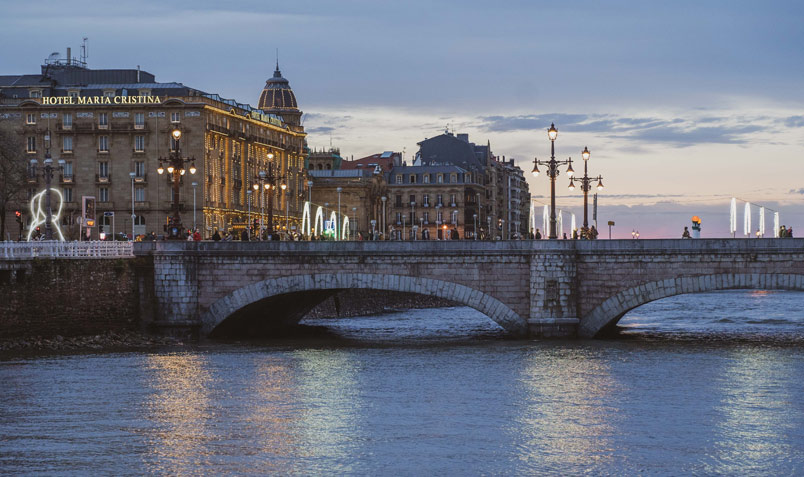 Capital of Christmas (alongside Genoa) in recognition of the values of solidarity and originality in its offerings for locals and visitors. The lights already twinkle on its streets and bridges and a multitude of attractions await families; Basque traditions, its festivities and protagonists, permeate the celebrations; the markets, shops, bars and restaurants are full of the best and most delicious ideas… San Sebastian is ready to welcome Christmas.
Enjoy and share it.
Christmas lights
San Sebastián was lit up for Christmas on 2 December. Now the lights are shining all over the city, we can dive straight into the spirit of this season, in full enjoyment of the plans Donostia / San Sebastián continues to offer us.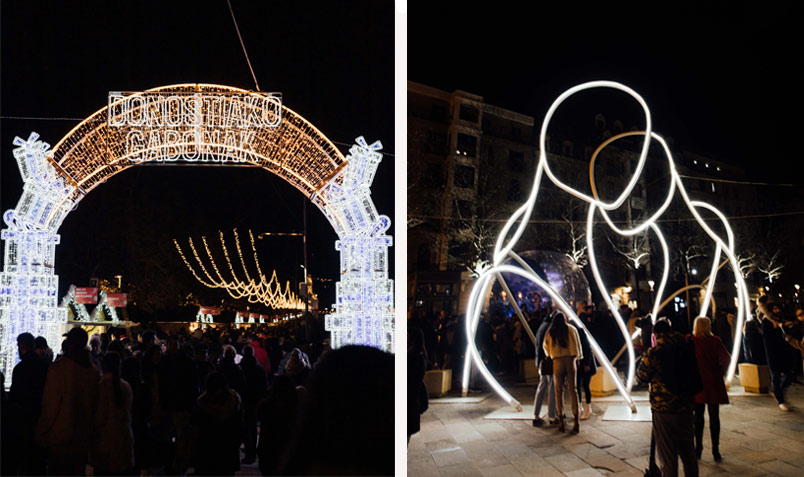 Fotos: Nicola de polkadotpassport
The magic stretches from the River Urumea to the rest of the city, illuminating emblematic structures such as the María Cristina Bridge, the Victoria Eugenia Theatre, La Concha's clocks, Hotel de Londres y de Inglaterra, the La Perla Thalassotherapy Unit etc.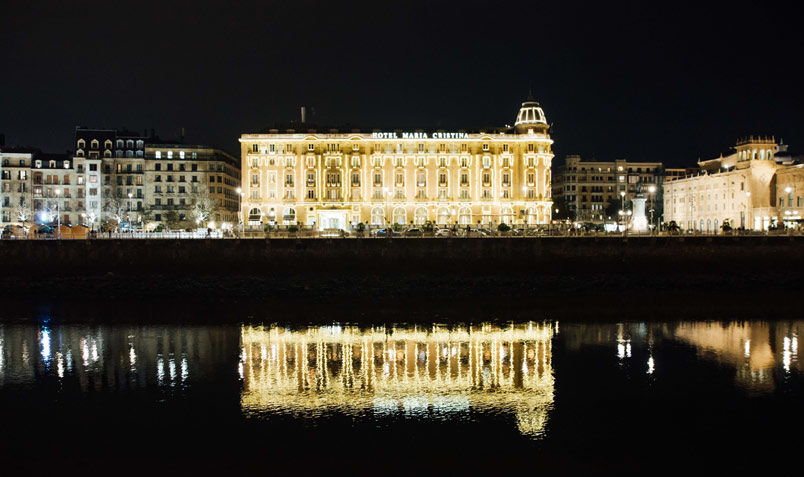 Foto: Nicola de polkadotpassport
In addition, during all the festivities, you can also admire the colourful cubes above the Urumea river, overhead lights on a number of streets or the giant Christmas bauble of Alderdi Eder. In the same location a large Ferris wheel will be installed to enjoy the views over La Concha. In addition, the Christmas Markets installed in Paseo Urumea and Plaza Ramón Labayen consist of many stalls with the best Christmas products and a full programme of music and children's activities, plus more.
Donostia from a different point of view
We'll kick off our Christmas trip with a different look at the bay. How about getting on this big wheel and taking in some unbeatable sights from an altitude of 50 metres? This is one of the star attractions of this year's Christmas you simply have to try.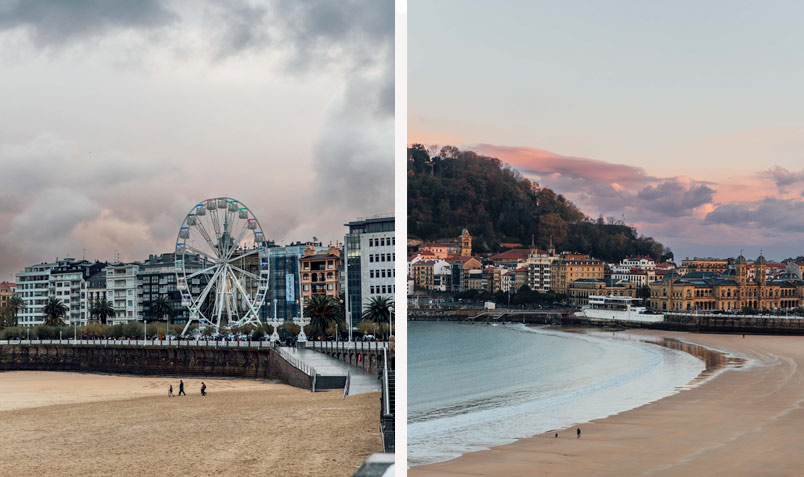 Photos: Nicola de polkadotpassport
The big wheel looks out over Donostia's bay, and will be in Alderdi Eder until 31 January.
Bethlehem, Bethlehem ...
If you're out walking around San Sebastián city centre, the traditional "Belén" nativity scene in Plaza de Gipuzkoa is a must-see. In fact, this has been around since 1957, adding its special charm to the garden (which is worth a visit at any time of year) in the square. It was created by the artists Rafael Munoa and José Luis Usabiaga, in association with Gipuzkoa's Asociación Belenística. Continuing your stroll, you can do a little window-shopping as you go, because many of them are all dressed up in their best finery at this time of year for the Christmas shop window competition.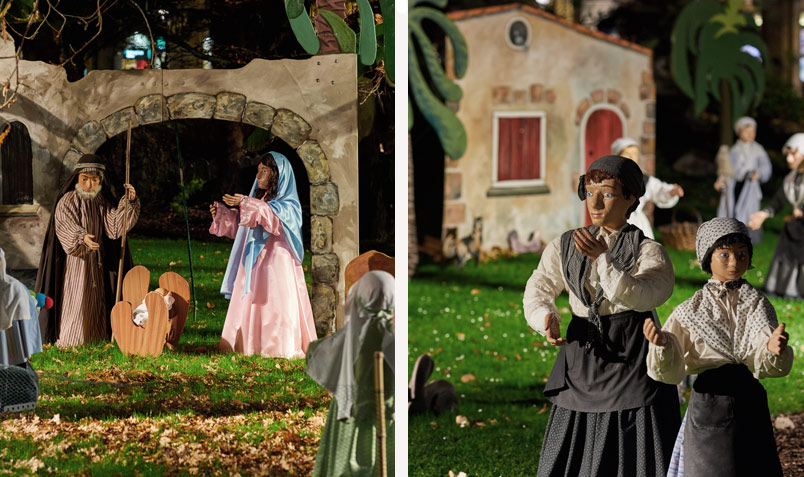 Christmas markets and craft markets
We don't have to move very far from the Nativity Scene or the shops to have fun at the Christmas markets. This year, from 2 December to 6 January, home in on the charming market stalls on Paseo del Urumea, and the Buen Pastor craft market.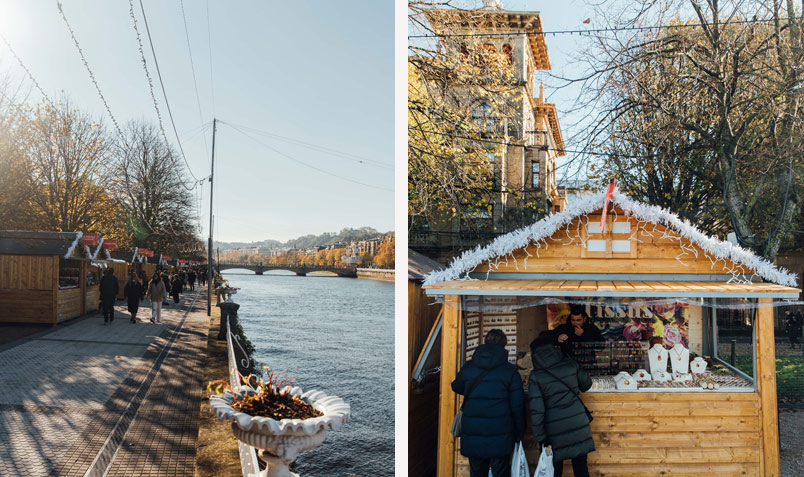 Fotos: Nicola de polkadotpassport
Want to pick up a little Christmas gift for you or yours at these magic markets?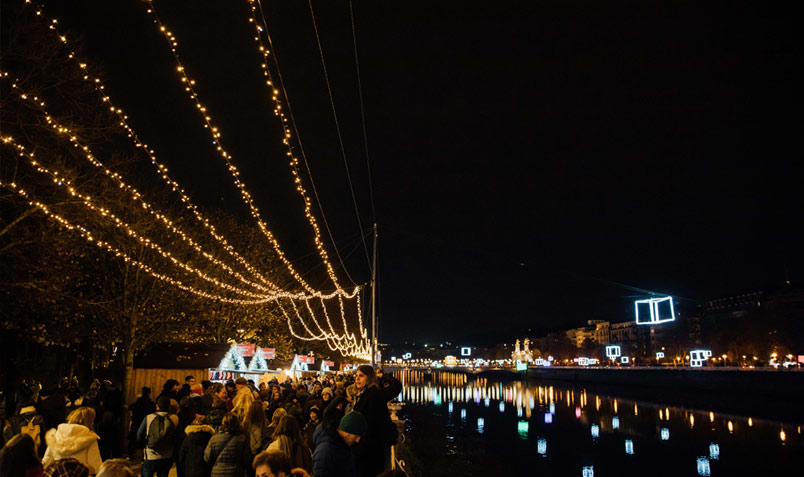 Foto: Nicola de polkadotpassport
Christmas video mapping on San Telmo Museum
San Sebastian Christmas has a new show, a Christmas video mapping at the San Telmo! The projection will show images and elements related to the Christmas season through attractive lights and sounds, while incorporating elements of our environment, our culture and the city of Donostia / San Sebastián.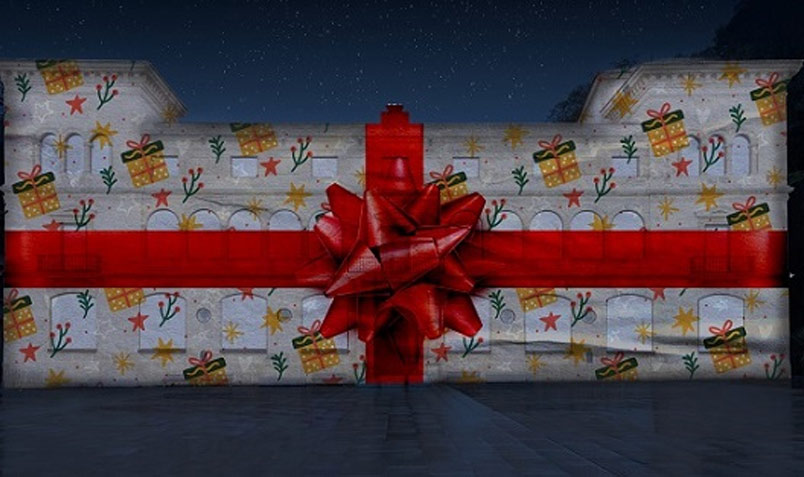 We can enjoy the show from December 27 to January 4 at: 6:30 p.m., 7:00 p.m., 7:30 p.m., 8:00 p.m., 8:30 p.m., 9:00 p.m. and 9:30 p.m.
Each performance lasts 6 minutes, except on the 4th, which is extended by one minute due to the arrival of the Three Wise Men. The waiting time between shows will come alive with music and lights.
Santo Tomás Fair
San Sebastián becomes a country market with a magnificent party atmosphere. Craft stalls, agricultural produce, animals on show, and a scarecrow competition. So put on your farming clothes, and get ready to eat txistorra, drink cider, and dance non-stop.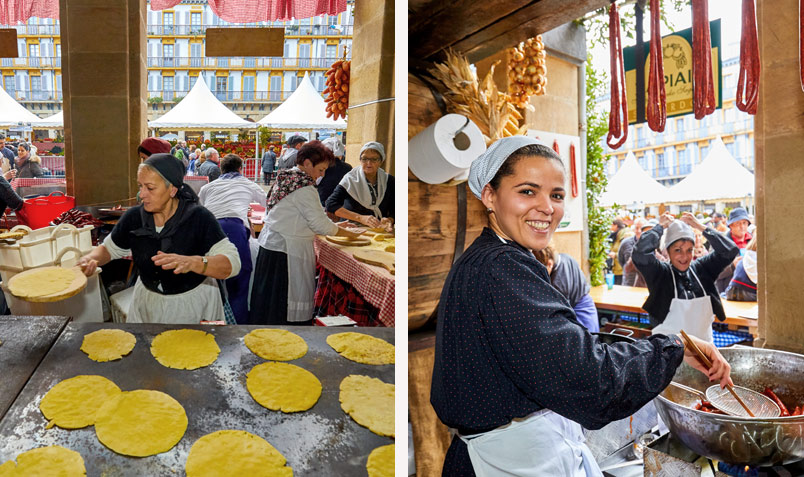 Culinary treats
If you're up for some gastronomic homage, you can book lunch or dinner during the Christmas season, and you're certainly in the right place. Donostia has a wide range of cuisine for such a special time of year. Or would you rather stay at home with the family, but still have the chance of eating some classy food? Treat yourself and choose your dinner from one of the many gourmet shops, where you can find some excellent culinary fare for experts like your good self.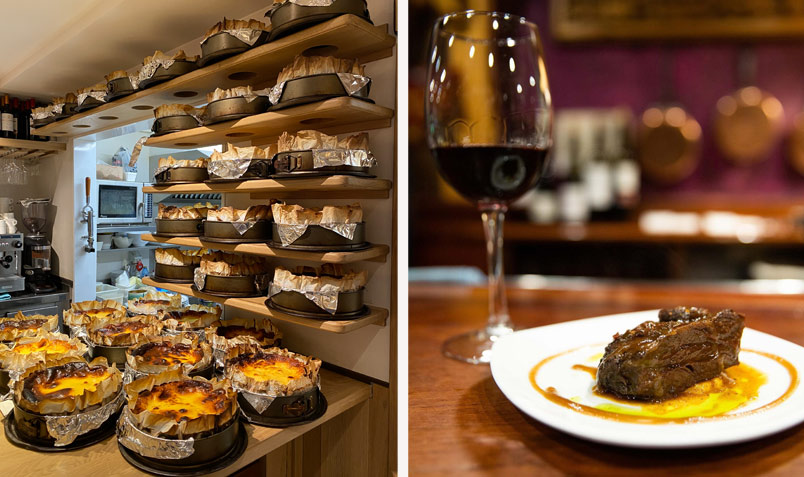 Foto: Nicola de polkadotpassport
A big welcome for the Olentzero, Mari Domingi, Melchor, Gaspar and Baltasar!
Olentzero and Mari Domingi will be here on Christmas Eve to hand out gifts. In the morning they'll be visiting districts in Donostia and at 15:30 h they'll meet up with the boys and girls at the Town Hall. And at 18:00 h they'll be on their street parade in the city centre.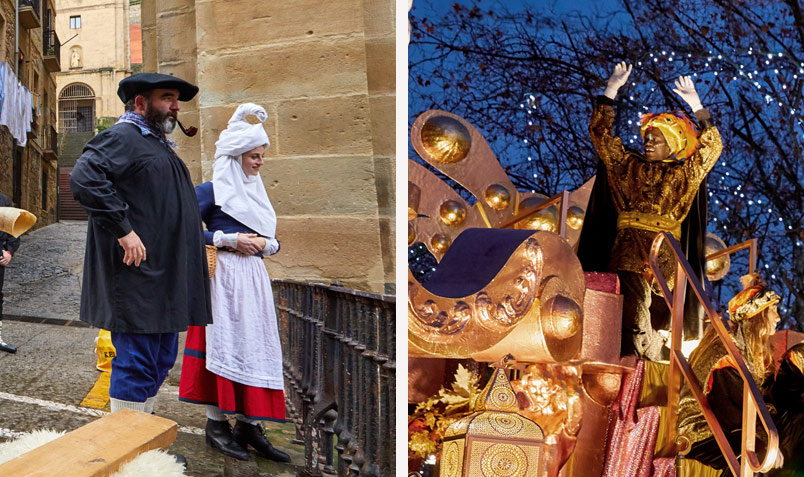 And the Three Kings will also be paying a visit to Donostia. On 5 January, the 3 Kings will be visiting different areas of the city. They'll meet up with the boys and girls at the Town Hall at 15:30 h, and at 18:30 h they'll be on their street parade through the city centre.
Family plans
Our kiddies won't have any time to get bored this Christmas, because Donostia's Christmas is bringing a host of things with it - workshops, concerts, theatre productions, and much more!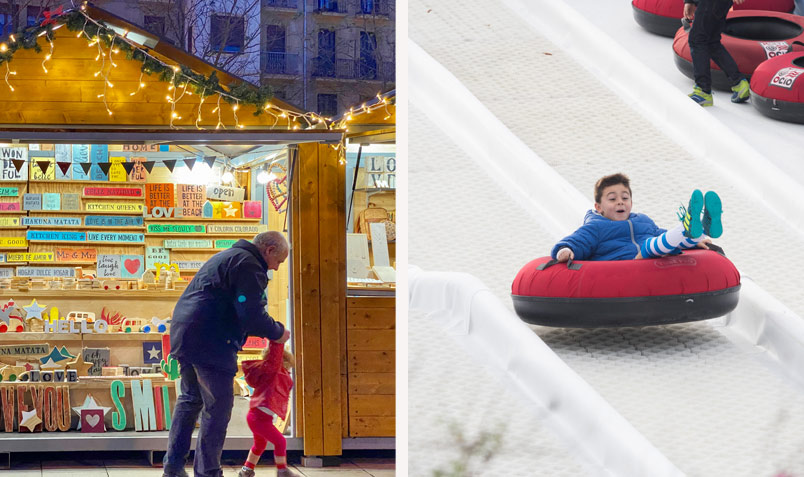 Between 13 December and 6 January there'll be more than 350 activities in Donostia / San Sebastián, in various districts.
All this along with the big wheel, the sleigh slide, and the children's train.
More Christmas treats
If the Christmas spirit doesn't appeal to you, you can still enjoy Christmas with more terrestrial treats, or in a more original format. How about a relaxing thalassotherapy experience at La Perla, or something more adventurous like a surf day or a kayak trip, while someone sings hymns somewhere else?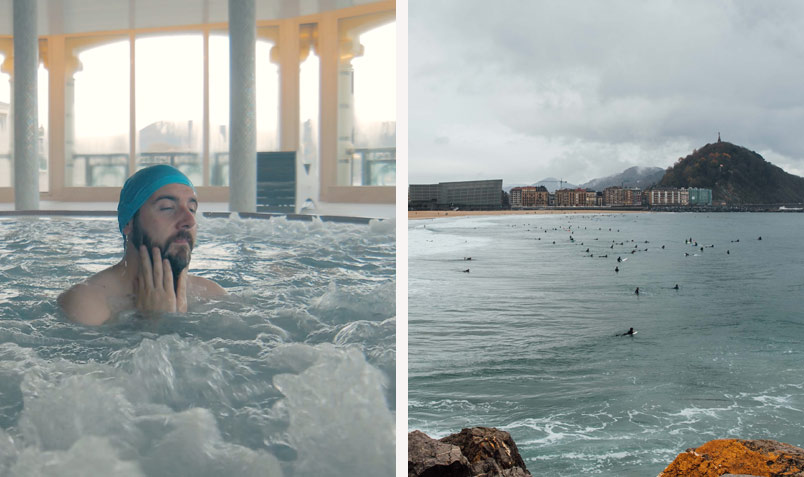 Foto: Nicola de polkadotpassport
This means plans ... ready to tell your own Christmas story? Take a look at our activities
A Christmas agenda brimming with culture
Don't forget to take a look at the agenda for Donostia / San Sebastián!
---