Discover the world of cider!
Food and drink
2023 Feb 01
If you're here to visit Donostia (the Basque name for San Sebastian) for a few days, you shouldn't leave without discovering the world of cider. While of course you have to taste it, you should also learn how it's made, from the time the apples are harvested until you pour it into your glass. Did you know that until the 20th century the most common drink in Donostia was cider, and that there were once 100 cider bars in the Old Town alone?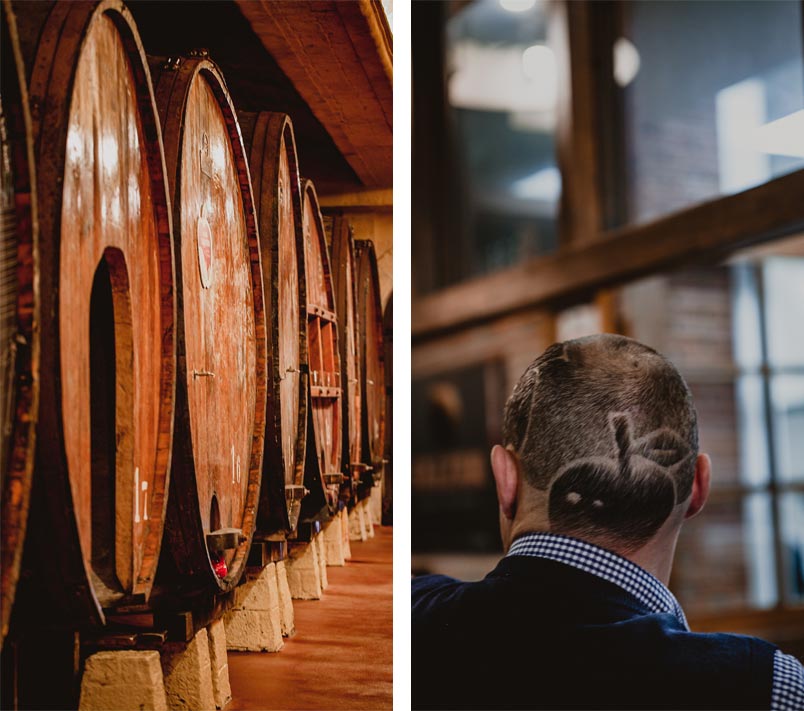 We're cider house fans and we've now been to two of them (Saizar and Petritegi) with the Sagardoa Route, a proposal of different experiences at a number of cider houses and with absolutely no fuss, because they take you there and back in a van from the centre of Donostia... meaning that you can drink cider to your heart's content! We both loved it...

The experiences include a guided tour with tasting followed by lunch at a cider house and ¡txotx!, serving yourself straight from the barrel. I'm going to tell you about our experience prior to COVID-19, although now all of the cider houses offer hygiene, safety and social distancing measures and guarantees... but the essence is the same!

Saizar opened in 1974, and today it is run by the second and third generations of the family... who also tell us a number of curious anecdotes: Did you know that cider was a drink used for survival purposes? Or who used to drink it?

The scent of apples is immediately obvious upon arrival, and so it should be: Saizar has 12 hectares of apple trees which provide the fruit to prepare their excellent cider. There they use between 6 and 8 varieties of apple, which are classified into 3 types: tart, sour and sweet. The 12 hectares of apple trees can produce up to 2 million litres of cider a year.

Cider has been made for more than 500 years at the Petritegi farmhouse, run since the late 19th century by the Otaño family... today in its sixth generation. This is a "tolare baserria", or in other words, a farmhouse with a cider press at its centre, around which the areas for the family and the animals are created.

Petritegi and Saizar are firmly committed to Euskal Sagardoa, with its Denomination of Origin. Among their cider varieties, they make the one produced with nothing but local apples.
If you visit during the cider making time (from September to November), you'll see how the apples are cleaned and selected. Next, you'll learn about the process, from the apple press until labelling of the bottle, the different kinds of fermentation, facts and anecdotes about the history of cider... Did you know that one kilo of apples renders approximately one bottle of cider?
There's nothing quite like the atmosphere in the area of the kupelas or barrels. Various groups of friends stand around the barrels, each waiting their turn to fill their glass. There's no lack of conversation and laughter while waiting your turn. And you can even make friends at no extra cost! In the future, every time you open a bottle of cider, no matter where you are, you'll undoubtedly remember this moment.

You can choose to have a traditional cider house menu or, if you prefer, both cider houses offer vegan menus, while Petritegi also offers vegetarian and gluten free options.

No matter what you eat, you'll have an unforgettable experience, a voyage for the senses and, above all, a moment you'll want to share, remember and repeat.
Visit the bowels of a cider house with a guide who'll teach you how to enjoy the drink and will explain the process from start to finish. And another anecdote: you'll discover the origin of the cry of 'TXOTX'!
If you too want to enjoy this experience, you can book it here!
5 Tips for enjoying a sagardotegi:
When you hear the cry of "Txotx!" make your way to the barrel... or serve another round!
Hold your glass beneath that of the person in front of you, not to waste a single drop...or place it immediately beside the glass of the person sitting next to you.
Only fill a quarter of the glass, you can go back for more as often as you like!
Chat beside the barrels or kupelas.
Return to your table and continue to enjoy the traditional menu until you hear the next cry of "txotx"!
---