Flysch and traditional Cider House tour
Day trips
2019 Oct 14
This year we have decided to explore our region a little more and, to do this, we always visit the Donostia San Sebastian Turismoa website because we think that the activities that they recommend are brilliant.

When we discovered the flysch + traditional cider house tour we thought that it was a great chance to return to the Flysch accompanied by a professional guide, to give us a better understanding of the landscape and its history.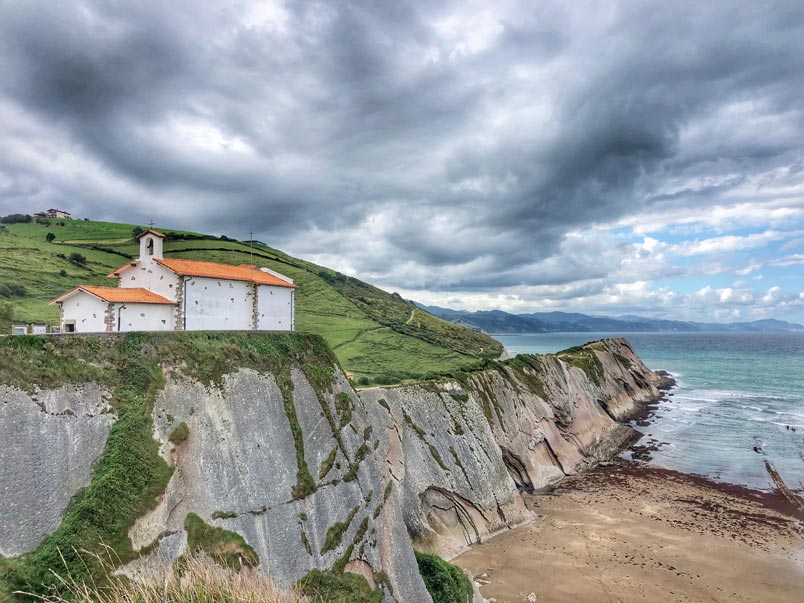 The adventure begins at 11 am on Calle Bengoetxea, opposite the Koh Tao. They come to collect us in an amazing van that makes us feel a bit like rock stars, Rolling Stones-style.
Right from the start we get along brilliantly with our guide from Sagardoa Route, Izaskun, who along the way tells us loads of interesting facts and a little bit about the history of the coastal towns we are going to visit: Zarautz, Getaria and Zumaia.
Our first stop is the port of Zumaia, where Izaskun tells us some interesting facts and stories about the Vikings and the watchtowers.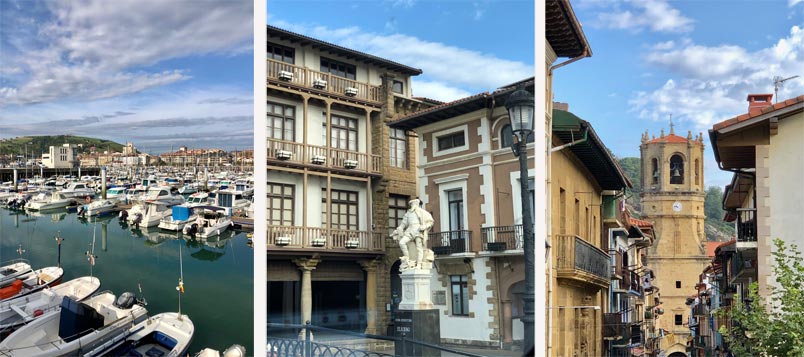 Next, we stop off at the Santa Klara country house, with stunning views over the FLYSCH. We are so impressed with this place that we spend a good while taking photos and filming videos there.
Also, in the Santa Klara country house we also make some new friends and try milk fresh from the cow, which we think is sweet and very tasty.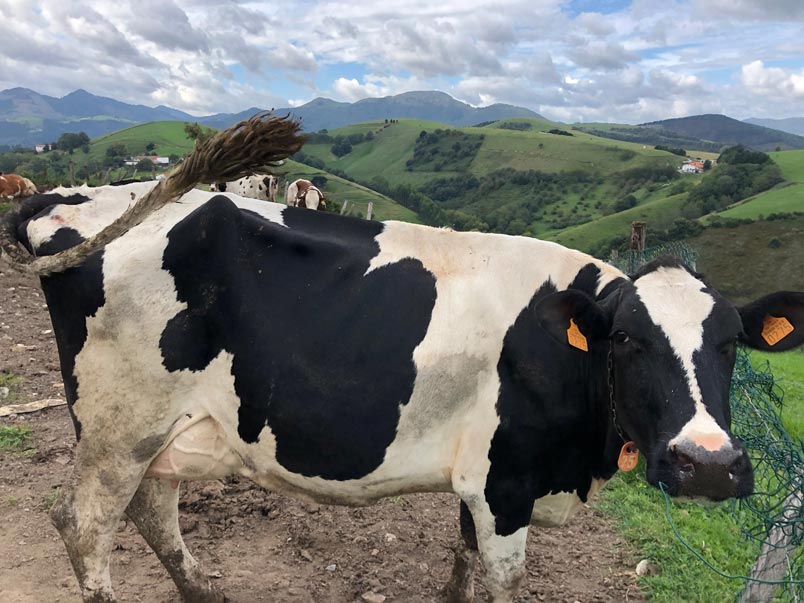 For our elevenses, they open a bottle of cider and serve us some delicious cheese to nibble.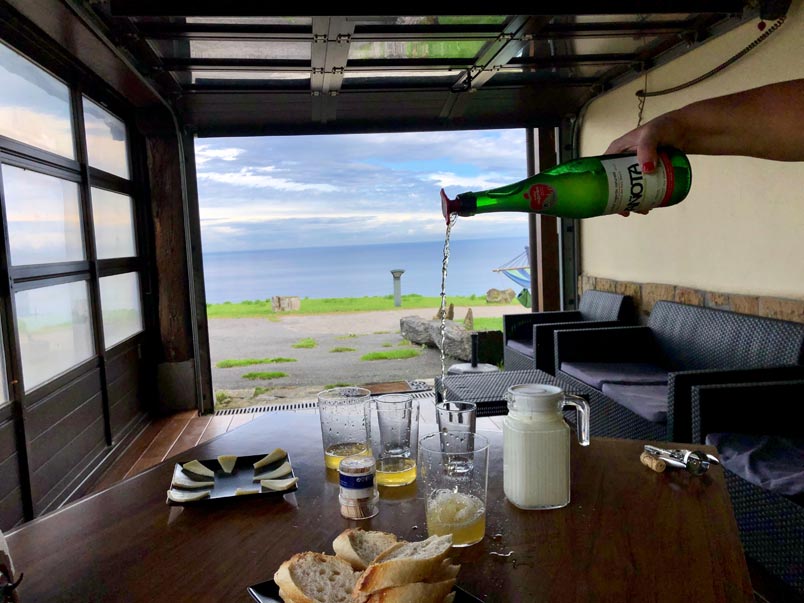 We leave the country house with big smiles on our faces and we head towards the flysch.
Jaw-dropping cliffs, stunning views, amazing hermitages...that's the Geopark's Flysch Tour, which starts in Zumaia, on Itzurun Beach to be precise, which we recommend visiting at low tide, so that you can admire the spectacle in all of its glory.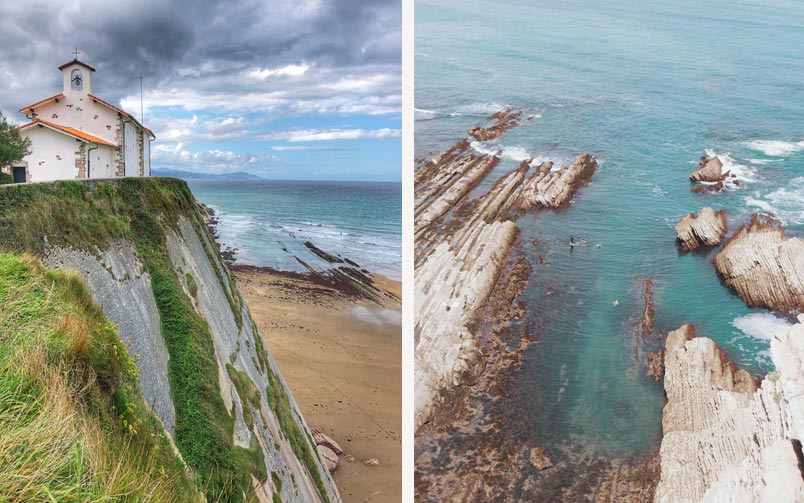 The Geopark, encompassing the territories of Zumaia, Deba and Mutriku, has 13 kilometres of cliffs which contain a spectacle called the FLYSCH, formed by layers of rocks, where you can read every chapter of the Earth's history,
going back 60 million years, as if it were an encyclopaedia.
We then go for a stroll up to the San Telmo Hermitage. The scenery is so exceptional that it leaves us speechle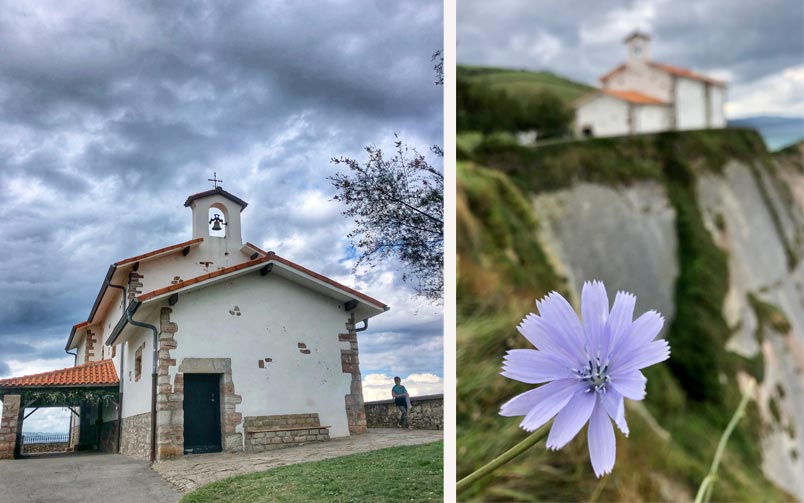 Photos, videos and more photos. At this point we need quite a long time to admire so much beauty.
We're not surprised that this place, with its cliffs, beaches and solitary lighthouse, was chosen to film several scenes from the seventh series of Game of Thrones, because it's a truly stunning setting. The wedding scene from Spanish Affair was also filmed in San Telmo Hermitage.
Over 200 photos and 100 videos later, we climb back into the van and head towards PETRITEGI, where a tasty cider house meal awaits us.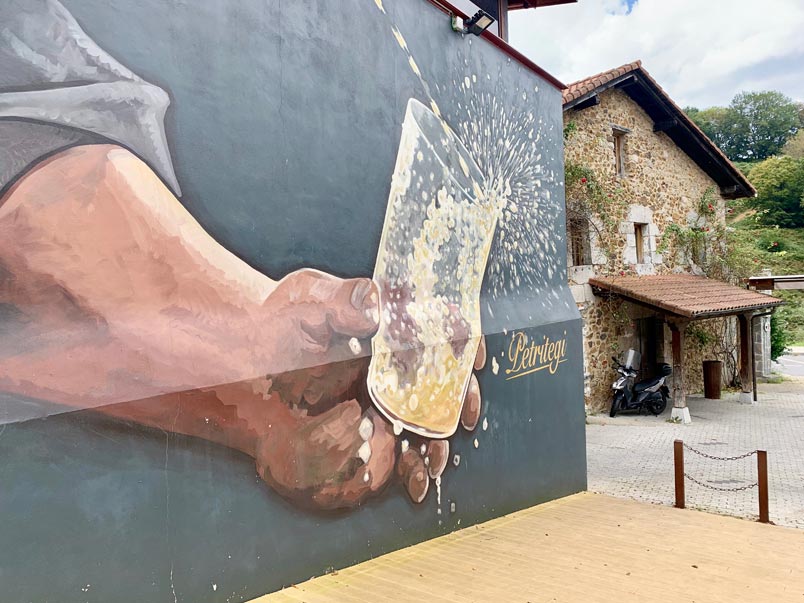 The Petritegi cider house takes its name from the farmhouse/cider press that was built at the start of the 16th century.
Its name means Petri's house, and 500 years ago a native of San Sebastian called Petri De Igeldo (Pedro) ordered this building to be built, bringing together the family, the agriculture and livestock farm and the cider factory.
In Petritegi they give us lots of details about the production process and history of cider. They show us how to pick apples, they give us a tour of their facilities and they tell us something that we find really interesting: thanks to cider, the Basque sailors never used to get scurvy when they set out on long sea expeditions, because the vitamin C in cider protected them against this dreaded disease, known as the plague of the sea.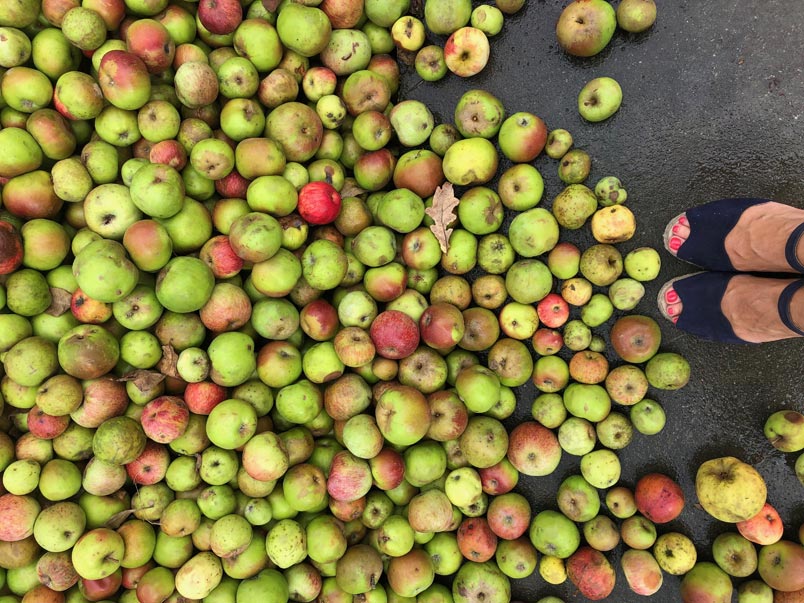 For lunch, we enjoy the traditional food served at Petritegi: Baked chorizo, cod omelette, fried cod with pepper, steak, cheese, quince, walnuts, tajos and cigarillos (crisp rolled almond and butter biscuits), all washed down with some superb cider.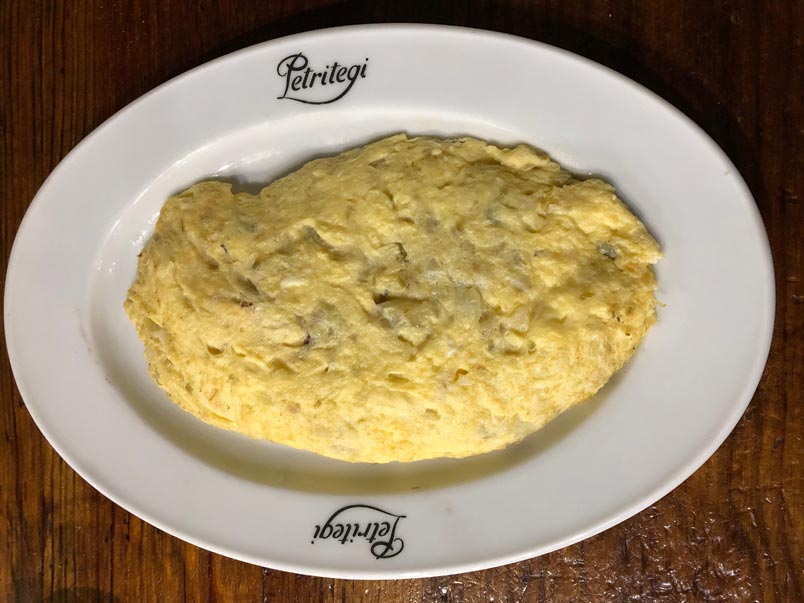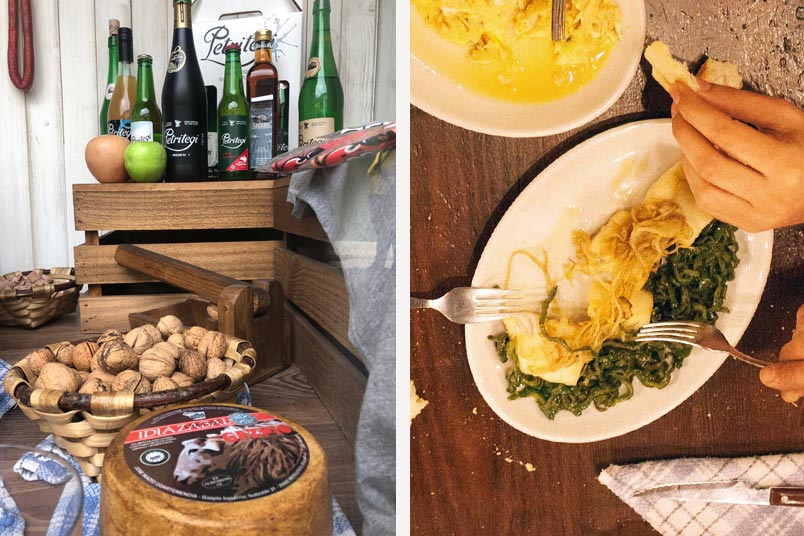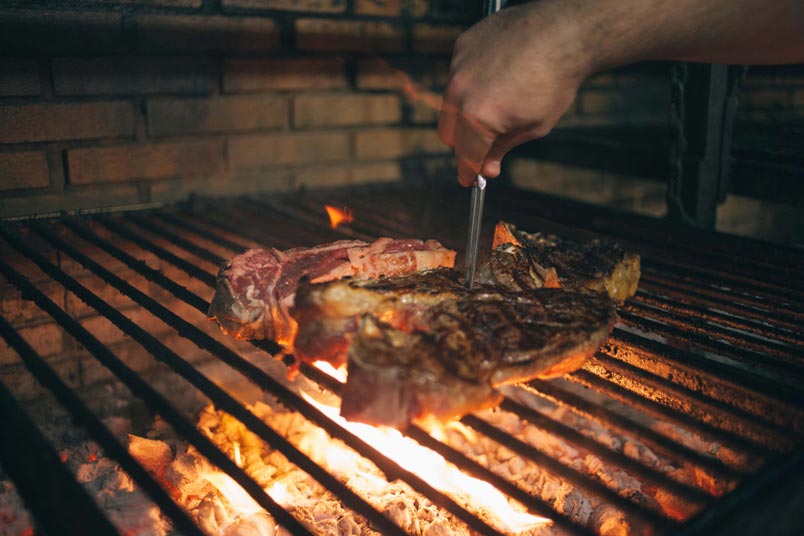 They also tell us that they have had a vegetarian menu for some time.
We have to admit that, out of curiosity, we also decided to try the grilled tofu and we must say that it was also really tasty.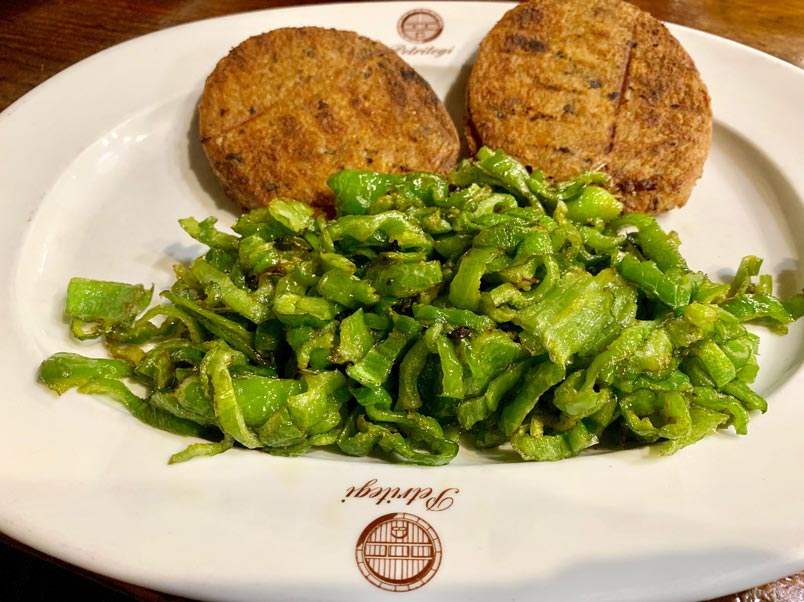 An amazing day and an experience that we would recommend 100%.