St James way: Inland route
Pilgrims that get this far on their way to Santiago de Compostela chose between two paths, the Coast or Inland. These are two fabulous ways of getting to know Gipuzkoa.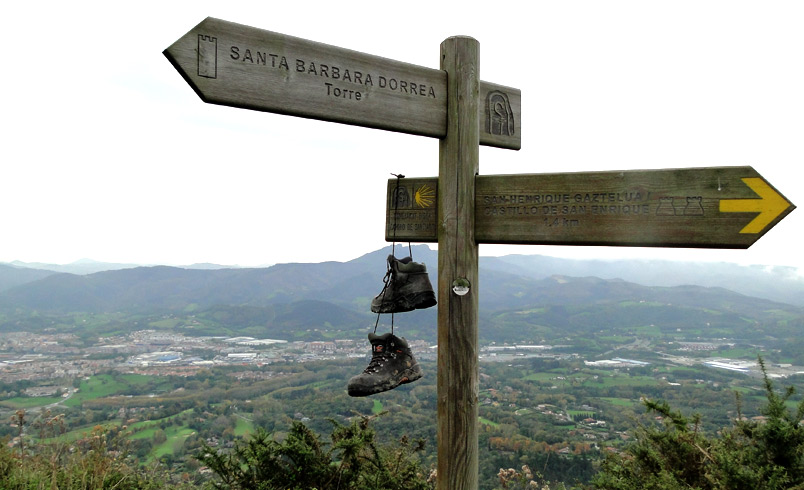 The Inland route, also called the Royal Way or the Bayonne Route, was the most important between the 10th and 13th centuries when the Coastal Route was under siege from Viking attacks. Even before the boom in pilgrimages to Santiago de Compostela, thispath was one of the most important lines of communication for many centuries as it joined the north of Europe to the peninsula plateau. By means of three stages, each of around thirty kilometres, it crosses all of inland Gipuzkoa from Irun to the an Adrian tunnel in the Aizkorri range where it runs into Alava.
Etapa 1: Irún - Hernani
Etapa 2: Hernani - Tolosa
Etapa 3: Tolosa - Beasain
Etapa 4: Beasain - Zegama
Etapa 5: Zegama - Salvatierra/Agurain
Asociación de Amigos del Camino de Santiago
Credentials can be obtained in the sacristy at the Buen Pastor Cathedral from 10:30 a.m. to 12:30 p.m. and from 5:00-8:00 p.m.
Credentials are handed out at the door of the Santa María Basilica from 10:30 a.m. to 7:30 p.m. and on Sundays from 1:30 p.m. This service is not available during Mass or when the Basilica is closed.
---