Vitoria-Gasteiz
Created in the late 12th century, Vitoria-Gasteiz boasts a textbook urban design. The city has an Old Quarter, listed as a Historical Monument in 1997, which still maintains its complete medieval layout. Three Europa Nostra Awards acknowledge the work carried out to refurbish and restore the emblematic spaces and buildings of the Medieval Almond.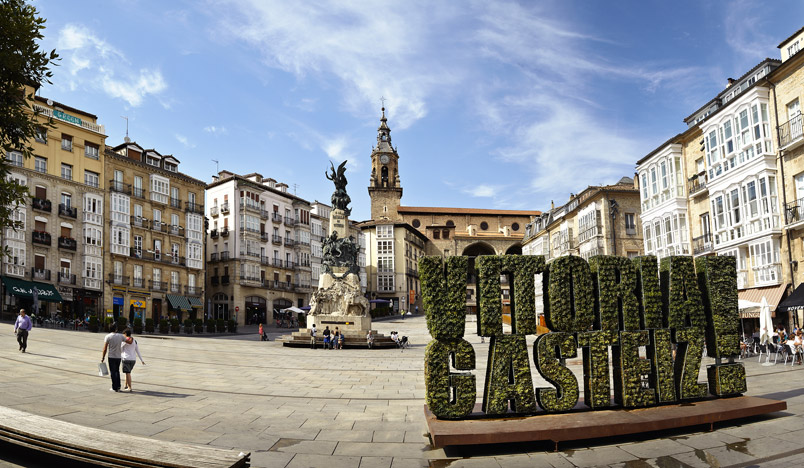 ©Quintas Fotógrafos - Ayuntamiento de Vitoria-Gasteiz
Standing at one end of this Medieval Almond is Santa María Cathedral, also known as the Old Cathedral. Raised in the Late Middle Ages, on the foundations of a Romanesque church, the Old Cathedral is the only gothic temple of its kind in the Basque Country; it has also suffered structural problems almost from the time it was built. That's why a complex restoration process has been underway on the construction for more than fifteen years. This hasn't prevented the cathedral from staying 'open for work' so that locals and visitors can visit its foundations and the nooks and crannies of its vaults. Novelist Ken Follet documented himself in situ to write the sequel of his hugely popular book, The Pillars of the Earth.

© Quintas Fotógrafos - Ayuntamiento de Vitoria-Gasteiz
Declared European Green Capital in 2012, Vitoria-Gasteiz is also one of the European cities to enjoy the highest number of green spaces and gardens per person (some 42 m2 per capita if we include the modern Green Ring expansion area). The Basque capital has more than 10 million square metres of parks and green areas for taking a stroll, riding a bike, watching birds and deer or horse-riding.
And if it's modern art you're after, don't miss the Artium Museum, home to one of the most important collections of contemporary Basque and Spanish art.