Bilbao
Just one hour from San Sebastián by motorway, you can wonder atthe miracle of Bilbao. The city hasundergone a unique regeneration project, led by the world's most prestigious architects to changthe way it looks, its business and even its self-esteem, whilst maintaining its deep-rooted character and its open, welcoming nature. The Guggenheim Museum is the flagship of this renovation.
Defined as the best building in the second half of the 20th century, the Guggenheim Museum Bilbao has completely transformed the city, earning it a place on the map and radically changing its image. It opened in 1997, according to a project by the American architect Frank Gehry, who, having visited the city, had a very clear idea of its location.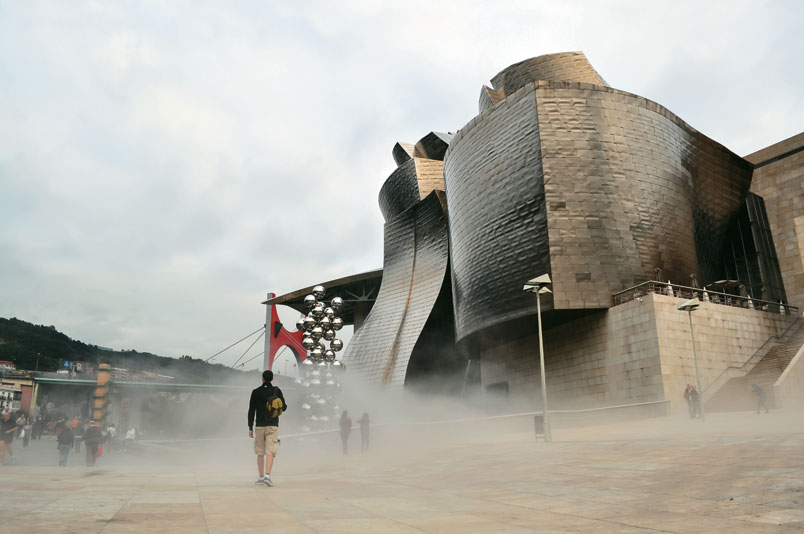 The Azkuna Zentroa cultural and leisure centre is another wink to modernity, having recovered the ancient corn exchange, one of the city's most iconic buildings, with a project forming part of the urban and socioeconomic transformation that served to shake off its industrial past. Welcoming visitors and uniting the different spaces of the so-called "Atrium of Cultures" you will find an enormous covered square decorated with 43 columns in different architectural styles and materials. From here, you can look up at the glass-bottomed swimming pool on the roof: this is the so-called "Sun Terrace", another of the building's privileged spaces.
Representing the Industrial Era, in Portugalete is the Bizkaia Bridge, better known as the Hanging Bridge, connecting the towns of Areeta (Getxo) and Portugalete on either side of the Bilbao estuary, a little more than 10 kilometres from the capital. Opened on 28 July 1893, the construction became the first ever transporter bridge to have a metal structure; in fact, today there are only another eight of these bridges in the world. It has a structure consisting of four iron towers 61 metres tall, connected to one another by a crossbeam measuring 160 metres in length and standing 45 metres above sea level. In 2007 UNESCO declared the site to be a World Heritage Site in the Industrial Heritage Category.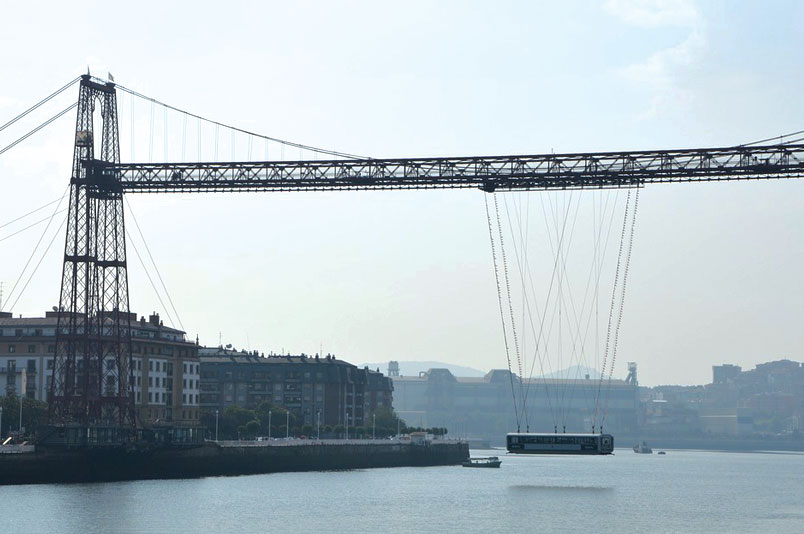 You mustn't leave Bilbao without taking a wander into its Old Quarter. Referring to the Old Quarter means referring to its traditional seven streets (Zazpi Kaleak). Somera leads the way as the first street, followed by the second, Artecalle, the third, Tendería, the fourth, Belosticalle and the fifth, Carnicería Vieja (which takes its name from the former location of the first abattoir in the city). Next comes the sixth, Barrencalle, and finally the seventh, Barrencalle Barrena. Among this network of little streets lined with shops and listed as a Historical-Artistic Monument, visitors will not only find pretty facades and urban mansions, but also real architectural gems dating from different centuries.