The West Coast
From Donostia to Mutriku
In just 40 Km, you will find not only the best sand, waves and fabulous fishing towns, but also an endless array of geographic treats and a coastal platform exposed at low tide holding the tectonic secrets of the last 50 million years. Give some time to it, it's got all the time in the world.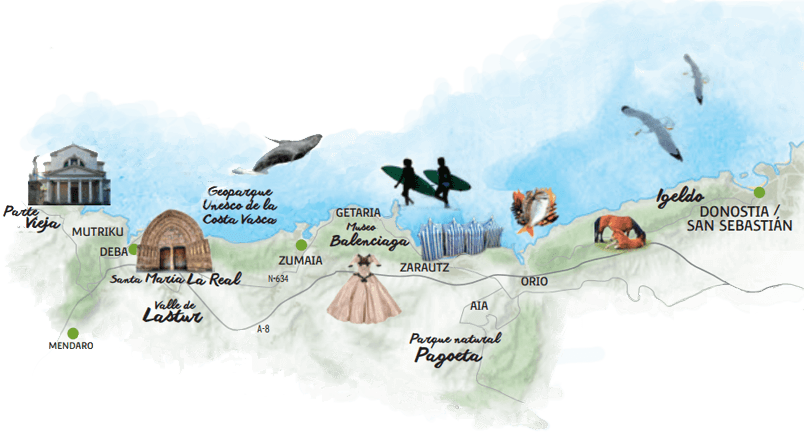 The small town of Mutriku, on the western edge of Gipuzkoa, stands out for its splendid Old Town, given Monumental status, with exceptional ancestral houses and steep streets dropping down towards the port. On the shore, next to a small beach and the port mouth, you'll find its natural swimming pools, unique along the Gipuzkoa coast. Mutriku, Deba and Zumaia can boast an internationally renowned treasure: the Basque Coast Geoparque - Flysch. This is a series of cliffs with a capricious formation of successive rock strata that, as the tide withdraws, reveals the biological and geological changes of the Earth over the last 50 million years like an open book.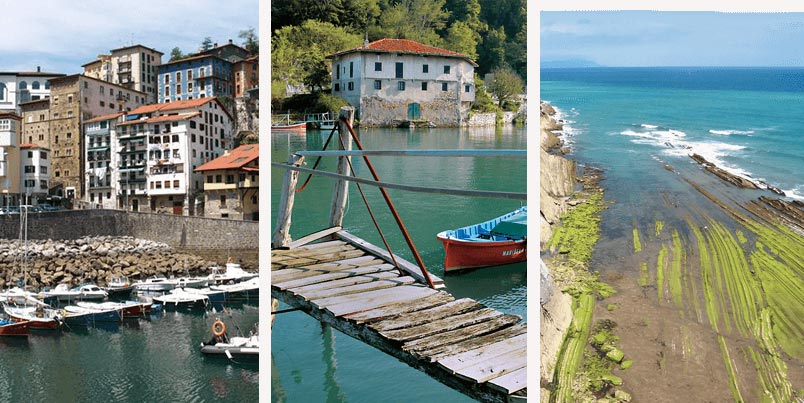 Photo: Debabarrena turismoa
Many of the mountains in this area are carpeted by txakoli vines, producing a young white wine, ideal to drink alongside seafood or fish. Getaria is a charming village. Despite being very small, it has well-deserved fame for its mouse-shaped peninsular, its grilled fish and its illustrious sons: Juan Sebastián Elcano, the first sailor to travel around the world; and the fashion designer Cristóbal Balencaiga, whose Museum exhibits an exceptional collection featuring many of his amazing creations.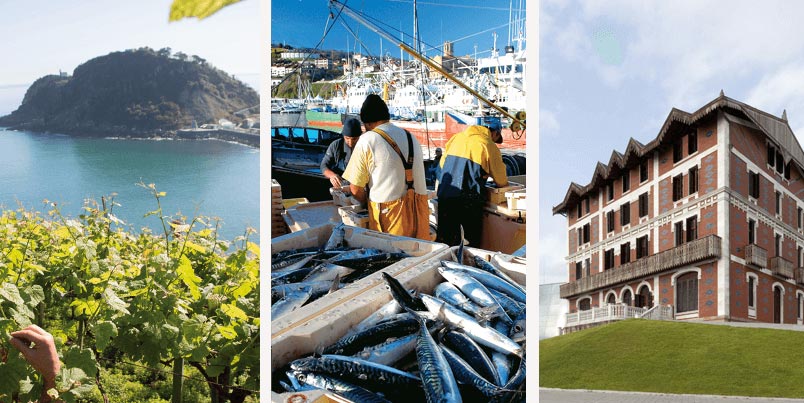 Zarautz can boast Euskadi's longest beach and one of the most extensive along this coast, two and a half kilometres long. If there are waves, you'll see tens of surfers out there attempting to ride them. The pioneers of this sport in Euskadi first emerged here in the sixties. The Photomuseum also makes an interesting visit.
Between Zarautz and Orio, Aia is an essential stop-off with beautiful views over the Bay of Biscay, old ironworks and the Pagoeta Natural Park Don't miss it One of the most important days in Orio celebrates the Sea Bream festival, in July, so you know what you have to order if you stay for lunch. This town is famous for rowing, a real religion, and for its arrantzales who caught the last whale in the Bay of Biscay in 1901. The sculptor Jorge Oteiza and the musician Benito Lertxundi were born here.