Yoga among sculptures and brunch at Lurra Café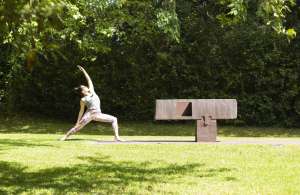 This museum, considered a place for well-being, turns into a new stage for the practice of Yoga. All entrees will begin the day full of energy and fitness through the practice of yoga around the sculptures of Eduardo Chillida. This activity invites to clean our body and mind in an unique location that fuses both contemplation and meditation. No previous experience or training required. After the Yoga sessión, each attendee shall enjoy a healthy brunch at the Lurra Café.
Lurra Café Brunch menu:
- Organic fruit juices
- Organic yoghurt
- Organic coffees and infusions
- Mineral water bottles
- Fresh fruit of the season
- Organic handmade cookies
- Kuskurro local organic bread from Lezo.
- Organic grated tomato
- Ham filled Brioche
- Handmade Croissants
- Organic fruit jams