Guided tour: "Arrikrutz: the Caves of Oñati"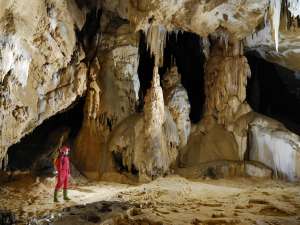 Finalized
01
Jan / 22 -
31
Dec / 22
Wednesday, Thursday, Friday, Saturday, Sunday
Organize:
Oñati Town Council
Located in the highest peaks of the Autonomous Community of the Basque Country, in the heart of the Aizkorri mountain range, Oñati-Arrikrutz Cave is one of the most extensive caves in Gipuzkoa and an exceptional showcase of the karst landscape of the Basque Country. The cave, which was created by the erosion of the water on the rocks over the centuries, has been a pioneer in speleological and paleontological research in the Basque Country.
Guided tour in Spanish. Approx. lasting time for the tour: 1 hour.
Do not forget to book your entry and be at the Interpretation Centre 15 minutes before the start of the tour.
Visiting hours: 9:30 AM - 7:00 PM
Facemask required at all times during the tour.