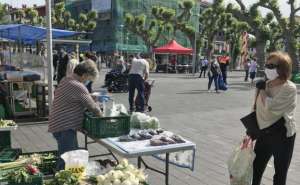 Finalized
Organize:
Irun City Council
Schedule: 08:30-13:30
In accordance with the Order published on Friday, October 23, of the Minister of Health, by which specific prevention measures are adopted, of an extraordinary nature in the Autonomous Community of Euskadi, as a result of the evolution of the epidemiological situation derived from COVID -19, the Irun City Council informs that the Saturday market in Urdanibia Square will register changes in its capacity.
According to this order, it will not be possible to exceed 50% of the usual or authorized positions, so as of this Saturday, October 24, the number of settlers will be reduced to 36 (currently there are 72). Stalls with staples will remain; in details, local producers and the sale of fruit and vegetables.
Likewise, and as has been done, there must be a separation between adjoining posts of at least 1.5 meters, limiting the influx of customers in such a way as to ensure the maintenance of the interpersonal safety distance. The use of a mask will be mandatory, and the interpersonal safety distance of 1.5 meters must be maintained. The entrances will continue to be differentiated from the exits with the routes marked on the ground.