A trip full of emotions!
Donosti Feeling
2017 Jul 31
Helloooo!!!
I bring good news. We've already delivered almost all of the donation boxes and couldn't be happi-er! Thanks to the help of the imperial troops, Aspanogi and Donostia Turismoa, we delivered no fewer than 14 boxes in different parts of Donostia.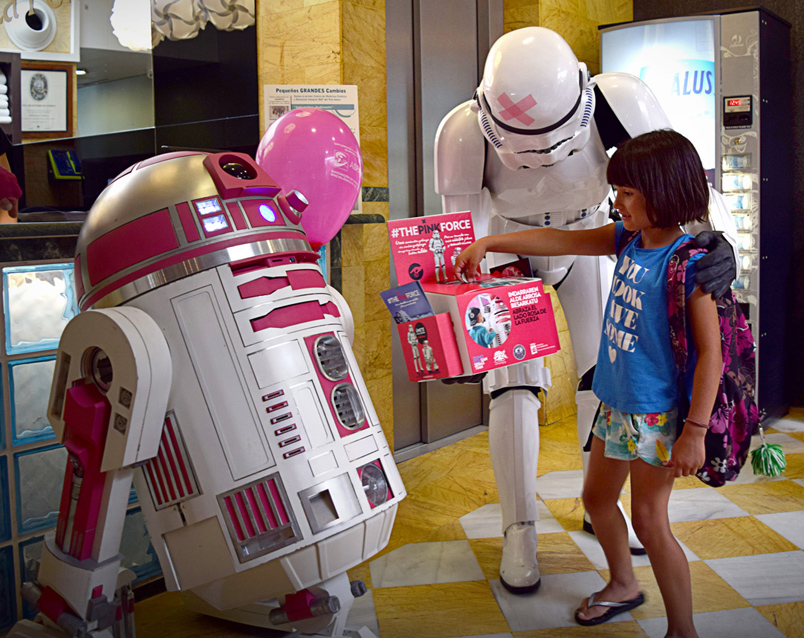 We made two visits to the outskirts of Donostia in mid-July. We spent a fantastic Saturday at the San Sebastián Hippodrome and it was a great race, even if our favorite horse, the one with the jock-ey in pink, didn't win!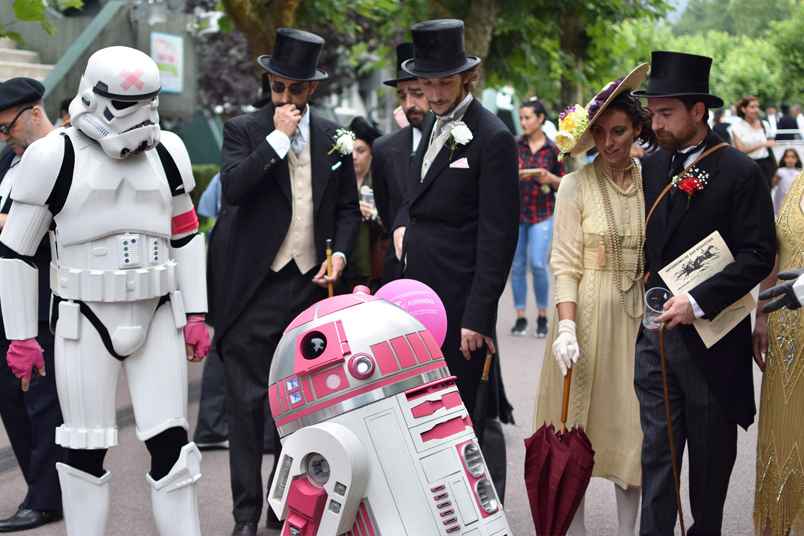 Afterwards we went to the Petritegi Sidrería to discover one of the Basque Country's great culinary traditions. And what can I say... we left Petritegi will bellies full of cider, txuleta (steak) and cod omelet and big smiles on our faces!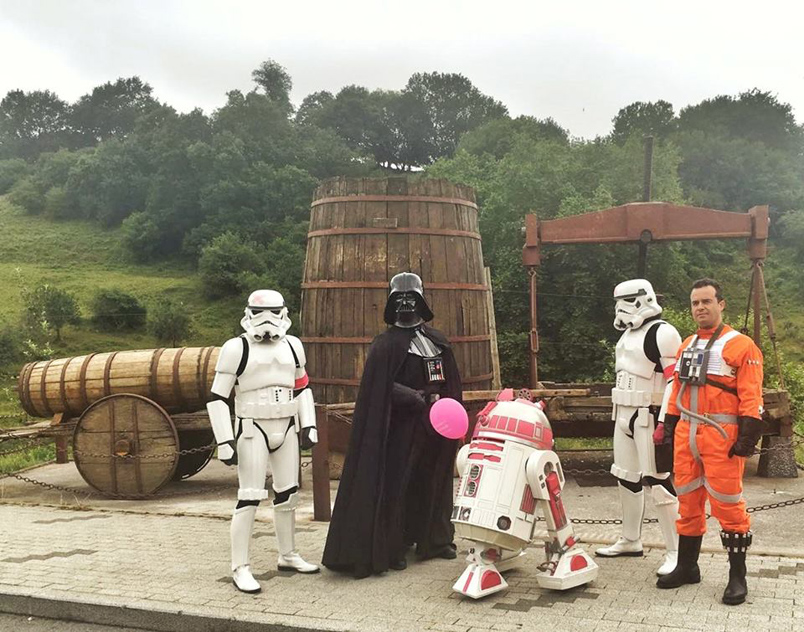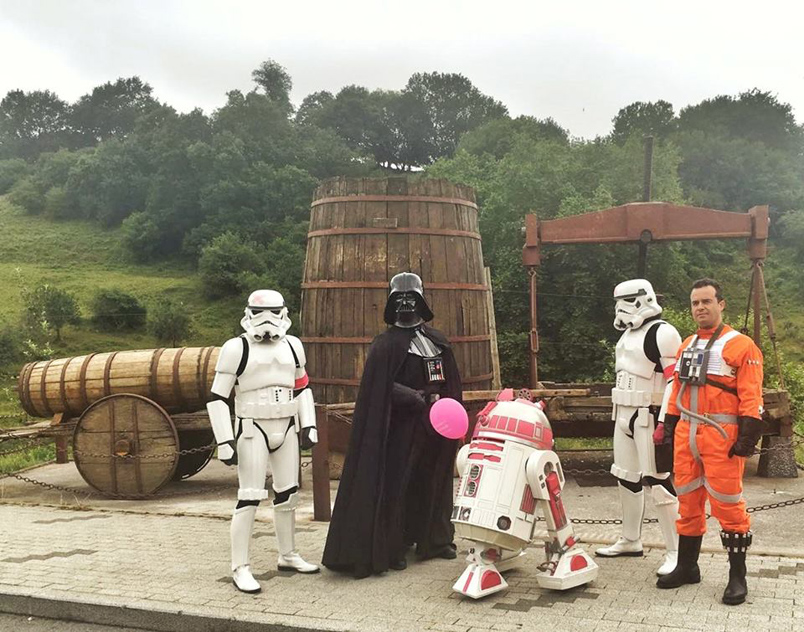 We made the second-to-last delivery in La Perla, San Sebastián's well-known spa on the shores of La Concha beach. We took loads of photos, and we all know how gorgeous my imperial assistants are, they don't go unnoticed, as you can imagine. Nor do I, let it be said, but you know that I'm no robot who likes crowds. They even let us move to the hot tub area...too bad we couldn't stay there too long, because you know what happens to my wiring when things start to heat up…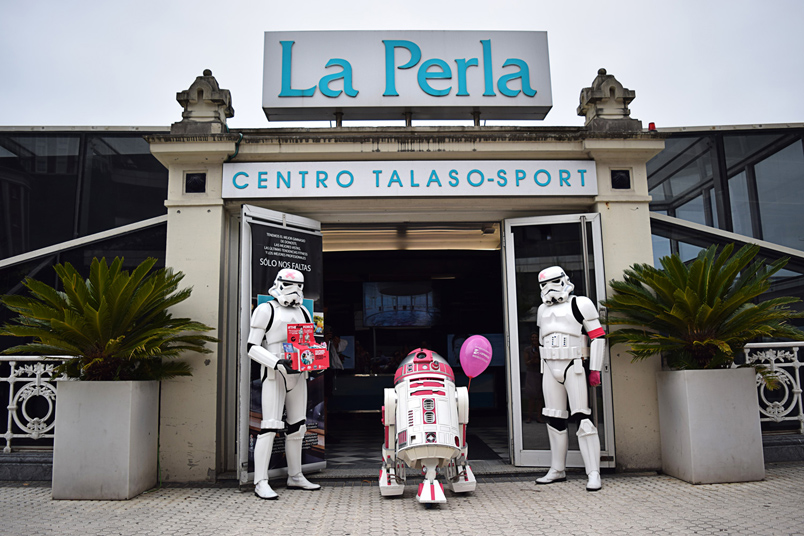 And the last donation box drop-off was at the Hotel Silken Amara Plaza. This hotel, popular among both tourists and locals, is located in San Sebastián's Amara neighborhood. We strolled around the hotel and explored its magnificent grounds before delivering our beloved donation box, which will be placed in the hotel cafeteria so that anyone who wants to come and contribute to the cause can do so.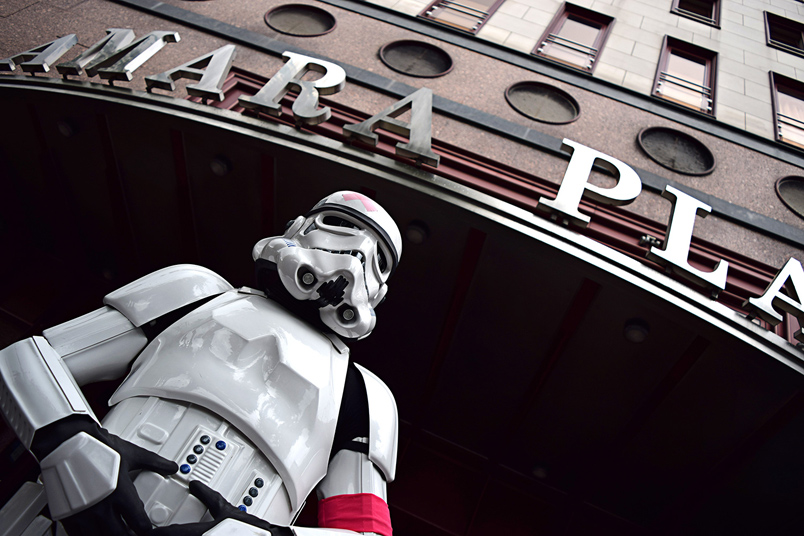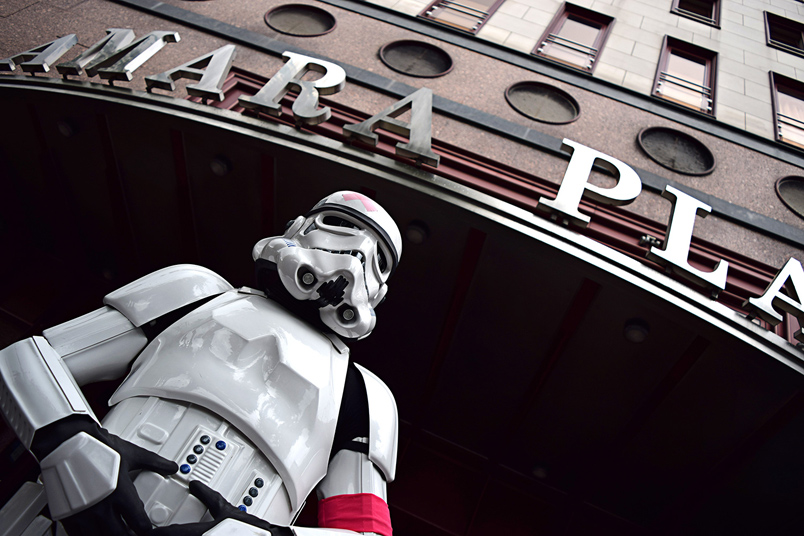 It was exciting and special. You can imagine how exhausted I am with everything that has happened these past few weeks, but I spread happiness wherever I go and I'll be more than satisfied if all this effort means that my little ones can enjoy a better space in the "Piratenea" Children's Oncology floor at Hospital Donostia.
Before saying goodbye for a while, I would like to thank the Aquarium, the Hotel de Londres y de Inglaterra, San Martin Market, San Sebastián Hippodrome, La Perla Talaso-Sport, Hotel Silken Amara Plaza, Petritegi Sagardotegia, San Telmo Museum and Hegalak.
Thank you all for joining #ThePinkForce! If you want to contribute to the cause, for a world with happier children and less cancer, check out the map to see the locations of the donation boxes.
See you soon, friends, and may the Pink Force be with you!
---
#ThePinkForce, for a world with more happy children and less cancer