The sea breeze at Tolosa. The sea bream festival.
Day trips
2018 Jun 01
Among the people of Tolosa, you always hear the same comment on Saturday afternoons: "What's happening today?" Not in a grudging manner, but rather out of curiosity: there's never a weekend that goes by that we don't have something going on (especially music!)
But this weekend, there was no need to talk to anybody to find out what was ahead of us: the smell was enough on its own. As if the sea had swept us in! An aroma of barbecues and cooking ... Those smells that make you suddenly starving hungry and keep your stomach rumbling on. It was the Sea Bream Festival!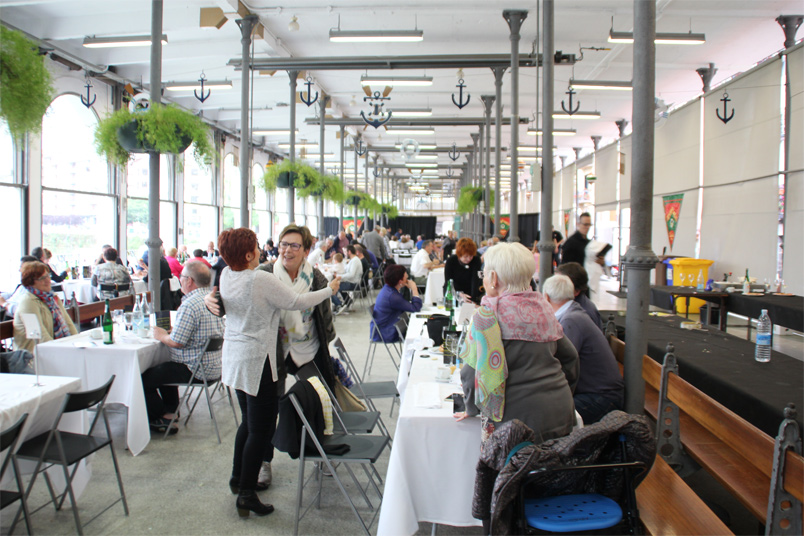 It's amazing to see how the Tinglado de Tolosa municipal marketplace, where the market is held every Saturday, can become just like an elegant restaurant with the very best views of Tolosa: wonderful tables full of people, fresh fish ready to be roasted on the best barbecue grills, so much to drink, and barbecues with a constant delectable aroma.

First there are those irresistible starters, then these make way for the star of the show: Orio-style grilled sea bream. The barbecues were made by the Katxiña and Xixario de Orio grillers, who were in charge of preparing the more than 300 sea breams, and they never stopped chatting and giving out advice to everyone around them. Such a pleasure! And who could forget that most quirky dessert that we ate: a cake in the shape of a sea bream, called Bixigoxo, prepared by Gozona, the legendary confectioners.
But after a long dessert, who wants to go home? No-one! So we made the most of the second area that had been set up at the Tinglado de Tolosa market for things to sample during the night: the Aingura Gunea ("Anchor Zone") area. This is a new and youthful zone, set up for sampling the best of Galician cuisine. Lobsters, Galician-style octopus... how could we resist a roast like that?

After having filled or boots eating and having enjoyed ourselves like never before… all that remains is to wait to do it all again next year, as ever, on the first week of June. It's